Browse reviews & testimonials from our most valuable customers regarding their Allurez jewelry purchase. See the ratings past customers Left us on their custom engagement rings, wedding bands, and other fine jewelry. At Allurez, we pride ourselves with customer satisfaction!

Amazing Jewelry

|

Buy From Allurez - They have Amazing Jewelry and Customer Service
By Nathan From United States

Best Service in Crucial timed situation

|

Best customer service I have ever encountered Barr none... I was going on a cruise and needed a ring custom made and delivered in 10 days...everything went as promised with phone calls to support n ease my fears along the way...not only was the ring delivered on time...it looked more beautiful on my fiancee then it did on web site and it was stunning on web site....it was a surprise engagement ring...the cherry on the cake was my fiancee staring it was...perfect!
But it all started with the EXCELLENT customer service and kept promise of the company. would recommend to everyone...can't give this company enough stars..
Michael M.
New Jersey
By Michael from spotswwod, new jersey, usa

earings are beautiful, delivery not so much!

|

a couple of things,I ordered my wife diamond earrings on 5/29/18 for our 33rd anniversary. after a few days I called to see when they might arrive .The service girl said she wasn't sure but i explained to her they needed to be at my house by 6/8/18 as it was my anniversary and i was leaving out of town 6/9 and their would be no one to sign for package after that. She was very pleasant and said she would do all she could. The package shipped Fed Ex 6/7/18 and I received a notice stating it would be delivered on 6/8/18 by 1030 am. I took Friday off of work, hoping to surprise my wife on our anniversary dinner that night.Long story short after several frustrating calls to FedEx, I received the package Monday morning 6/11/18. My son in law took off of work to sign.I am not blaming you for the fiasco and disappoint just thought you should know. Thank you ,Steve Caruso P.S. I thought I was supposed to receive a free watch with the order? can you check on this please.
By steven caruso from burr ridge, IL, US
Love of Jewelry

|

Love,Love this thin Ruby and Diamond eternity band. Just what I wanted. Allurez has all kinds of gems and style. Love this site.
By Norma from Berkeley, California, Usa
Amazing

|

Perfect ring and fantastic service. Had a last minute change of plans and they got my order pushed through just in time.
By Alex Unger from Burlington, VERMONT, United States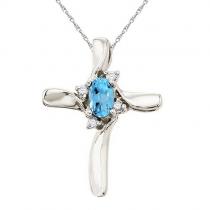 Great customer service

|

All I have to say is great customer service. It is so rare now a days to find people who actually try to care. I had difficulties receiving my package due to an incredible busy life and I called customer service and they immediately helped me with delivery so that I could personally pick up my package. Thank you so much for all your help. Have a great day!
By James Wallace from Cordova, Tennessee, United States
Great choice!

|

Trinity knot in yellow gold has beautiful sparkle. Very pleased with design and craftsmanship. Thank you!
By Judith Bracconier from East Meadow, NY - New York, United States
Cadacus Neclkace

|

The Cadacue necklace with 26 diamonds Is absolutely Beautiful. We can't wait for our daughter to receive this gift on her RN Pinning Day, which is on 5/17/2018. She can wear this necklace daily, and proudly. We purchased a Lifetime warranty (just in case). We are happy with this Allurez product. ????????????????????
By L.Salsbury from Brunswick, Ohio, USA
Astounding quality and service

|

My fiancé proposed to me with a beautiful vintage styled diamond and emerald ring. It has been 4 months and I still cannot stop staring at it. He informed me that the customer services representatives at Allurez were extremely helpful and willing to answer his questions and work with him on design. We have since gotten our ring appraised for insurance purposes with very positive reviews. I will most certainly be purchasing our wedding rings from Allurez and highly recommend this company!
By Rachel from Buffalo, New York, USA