Browse reviews & testimonials from our most valuable customers regarding their Allurez jewelry purchase. See the ratings past customers Left us on their custom engagement rings, wedding bands, and other fine jewelry. At Allurez, we pride ourselves with customer satisfaction!

Amazing Jewelry

|

Buy From Allurez - They have Amazing Jewelry and Customer Service
By Nathan From United States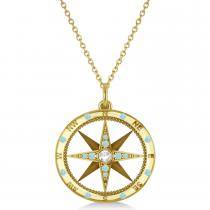 Compass pendant with Aquamarine stones

|

I found your compass pendant years ago on line, from the moment I saw it I knew it would be perfect. I was finally able to make the purchase, I received it just the other day, it is everything I hoped it would be, just spectacular, absolutely beautiful. I will cherish this piece for the rest of my life. Thank You !!!
By Cynthia Skipper from Hampstead, NC, US
It was beautiful and everything was correct down to the DETAIL thank you again hopefully I'll never need you guys again but if I do guess who has a repeat customer!

|

The ring was beautiful I havent gotten her take on it but it's what she asked for and I LOVE IT!
By Khalil Mcclain from Madison, AL, United States
Gorgeous cross

|

The gold emerald cross is lovely. It glistens and is high quality. It goes perfectly with my other gorgeous pieces! Customer service was great too and fast delivery.
By Carol from East Lansing, MI, USA

Truly our Dream came true.

|

you did a super super job on the ring.
when we opened the two boxes and found another envelope and then the ring box, my heart just went wild. When Gary opened the the ring box we were both breathless. We could not wait to put it on. It is all I dreamed of and more. Would like to send a picture of me and the ring but I have been ill and do not look my best, But the ring looks great.
By Karen Bennett- Gary Quandt from FORT ATKINSON, Wisconsin, United States

Beautiful!

|

I purchased a name necklace with the word "peace" in white gold with diamonds. It is absolutely beautiful. It is very dainty and just what I was looking for to wear every day.
By Janell Rindler from Sidney, Ohio, USA

Beautiful Jewelry

|

This is the third piece of jewelry that I've ordered from Allurez and they NEVER disappoint! The diamond emerald earrings matched the previous necklace I purchased just beautifully. Special thanks to Amy, who had to put up with my numerous phone calls.
By John Erdman from Houston, TX, US
The Best relaxing experience ,Best jewelry, Best customer service

|

Shopping online for a wedding ring is hard enough with worries of delivery worries of the product buying with out holding. Well let me tell you this site has the best customer service hands down! The made the experience so easy and relaxing they taught me about the diamonds I should use. Gave me reassurance the ring will arrive on time. My fiancee couldn't be any happier with the engagement ring thanks to Minda at allurez customer service for all the help a great experience
By Chris Hulbert from Laurens, Ny, United States
Gemstone and diamond bracelet

|

Received my purchase that was customized in 3 days. The beauty and the quality of the piece is outstanding.
By James Castalde from Flat Rock, Michigan, United States