---
Jewelry Tips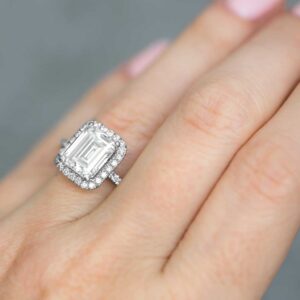 As the world combats the coronavirus pandemic people are focusing more and more on hygiene to prevent the spread of germs, but the truth is that most people overlook the kind of bacteria that can settle on jewelry that is not cleaned properly.
In reality, the jewelry we wear comes in contact with everything our hands and bodies come in contact with, including germs and bacteria.
Jewelry experts recommend regular cleanings of your jewelry using warm, soapy water and a toothbrush for application. An unused, clean and soft bristled toothbrush is great for getting into your jewelry's tight spaces, which typically contain most of the bacteria, like under cracks and prong or pave set stones. For example with engagement rings, a setting's style can leave tiny spaces between some parts of your stone and the prongs or metal, where particles can get stuck.
"Everything from food to fecal matter can get stuck in the sweaty and moist places in between parts of your jewelry and even in between your skin and your jewelry (think wedding bands)," said jewelry designer Kate Maller.  "Whatever you touch it touches, too."
Be gentile
You want to get your jewelry as sparkly and clean as possible, but it's important to keep in mind that when it comes to precious stones, like diamonds, being rough while scrubbing them is not the way to go. Diamonds are prone to cracking and scratching so make sure that the toothbrush you use for cleaning them doesn't have sharp or pointed bristles that could damage your jewelry.
Products like diamond dazzling sticks are also great for durable diamonds and sapphires, but it's not suitable for more delicate stones like pearls, emeralds, turquoise and opals.
For most people, a weekly cleaning of your jewelry is ideal. However, experts suggest taking your ring to a jeweler to be serviced and/or polished annually to ensure your ring has a long life. And if your ring design is more intricate you should consider going every six months. Going too long without cleaning your ring can result in a buildup of gunk or dirt behind the setting that could ultimately require demounting your stone, and that could cause damage.
Silver
White gold is often plated with rhodium to mimic platinum, which does come off or wear over time, so the more it's cleaned and worn, the more often it may need to be replated.
If you want to use dish soap, mix a few drops with warm water, dip a soft cloth in the solution and use it to rub the silver to remove tarnish. Rinse with cool water and buff dry with another soft cloth.
For heavier tarnish, mix three parts baking soda to one part water. Wet the silver and apply the baking soda paste to the silver with a soft, lint-free cloth. Don't forget about getting in the crevices and at the end rinse well and buff dry.
Toothpaste can also remove tarnish from silver. Apply a dab of white paste toothpaste (not gel) to tarnished silver and rub very gently with your finger or a soft cloth. Then, rinse well with warm water and finish it off with a dry soft cloth.
Gold
Solid gold bracelets, chains and earrings just need a simple solution of a few drops of dish soap and a little warm water. Soak the gold jewelry for about five minutes, swish the items around, then take them out, lay them on a soft cloth and go over the small spaces and chain links with a soft toothbrush to loosen any remaining dirt that might be trapped there. Finally, rinse everything under running water and buff dry with a soft dry cloth.
Gemstones
To clean gemstone jewelry, you can use the same instructions as the ones above for cleaning gold, but instead of using regular water, mix the dish soap with seltzer water. According to Good Housekeeping, "the carbonation helped loosen soil and removed debris trapped in the settings and on the facets."
Brush stones and settings with a soft toothbrush, then dip them in clear water to rinse or place the pieces in a strainer and rinse under running water. Buff dry with a soft cloth.