---
Category 2 / Wedding Bands
How to Pick a Wedding Band: What to Look for and How to Shop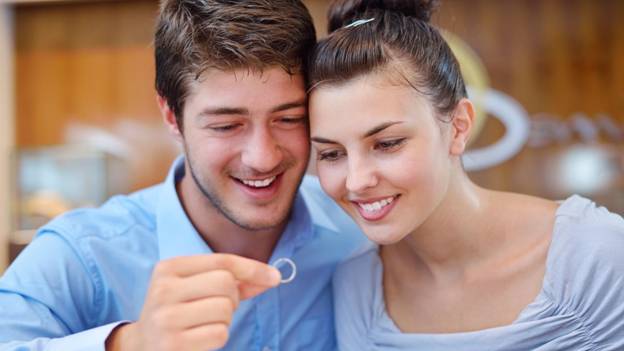 Your wedding band symbolizes your commitment to the person you love, but it's also a piece of jewelry you'll wear every day for the rest of your life. While choosing a wedding ring might seem intimidating when you think of everything that slim band means, the actual act of picking out your band doesn't have to be overly complicated. Here are some things to think about when shopping for wedding bands.
Starting Your Wedding Band Search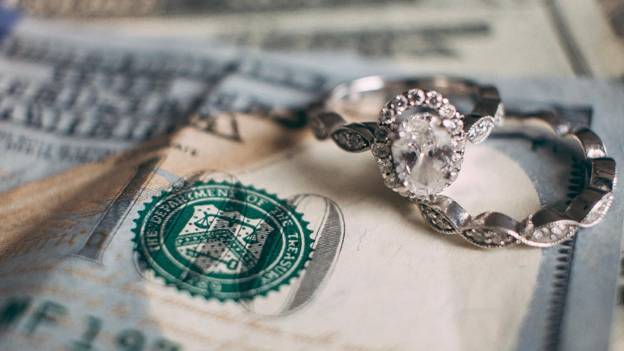 Most couples begin their search for wedding bands three to four months before the wedding. This gives you enough time to find the right bands and take care of any resizing or engraving before the big day.
Who Buys the Wedding Bands?
Wedding band shopping can be a joint event, or you can opt to create a set of guidelines and each member of the couple purchases their own or the other's wedding band.
Budgeting for Your Wedding Bands
A good rule of thumb for a wedding band budget is to spend around 3% of your overall wedding budget on rings for both of you. This can vary greatly depending on your personal preferences and how important having a specific type of band is to you and your future spouse.
Picking Your Perfect Wedding Band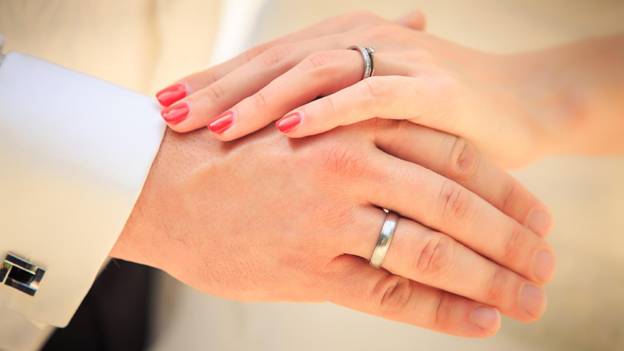 When it comes to the perfect wedding band, the ideal choice is as individual as you are. Think about your personal aesthetic and whether you want to have matching bands before you start your shopping.
Considering Your Personal Style
Wedding band styles range from simple gold to elaborately engraved palladium. Your choice may depend on both aesthetic and practical concerns. If you play sports or have a job that requires using your hands a lot, you might want a simpler band designed for comfort.
Coordinating Your Wedding Jewelry
Some engagement ring sets come with a matching wedding band, which makes coordination simple for at least one of your wedding rings. If your engagement jewelry isn't already part of a set, you may want to narrow your wedding band search to the exact same type of metal as the engagement ring. Even metals that look similar may change slightly over the years, so coordinating now can prevent an accidental mismatch later. As an alternative, some couples prefer to purposefully mismatch their metals to create a unique effect. A yellow gold engagement band might pair well with a white gold or rose gold wedding band, for example.
You also want to find a band that sits comfortably next to your engagement ring and is approximately the same width so neither ring visually overpowers the other.
When it comes to coordinating as a couple, you and your future spouse might consider purchasing a pair of wedding bands in the same general style and same choice of metal. You don't have to choose matching bands, though. Some couples prefer to pick out individual bands that emphasize their personal preferences.
Types of Wedding Bands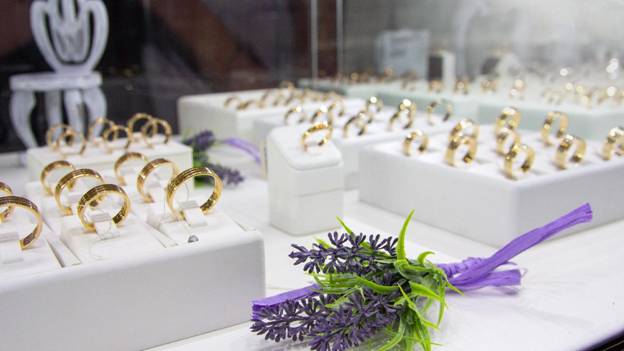 Now that you have a general idea of what you want out of your wedding band, it's time to consider the specific options you have available.
Metal Options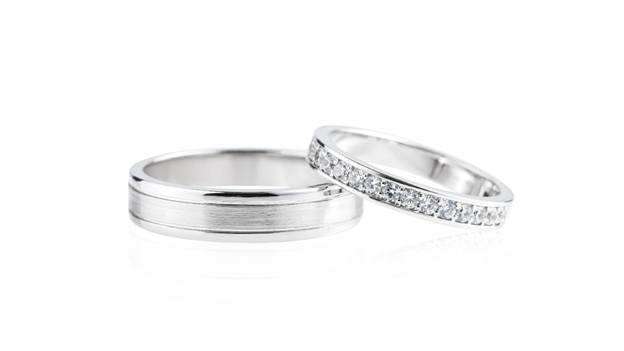 While gold is the traditional choice for wedding bands, it isn't your only option. Modern metals such as palladium offer an alternative to the classic gold band. Even if you're going with gold, you have a choice of hues to choose from. Here are some of the best metals for wedding bands.
Gold
Gold comes in two main forms, 18K and 14K, which indicate how much true gold is in the alloy. Pure gold is too soft for a wedding band, so jewelers blend other metals with the gold to make it harder and more durable. 18K gold bands have more gold metal and are softer than 14K gold jewelry.
Gold bands also come in various colors. Yellow gold, white gold and rose gold give you plenty of options for wedding jewelry.
Platinum
After gold, platinum is the most popular metal for wedding bands. Platinum metal is extremely hard and resists wearing down over time. It also resists corrosion and tends to not cause an allergic reaction as some metals do.
Tungsten
Tungsten is another exceptionally hard metal, so it holds up well to everyday wear and tear. The hardness has one disadvantage: It makes resizing a tungsten ring much more difficult.
Palladium
Another hard metal used in wedding bands is palladium. This metal also holds up to bumps and scrapes without denting or scratching. It's lighter in weight than platinum or tungsten, so if your main concerns are comfort and durability, this might be the metal for you.
Style Options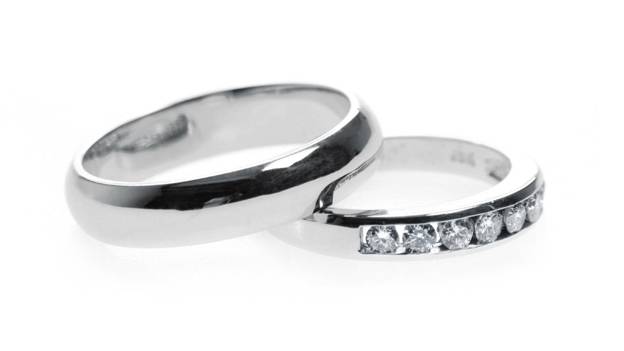 Choosing a wedding band style is a matter of both looks and comfort. Some popular wedding ring styles include the following.
Classic Metal Bands
Plain metal bands without any adornment are a popular wedding band choice. You can find these bands in a variety of widths. Most women's bands range from 2mm to 4mm in width while men's bands are often between 4mm and 7mm.
Diamond Wedding Rings
If you're looking for a wedding band that attracts attention, a diamond band might be the perfect ring for you. Eternity bands feature individually set diamonds all around the band, and channel-set bands create a smooth surface with the diamonds inset into a groove along the band. You can also find diamond wedding bands with a twisted design or featuring diamonds on only the top side of the band. As another alternative, consider gemstones other than classic white diamonds. Pink sapphires, Canary yellow diamonds and aquamarine all make stunning additions to a wedding band.
Contoured Wedding Bands
If your engagement ring is designed in a way that doesn't let a classic wedding band sit flush to the ring, you might want a contoured wedding band. These bands are designed with a groove or dip that accommodates the diamond in your engagement ring and keeps the rings from awkwardly bumping against each other.
Carved and Engraved Bands
For a unique, eye-catching look, nothing beats a carved or an engraved wedding band. These bands have designs that celebrate your personal sense of style or heritage. Celtic and fleur de lis designs give your wedding ring a historical vibe, and floral patterns add a sense of whimsy to your wedding jewelry. Filigree patterns, handwoven gold bands and milgrain edging are other options when you're searching for decorative wedding rings.
Fit Options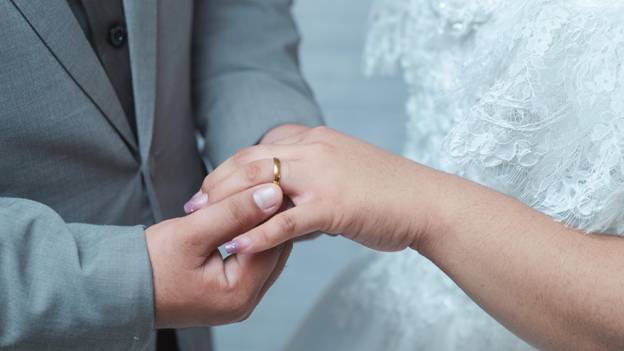 How your band fits can affect how you feel about it over the years to come. Standard fit bands have a flat interior edge, and comfort fit bands are curved on the inner surface to slip over your knuckle more easily. Standard fit bands tend to fit more tightly on your finger.
Whether you're searching for women's wedding rings that match an engagement diamond or a men's wedding band that shows off your personality, Allurez makes the process of finding the perfect wedding jewelry easy. Contact our wedding band experts for help finding a ring you'll love.

About Allurez Tech

Twitter •