---
Category 2 / Designer Jewelry / Gift Ideas / Rings / Stackable Rings / Unique Jewelry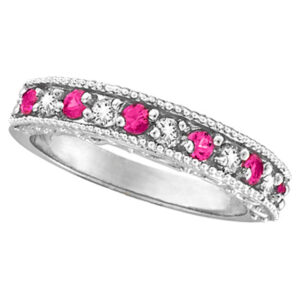 The many kinds of sparkling personal adornment (whether in the form of necklaces, rings, earrings, bracelets, or even broaches) which are made with precious metals and then complemented with several precious gems or a variety of other gorgeous and quite rare items like shells or pearls have been around the globe for almost as long as humans have possessed a strong desire in decorating themselves with objects which are considered to be appealing to the eye for many reasons. The specific jewelry that was used for these pieces relied on what was available at the time. Yet, with wide reaching trade cycles, modern mining techniques, new jewelry manufacturing processes, and even newly produced lab created gemstones, people have been able to make large leaps forward in high class jewelry pieces. While the simple and more traditional types of jewelry like a solitaire cut round gemstone on a thin yet smooth circlet for a ring are still very popular and stylish, modern day jewelry designers have taken on the time honored role of unique jewelry based artisans to form amazing new objects of art which are known as fine designer jewelry in the modern realm.
Like any good jeweler who is really worth their weight in actual gold, Morris and David make certain that there is an ample selection of fine designer pieces for their customers and fans to pick from so that all their shimmering and stylish needs are met without having to lead them to other jewelers. There are multiple jewelry genres and subsets that this special designer has embraced to make as their own. Morris and David rings in particular have truly become a specialized area in which the designer greatly excels due to the fact that so many types of rings are best when artistically created. For those who really need fashion rings, you should look no further as Morris and David are adamant that there are multiple right hand ring styles that are newly created and released with each new season. Their stackable rings have flourished in stylish popularity as the countless variables from Morris and David allow for alluring mix and match possibilities. Do not feel stuck in getting a ring if those choices are not your fashion taste or if your personal jewelry collection does not need any more rings since Morris and David earrings are just as wonderful and vary greatly in selection. Morris and David really have everything you need.

About Allurez
Allurez is the premier designer and retailer of high quality fine jewelry with a brand name known to royals as well as to the rich and famous. We are committed to providing you with the largest and the finest selection of engagement rings, wedding bands, bridal jewelry, fine fashion jewelry, and certified loose diamonds. Go ahead, browse our store, and find your perfect jewel!