---
Designer Jewelry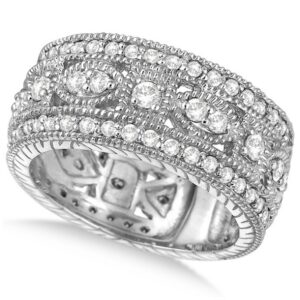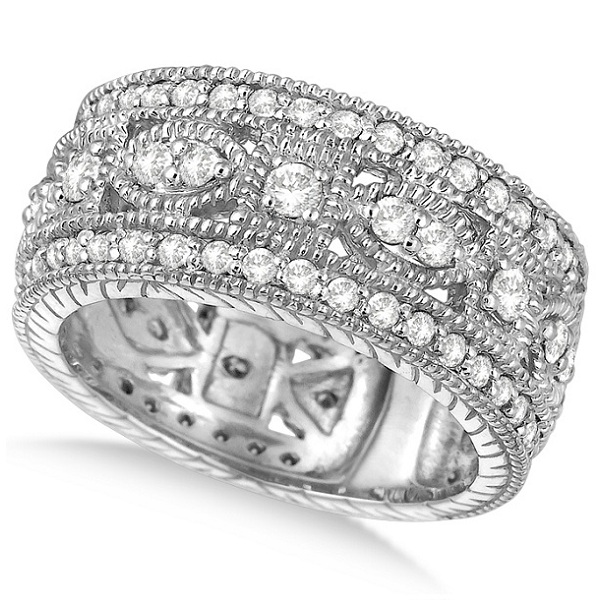 Antique style rings are all the rage at jewelry designer and retailer site Allurez.com. The fine jewelry retailer has long manufactured and sold their line of vintage diamond rings and heirloom gemstone rings for quite some time. Recently, antique style rings have caught some attention. Some wonder what is so unique about antique style rings.
Vintage rings showcase the designs of a bygone era. The styles and designs of these antique rings have proudly withstood the test of time. Time and time again heirloom rings have found their way into the hands of the rich and into the hands of the common people alike. Edwardian Rings, Victorian Rings and Art Deco Rings are all terms associated with antique rings.
Antique rings usually have several things in common. For example, they usually have milgrained edges and scroll work (filigree). Milgrained edges are tiny engravings that look as if a knife were used to make indentations into the jewelry. Scroll work, or filigree, is engravings that are usually found on the side of the ring. They form intricate, wavy and curly patterns. Milgrained edges and scroll work are usually found together in antique rings.
Common styles of antique rings include "Byzantine Rings". Byzantine rings usually have a milgrained edge pattern and scroll work in addition to stones that are bezel set. A bezel setting is a type of stone setting where, for example, a diamond is held in place by precious metal that is wrapped around it.
It makes sense to use this type of setting for antique rings for many reasons. One reason is that it gives a vintage look. Another reason is that it is the earliest method of attaching stones to diamonds.
These antique rings can be worn for a variety of purposes. The Byzantine Style Rings are usually worn as fashion rings. In regards to bridal jewelry, antique engagement rings and antique wedding bands are a very popular choice.
Allurez is an online jewelery designer and retailer that specialize in the sale of antique style rings. Their vintage style rings resemble the designs of older eras from which today's hard-to-kill fashion trends emerge. The site has seen steady sales in this category of diamond rings. The site plans to keep releasing newer antique items on a weekly basis to satisfy a growing customer base.

About Allurez
Allurez is the premier designer and retailer of high quality fine jewelry with a brand name known to royals as well as to the rich and famous. We are committed to providing you with the largest and the finest selection of engagement rings, wedding bands, bridal jewelry, fine fashion jewelry, and certified loose diamonds. Go ahead, browse our store, and find your perfect jewel!