---
Designer Jewelry / Gift Ideas / Proposal / Rings / Unique Jewelry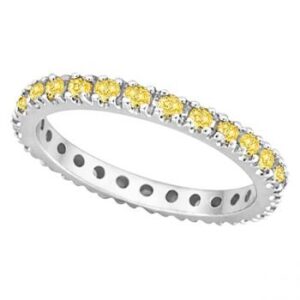 The jewelry fashion world has loved colored gemstones for a very long time.  The concept of colored glass in the place of a real gem with coloring was a very popular one until modern science allowed for longer lasting synthetic stones which are filled with multiple shadings and do not shatter at the least impact.  Yet, diamonds will always be the best precious gemstone available on this planet.  Their beauty, their versatility, and their status will forever keep them on a pedestal in designer jewelry.  The fact that they are generally a crystal like clear stone has made their uses a bit limited though.  A shimmering white stone in a ring on your hand makes people automatically think that you are taken by a significant other.  Therefore, natural colored diamond rings have made a huge impact on modern fashion designs.
Yellow diamond rings seem to be some of the most popular lately because of their optimistic associations from the joyous color yellow.  The celebration of happiness and continued good times with an engagement present can be easily achieved with a yellow diamond eternity band to unite the positive feelings of he color with the forever promise of a never-ending circle of diamonds.  If you are thinking more of something that is based is fashion rather than an eternal love, yellow canary diamond rings are just the thing to brighten up even the darkest colored outfits.  These fancy yellow diamond rings make amazing cocktail rings as well.  People who prefer darker colored gemstones do not need to despair though.  A chocolate diamond rose gold ring adds a sensuality to your jewelry collection that can be found with no other variety of finger adornment.  On the other hand, black diamond rings are all about elegance, class, and grace to show off your high personal tastes and love of the refined.

About Allurez
Allurez is the premier designer and retailer of high quality fine jewelry with a brand name known to royals as well as to the rich and famous. We are committed to providing you with the largest and the finest selection of engagement rings, wedding bands, bridal jewelry, fine fashion jewelry, and certified loose diamonds. Go ahead, browse our store, and find your perfect jewel!