---
Birthstone Jewelry / Designer Jewelry / Gift Ideas / Necklaces / Rings / Stackable Rings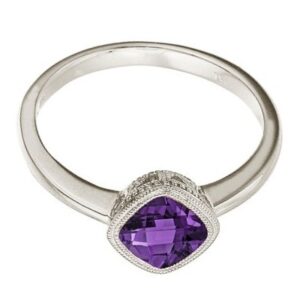 Everyone is constantly under siege about their looks these days. No matter what place you happen to look, advertisements and a large variety of media sources are trying to make you to embrace your very best appearance with this type of new scientific procedures or even that kind of unique medical breakthrough. With this seemingly limitless attack on our outer senses and inner feelings, it is rather easy to realize why we might be able to simply overlook many of the most fundamental methods to very openly stand out with our primary appearance without having to spend money on prescription medicines or go under anesthesia for knife based surgery. A classy jewelry makeover is a perfect way to spice things up in your overall look and accent what you already possess in terms of an outward appearance. The sparkling aura of brilliant and bedazzling purple amethyst jewelry can add a rather youthful accent to the wearer, and the stunningly deep purple tint of the gemstone itself in just about any stylized setting has the ability to really cause a pleasing scene just about anywhere for anyone. To make things even more amazing for amethyst, the individuals who were born toward the beginning of the year most likely already know these highly secretive aspects of amethyst's stylish appeal as all February birthstone jewelry includes a bright amethyst stone. Your favorite kind of jewelry can be simply made to feature amethyst as the center gem can be your solution for almost any fashion issues.
A February birthstone ring (or an expansive selection of high class amethyst rings in general) can very simply reflect an alluring sense of luxury and fine fashion elegance into your own personal style composition if it is used in the best way. An amethyst ring can be shaped and fitted into any mold common to other precious gems no matter which unique style you happen to like the most. This could include the form of marquis cuts, princess cuts, or perhaps anything between. The rich and very bright purple tone looks highly alluring in very smooth shapes though, such as an oval or even a simple round brilliant cut. Smaller cut sizes of the stone can make for beautiful amethyst stackable rings as well. If your personal jewelry set is in great need of something modern to go around your neck on the other side of things, you cannot go wrong with an amethyst pendant necklace. Pendant necklaces formed from these very gorgeous amethyst gemstones tend to be the most popular necklace selections for gifts and even for personal daily wear. Yet, amethyst bracelets can be a wonderful addition to your style as well—especially when paired with such a fabulous necklace!

About Allurez
Allurez is the premier designer and retailer of high quality fine jewelry with a brand name known to royals as well as to the rich and famous. We are committed to providing you with the largest and the finest selection of engagement rings, wedding bands, bridal jewelry, fine fashion jewelry, and certified loose diamonds. Go ahead, browse our store, and find your perfect jewel!