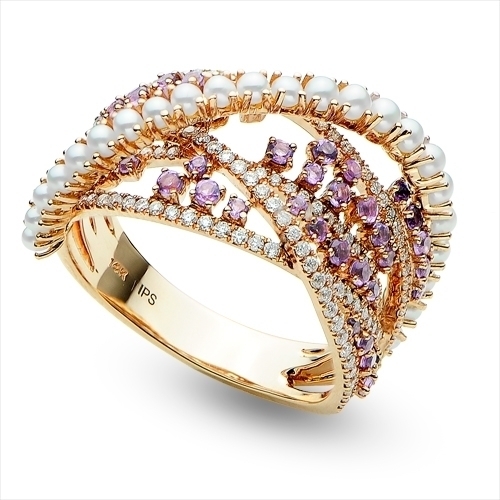 Mother of Pearls: The June Birthstone
The only gemstone to be created from living creatures (in the mantle of a shelled mollusk), pearls are June's birthstone. Even if the pearl isn't your birthstone, this jewel is a popular choice for all. These sea jewels are indigenous to the waters surrounding Japan and China and come in a wide range of shades, from creamy white to dark black. While naturally occurring pearls happen on their own in nature, cultured and farmed pearls are man made but certainly no less real.
Here are some of Allurez's favorite Pearl Jewelry along with some fun facts:
Did you know that the more you wear pearls, the better they become? Your body's natural oils help keeps pearls lustrous so wear them as often as you'd like.
Akoya pearls tend to produce the smallest pearls with a 2-11mm size. They're also known to produce the most consistently round to near-round pearls, making them a highly popular choice for jewelry.
Freshwater pearls are cultured in freshwater mussels and product the widest range of colors and shapes making them the perfect gift for anyone's taste.
One of the most sought after and largest of these gemstone jewels, the Tahitian pearl is typically grey, charcoal, black or dark green in color.
Known as the "Queen" of the sea, the South Sea pearl produce some of the largest pearls and are known for having the thickest nacre.
Pearls can come in eight basic shapes: round, semi-round, button, drop, pear, oval, baroque, and ringed.
Pearls are not created and formed overnight. In fact, it can be a very slow and long process, taking up to even twenty years for a single pearl.
Every pearl is unique in its own way. No two are the same, and every single one has some imperfections.
Cultured pearls from mollusks do not kill the animals. They continue to live and can actually be re-implanted to make more pearls.
Be sure to shop Allurez for all types of pearl jewelry whether June is your birthstone or not. Pearl jewelry makes the perfect gift that has that classic look that never goes out of style. Check in next month to learn and shop July's birthstone, the Ruby.