---
Birthstone Jewelry / Designer Jewelry / Gift Ideas / Rings / Stackable Rings / Unique Jewelry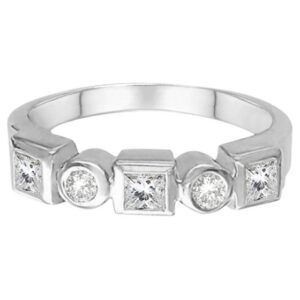 So many varieties of the sparkling special stones that you come across in jewelry stores and high class shopping boutiques all over the globe have the name "fashion" attached to them as a way to push the product rather than have your best interests at heart. Any truly discerning and very fashion conscious customer understands that the word has been massively applied to a multitude of things in the past and present. This fact means that these new and shimmering pieces can be false, fake, or just plain tacky. If you are concerned enough with the concept of possibly being tricked by this word attached to a certain gemstone in general, then you understand that risking your strongly held principles of fashion should not be something taken lightly, particularly when you have so many alluring and diamond rings that are widely available. Every individual absolutely requires at least one diamond band with which they can show their classic fashion and wonderful taste without seeming too out of date or old and dusty to any onlookers. Diamonds actually can come in a multitude of different cuts which reflect the astounding versatility of the gem, and it is the ultimate selection of your particular diamond's shape and cut that will helps to accent certain trends, personality traits, or style themes. Still, you should comprehend that whether a brilliant, square, marque, or princess diamond rings could never be a bad choice to properly bulk up your jewelry collection.
The precise kind of diamond ring which you choose to buy still leaves many options open to you. If you are really passionate about the allure of diamonds and simply cannot get enough of the special diamond shimmering on your ring, an easy solution is an eternity diamond ring that can perfectly satisfy your true desire since it has tiny, yet perfectly cut diamonds to line the entire band. For those who love diamonds but think that overall coverage is a bit too much, five stone diamond rings are a much better choice as they can show off the very well lit angles of the perfectly pieced together gems while not being extremely overwhelming in their sparkle. Also, they can be quite great if you frequently utilize your hands since part of the band is still a regular metallic circlet which frees up the bottom portion of your finger for usage. It is really the combination of great popularity, constantly stylishness, and never-ending allure that makes diamond bands ideal for any occasion, situation, and lifestyle.

About Allurez
Allurez is the premier designer and retailer of high quality fine jewelry with a brand name known to royals as well as to the rich and famous. We are committed to providing you with the largest and the finest selection of engagement rings, wedding bands, bridal jewelry, fine fashion jewelry, and certified loose diamonds. Go ahead, browse our store, and find your perfect jewel!