---
Engagement Rings / Rings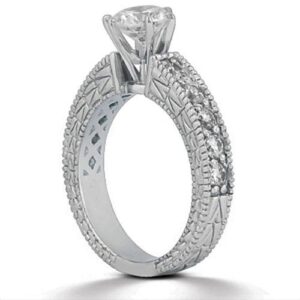 If you are asked to explain what the difference is between antique and vintage style engagement rings, would you be able to?
You may think that antique and vintage have the same meaning because they typically describe things that are old and were made a long time ago, but it is important to realize that both of these styles are not the same and have their own distinct characteristics.
Antique:
A piece of jewelry is classified as an antique when it is more than one-hundred years old. Antique jewelry belongs to the historical Georgian, Victorian, and Edwardian eras. Antique style engagement rings feature intricate filigree designs and milgrain craftsmanship that help recreate motifs from these moments in time.
Milgrain designs are very small engravings that have sharp indentations to create finely marked edges along the rings. Filigree, also called scroll work, is used to make antique style engagement rings.
Filigree designs refer to ornamental work that use strings of tiny beads that are arranged to create artistic patterns.
At Allurez, our designers have successfully mastered these techniques to craft elegant antique style engagement rings that look completely authentic. Our antique style engagement rings are available in white gold, yellow gold, rose gold, platinum, and palladium.
[socialpoll id="11402″]
This Edwardian inspired diamond engagement ring (0.35 ct) displays an exquisite center stone set in a prong setting.

The 14k white gold band has forty-eight round cut diamond side stone accents of GH color and VS2-SI1 clarity.

You can choose any center stone from our assortment of conflict-free diamonds. Click here to get started designing your own engagement ring.
Vintage:
Jewelry is considered vintage if it was made after 1920. The most influential time period that has produced vintage style jewelry is the Art Deco era, which dates back to the 1920s. The Roaring Twenties and Great Depression made a lasting impact on this artistic style that has continued to live on in today's world of fashion.
Art Deco jewelry features bold designs that emphasize geometric shapes and gorgeous symmetrical patterns.
The Allurez collection of vintage style engagement rings feature Art Deco designs with beautiful diamond and gemstone patterns. These rings are available in a variety of precious metals such as platinum, palladium, white, yellow, and rose gold.
All engagement rings can be customized to include a center stone of your choice from our wide selection of diamonds.
This Vintage Diamond Halo Art Deco Engagement Ring in 14k White Gold (0.97ct) showcases pave set round diamonds of GH color and VS2-SI1 clarity.

Additionally, there are 6 brilliant-cut diamonds that are in a bezel setting along this gorgeous 14k white gold band.

Click here to get started designing your own engagement ring.
Antique and vintage style engagement rings have a one-of-a-kind appearance that is truly irreplaceable. These ring styles have become a part of the Allurez "Top Ten Most Popular Engagement Rings" list because of their exquisite and unique styles that differentiate themselves from ordinary engagement rings.
To shop our full collection of vintage and antique style engagement rings head over to Allurez.com.

About Allurez
Allurez is the premier designer and retailer of high quality fine jewelry with a brand name known to royals as well as to the rich and famous. We are committed to providing you with the largest and the finest selection of engagement rings, wedding bands, bridal jewelry, fine fashion jewelry, and certified loose diamonds. Go ahead, browse our store, and find your perfect jewel!