---
Engagement Rings
9 Engagement Ring Trends That Will Take Over in 2022, Explained by the Experts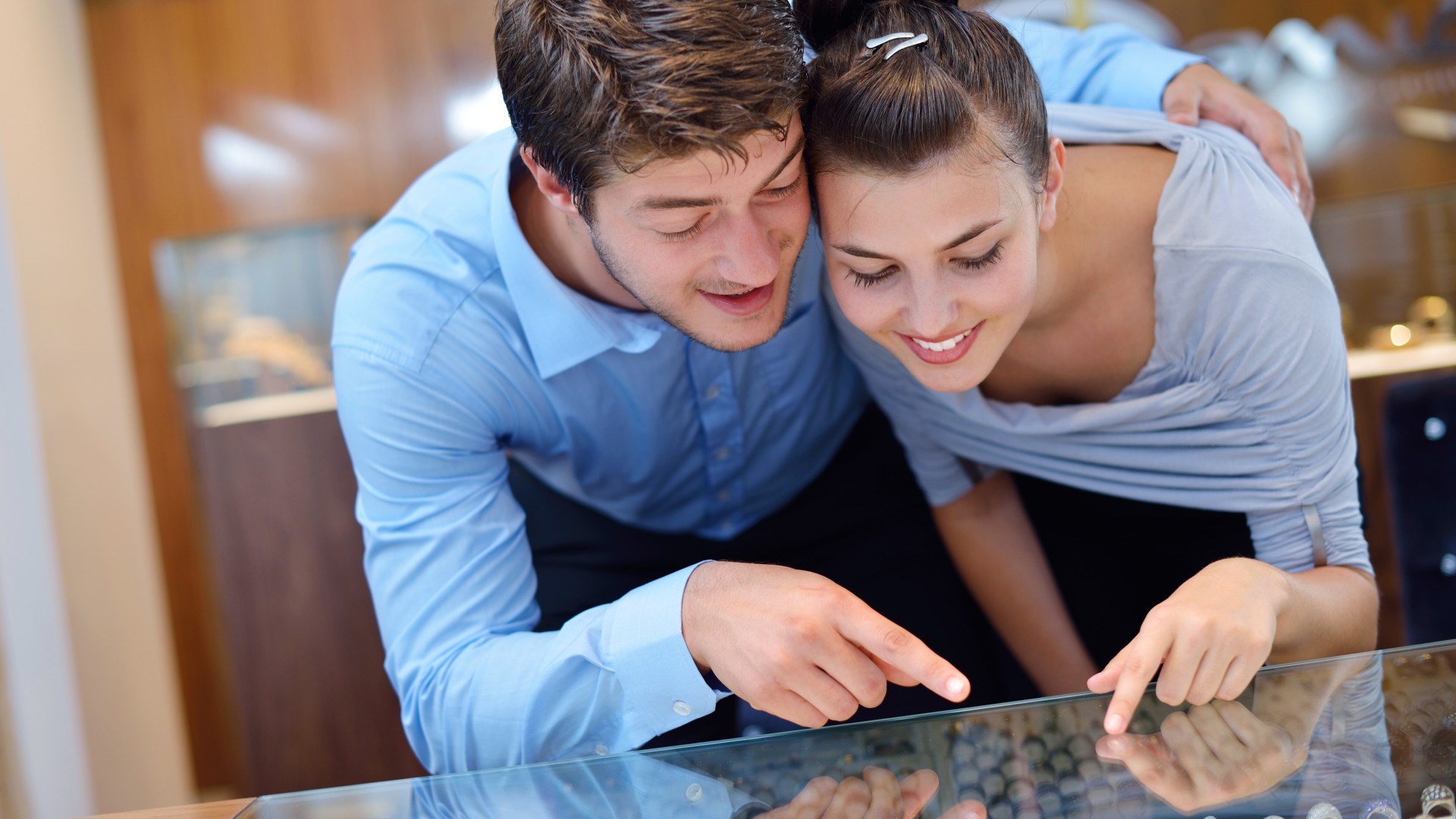 Tis the season to get engaged, and for those planning to propose, that means picking out the ring for popping that all-important question. But before you get down on one knee, it's time to decide which piece of jewelry will best suit your future spouse.
These experts are all offering a glimpse into the future, with a list of the nine big engagement ring trends we can expect to see in 2022. Whether you're shopping with your true love in mind or by your side, these trends could help you home in on the one ring that best suits your love.
1. Commissioned Pieces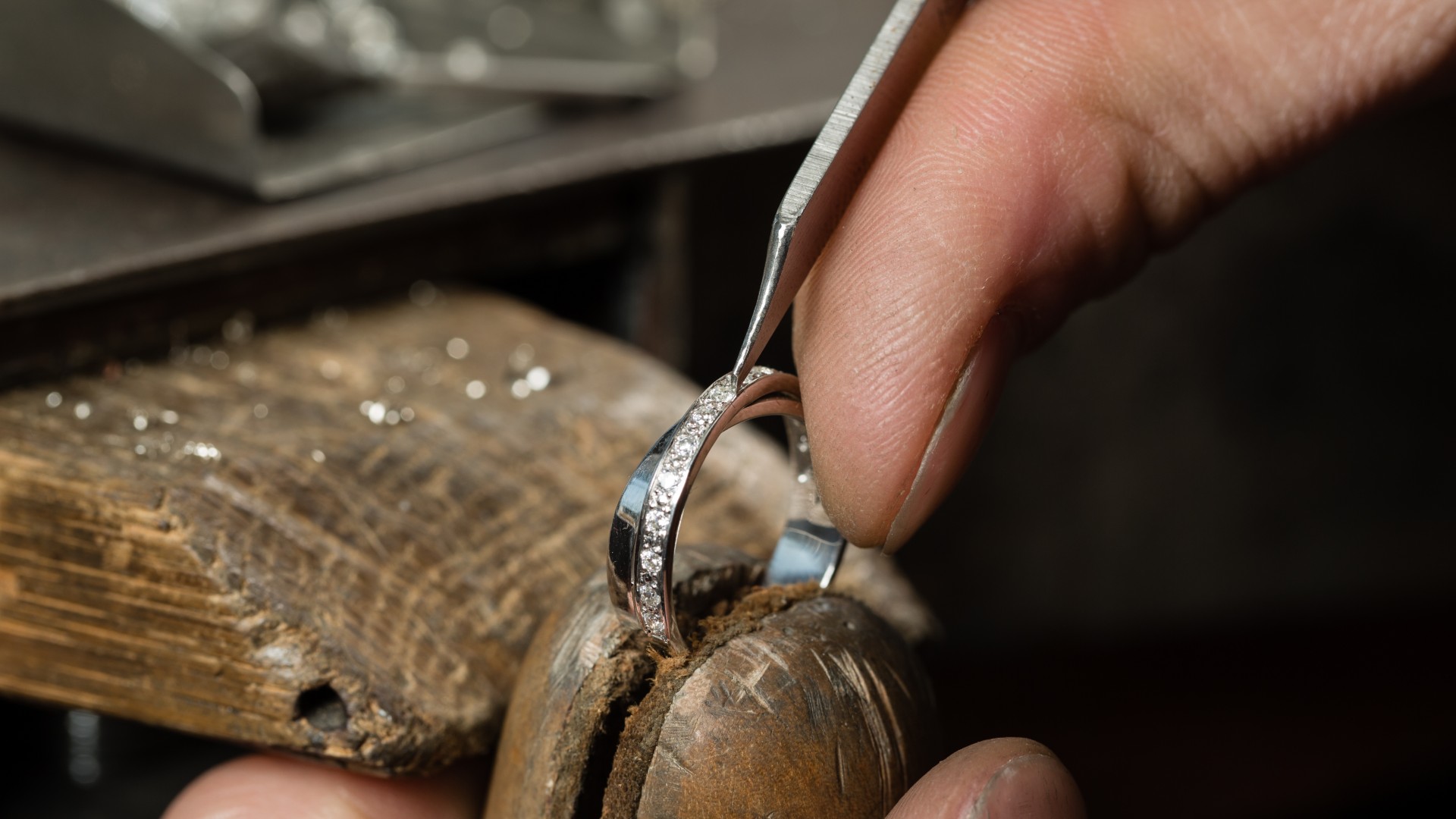 For couples with unique tastes that don't quite match the jewelry options already made and ready to ship, there is the option to create a custom or commissioned piece. Bri Marbais, a bridal stylist at Winter Park, Florida-based shop The Bridal Finery, told Southern Living that couples shopping for engagement rings in 2022 "will be looking for a personalized and custom experience. This allows them to incorporate their personalities and love stories in unique ways."
Allurez's Design Your Own feature encourages couples or the proposing partner to craft an engagement ring from scratch. You can start with an existing setting or stone or even submit a drawing of your dream ring and let our design experts turn your vision into a glittering reality. Other options include modifying an existing ring with small tweaks, so the piece better matches your personal taste. This might mean altering how a stone is set or adding accent stones to amp up the glitz and glam.
2. Reimagining Family Heirlooms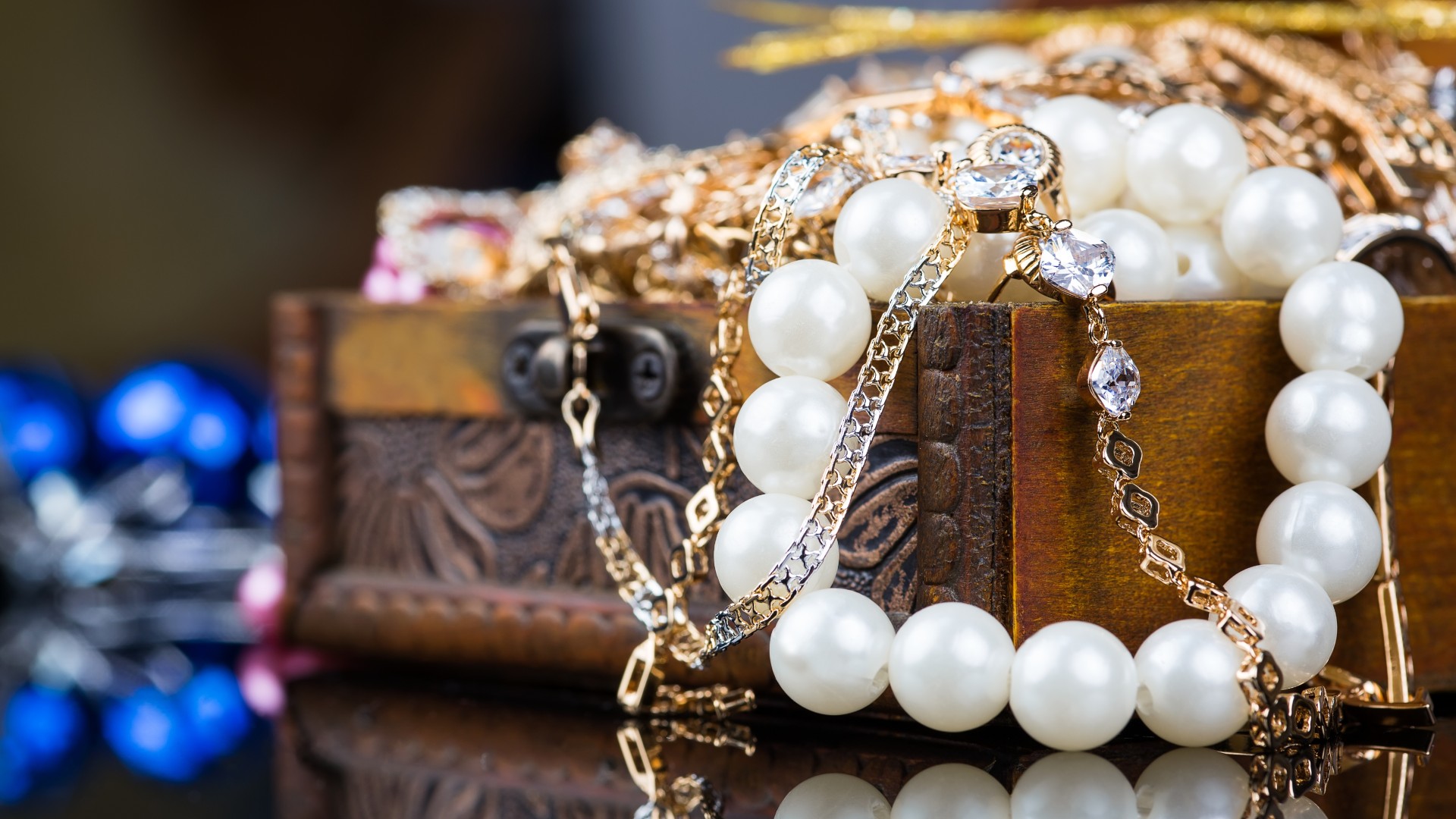 Marbais also foresees lots of family heirlooms finding a new lease on life. "We encourage couples to explore the option when shopping for their engagement rings," she explains, "and even consult with their families on the opportunity of any fun heirloom pieces that could be incorporated.
While this might mean taking your grandmother's ring and putting the diamond in a new setting, keep an open mind. Everything from a treasured necklace to a pair of vintage earrings can be transformed into a ring if you have the right person doing the work.
3. Fancy-Cut Diamonds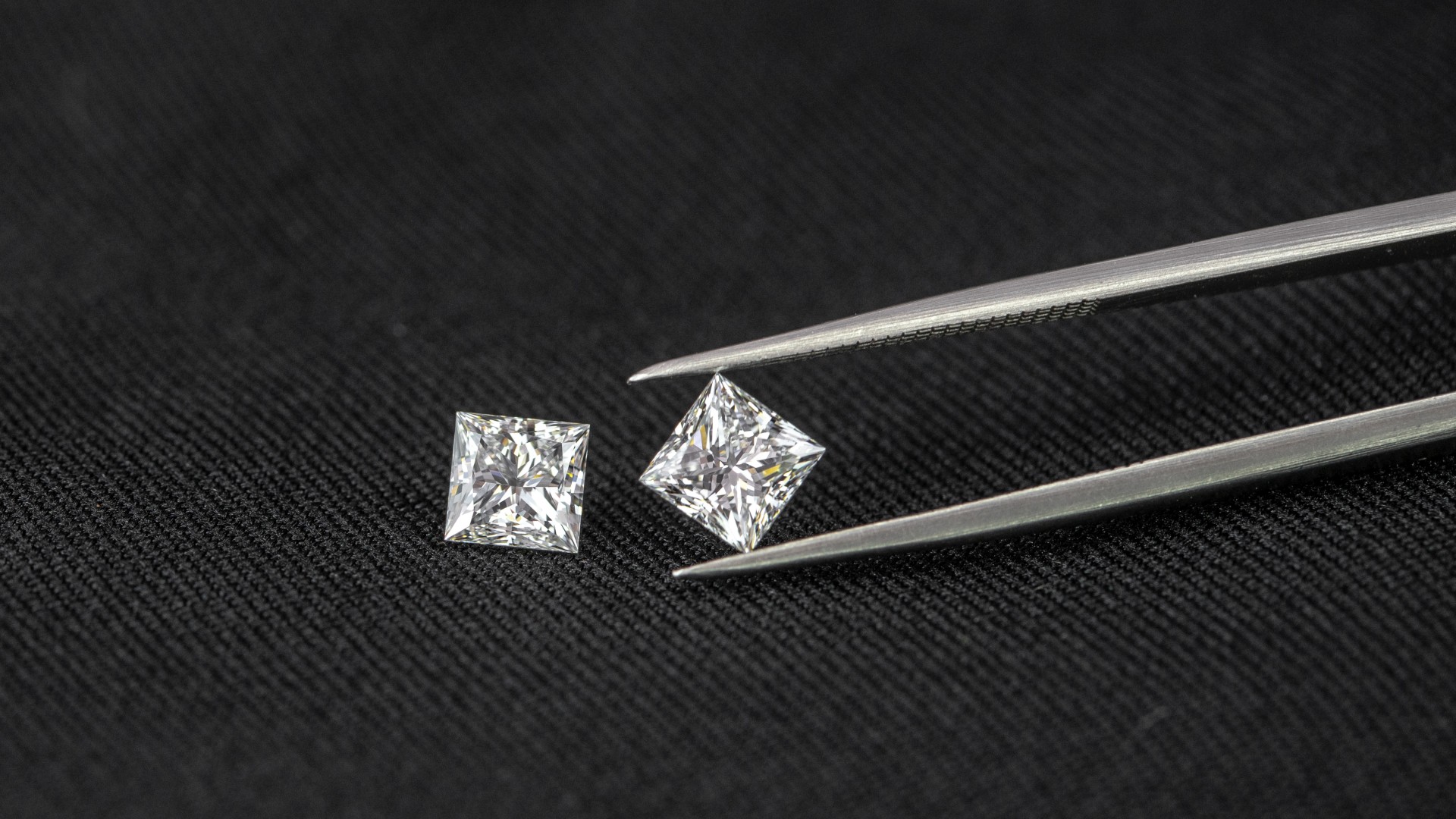 As a designer herself, jewelry expert Sarah Munro has a front-row seat to engagement ring trends, and she has quite a few predictions for the upcoming wedding season. First up is a noticeable shift away from traditional shapes such as round-cut and oval solitaires and toward so-called fancy-cut gems that are less common.
Munro told Vogue Australia, "Marquise diamonds are a favorite of ours because of their classic and flattering, elongated silhouette."
Other fancy cuts like a cushion, Asscher, pear, princess, or heart-shaped diamonds could make for a fun and memorable engagement ring, too.
4. Sustainable and Ethically Sourced Diamonds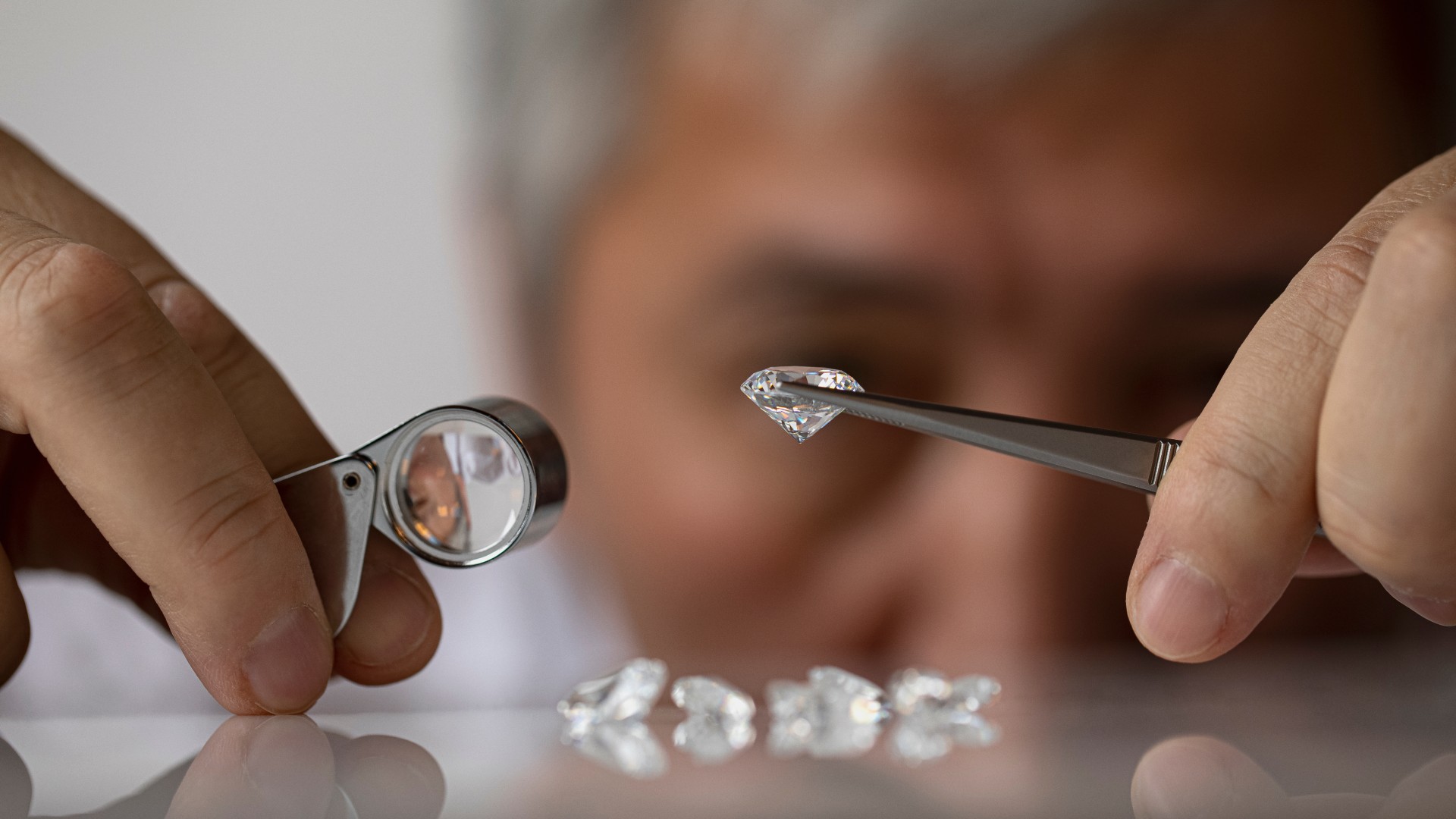 Over the last few decades, the public has become increasingly aware of the atrocities attached to so-called conflict diamonds. These stones, also sometimes referred to as blood diamonds, are sourced from countries torn apart by factions looking to profit from exclusive control of the diamond mines.
Presidents Clinton and George W. Bush both issued executive orders blocking the import of rough diamonds from the countries of Sierra Leone and Liberia, and Allurez has made a commitment to adhering to strict import policies that ensure clients are provided with ethical, conflict-free diamonds.
Now experts believe concern over sustainability and diamond sourcing will lead consumers to make more conscientious purchases in 2022. Creative Director Leneille Moon of the Special Event Factory in Roswell, Georgia, anticipates couples will very deliberately look for rings made with the betterment of people and the environment in mind.
"Diamonds used to be the only choice for weddings," remembers Moon. "However, after various documentaries have highlighted the violent history of diamond mining and its effects on the local communities, many have opted for other stones for their rings."
Those "other stones" could be diamond alternatives such as moissanite, moonstones, rubies, emeralds, aquamarines, amethysts or certified conflict-free diamonds. Lab-made diamonds are another safe choice — shoppers get the visual perks of a "real" diamond along with the peace of mind that comes with knowing their stone was safely manmade.
5. Matching Sets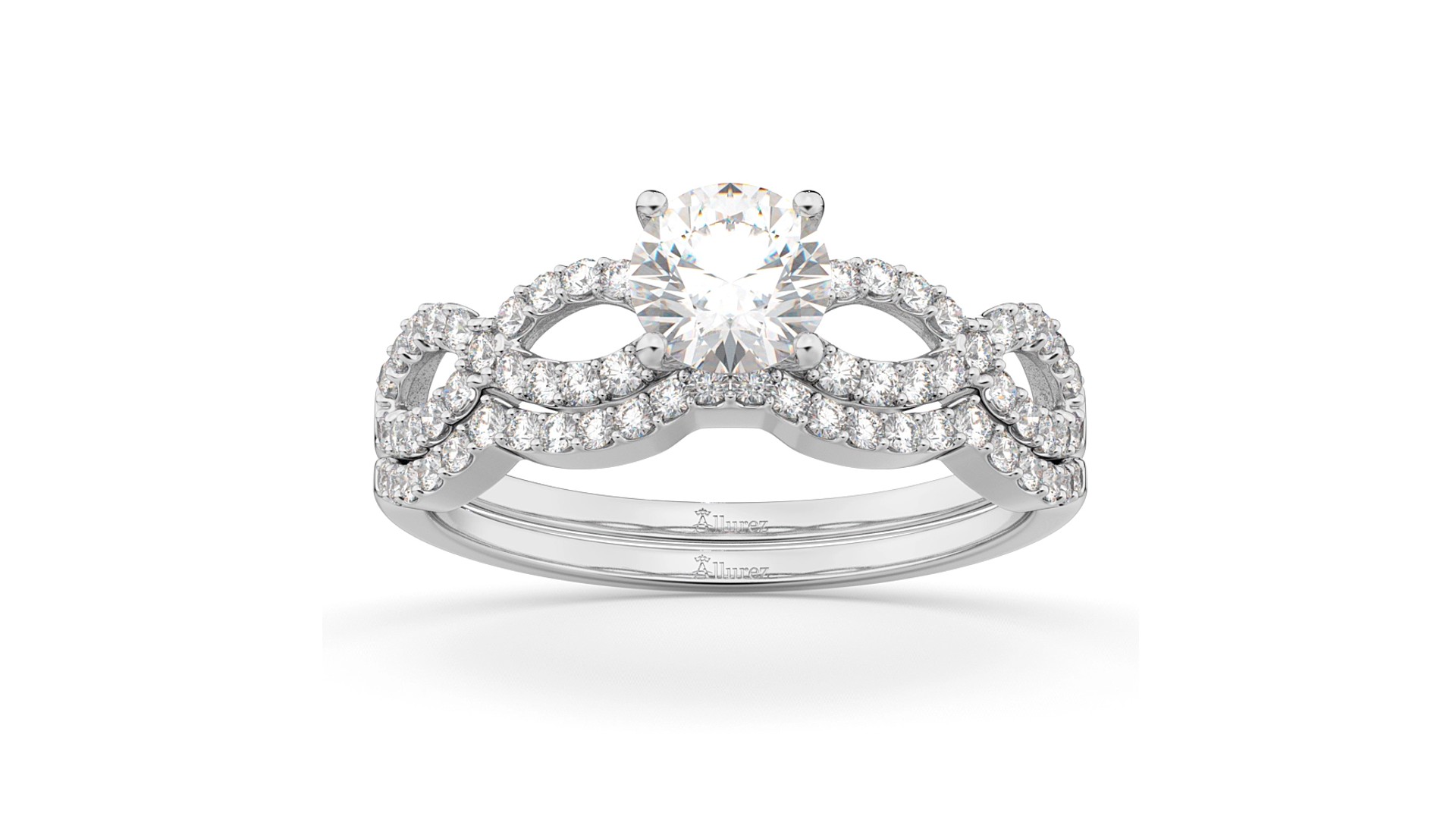 Matching bridal sets aren't exactly a new concept, but in recent years, many couples have opted to purchase engagement rings and wedding rings separately. This may happen because the person proposing chooses the engagement ring solo and then the happy couple buys their bands together after wedding plans are already in progress.
But Munro predicts 2022 will see more deliberate purchasing behavior, with brides and grooms taking steps to ensure engagement and wedding rings are truly complementary. This could mean buying the rings as a defined set or, according to Munro, shopping strategically to buy rings that balance each other out. Says Munro, "I think unconventional engagement rings will be paired with bolder, traditional solid gold bands."
Imagine a fancy-cut marquise with pave-set accent stones paired with a simple yet impactful bold gold band and you'll get an idea of what Munro has in mind.
6. Vintage-Inspired Designs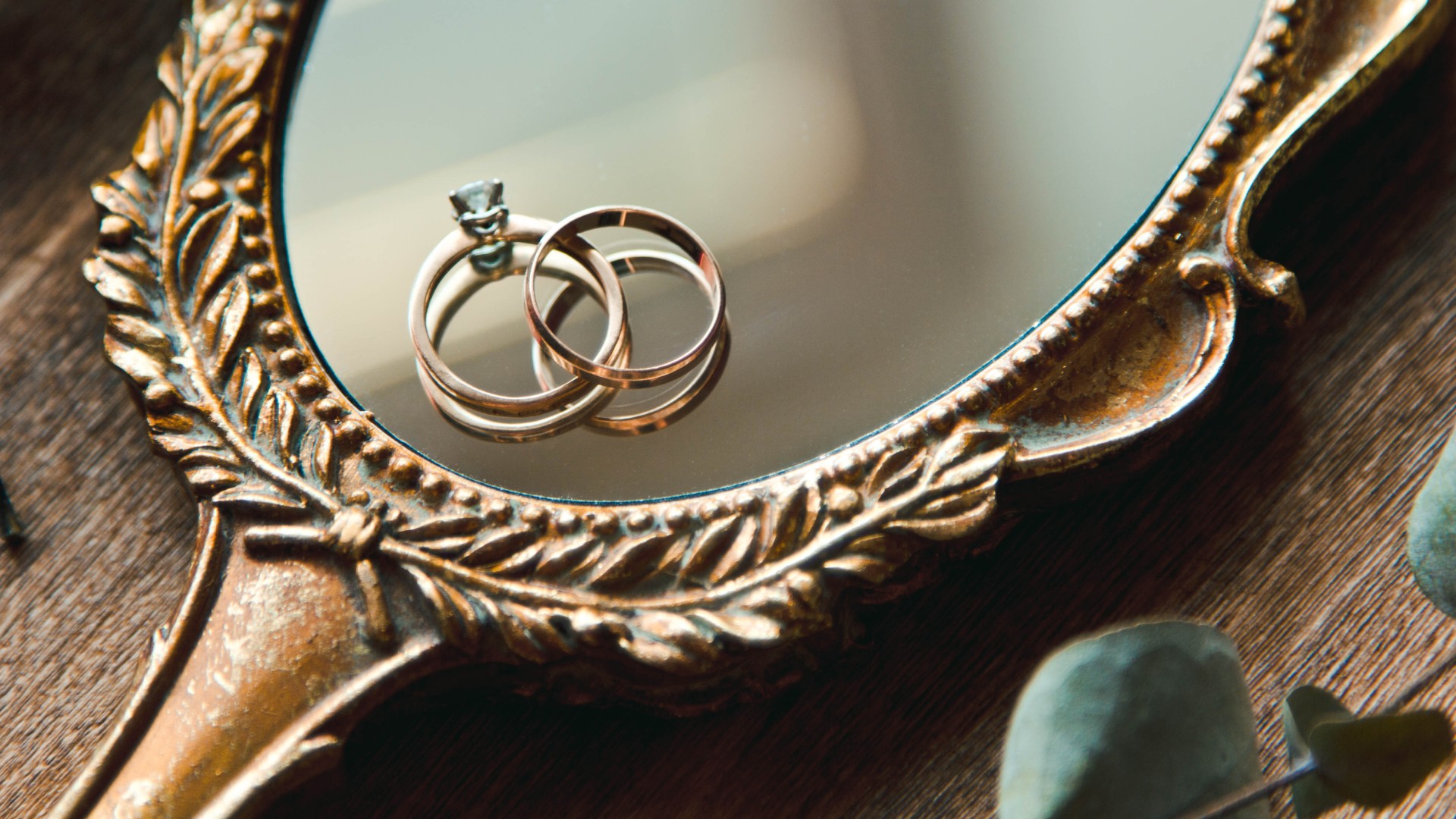 Pop culture can have a huge influence on wedding trends in general, rings included, and the popularity of period films and TV shows like Netflix's mega-hit Bridgerton will lead to a surge in vintage-inspired rings in 2022. Meredith Ryncarz, a photographer based in Savannah, Georgia, agrees.
Ryncarz explained the vintage trend to Yahoo!, saying, "This isn't your grandmother's cocktail ring but rather a customized and well-curated nod to nostalgia with a beautiful diamond front and center." In other words, these are new designs with a vintage spin. Expect bands with lots of detail, such as intricate beading, floral engraving, filigree, geometric shapes (especially true in Art Deco-inspired pieces) and metalwork influenced by nature.
7. Colored Gemstones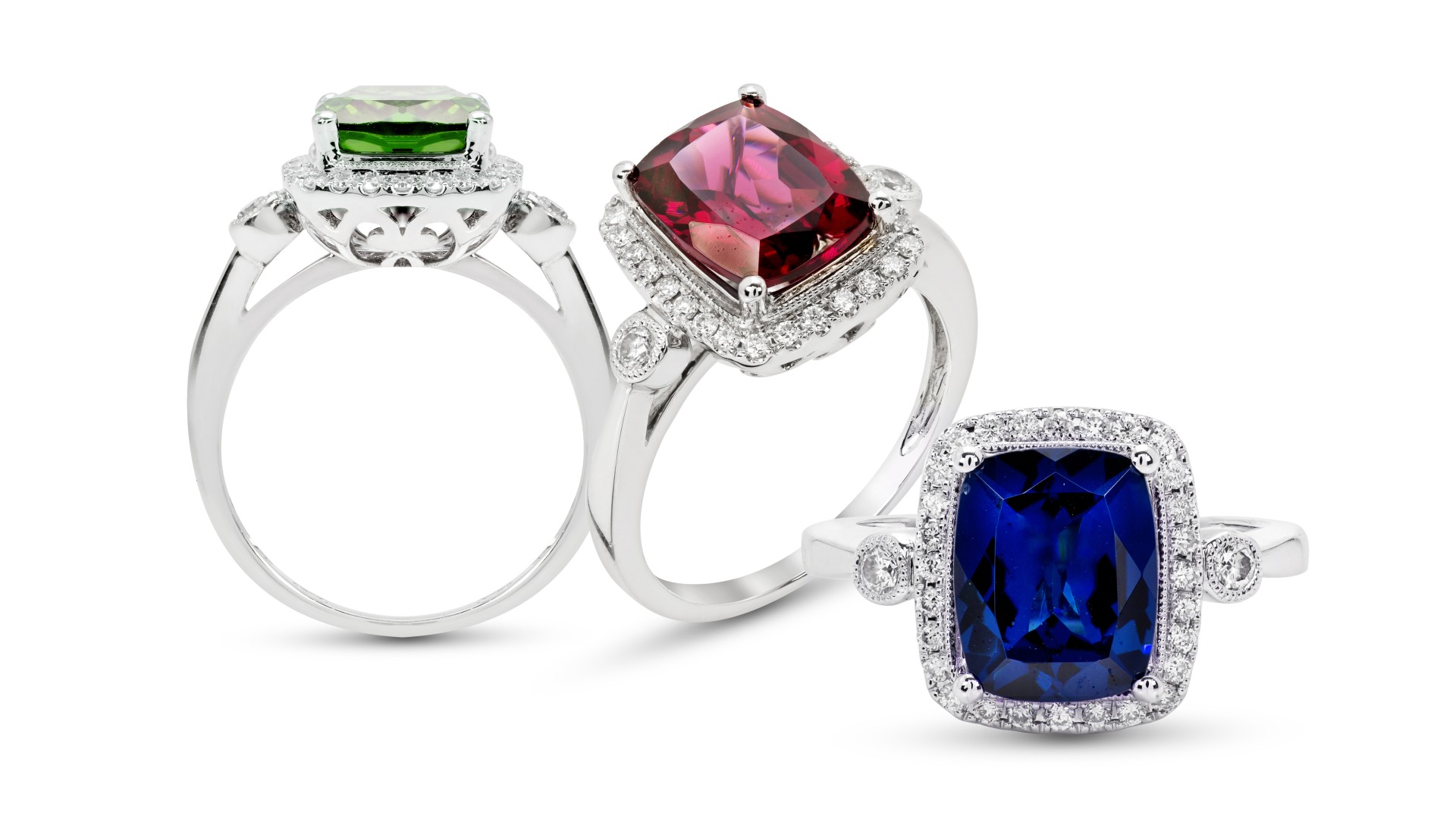 While diamonds are still the top choice for engagement ring stones (over 80% of shoppers choose a diamond versus diamond alternatives), 2022 will bring more vibrantly colored gemstones. These could appear either alongside diamonds or all on their own.
Marci Guttenberg owns her own bridal stationery and accessory store in Pompano Beach, Florida. According to her, adding color is about personalization as well as a desire for something different. "Though diamonds will always be at the forefront of popularity," says Guttenberg, "a new trend of unique gemstones — such as sapphires, rubies and emeralds — offers an opportunity to incorporate your significant other's favorite color."
Rachel Boston, a jewelry expert from the UK, is also seeing more clients come in with unusual gemstone requests. "There is definitely a bit of a shift away from more traditional white diamond solitaire styles, towards pieces that are still elegant and grown-up, but a bit more infused with the wearer's personality."
It's not just fancy color diamonds either, though Boston says those stones are included in the mix. "We're seeing a lot of demand for champagne and yellow diamonds," Boston told Elle Australia, "green, teal and peach sapphires, all really elegant colors, and most of the time these are flanked by white diamonds on either side. These bring a bit of sparkle and frame the unique hues of the central stone beautifully."
8. More Eye-Catching Settings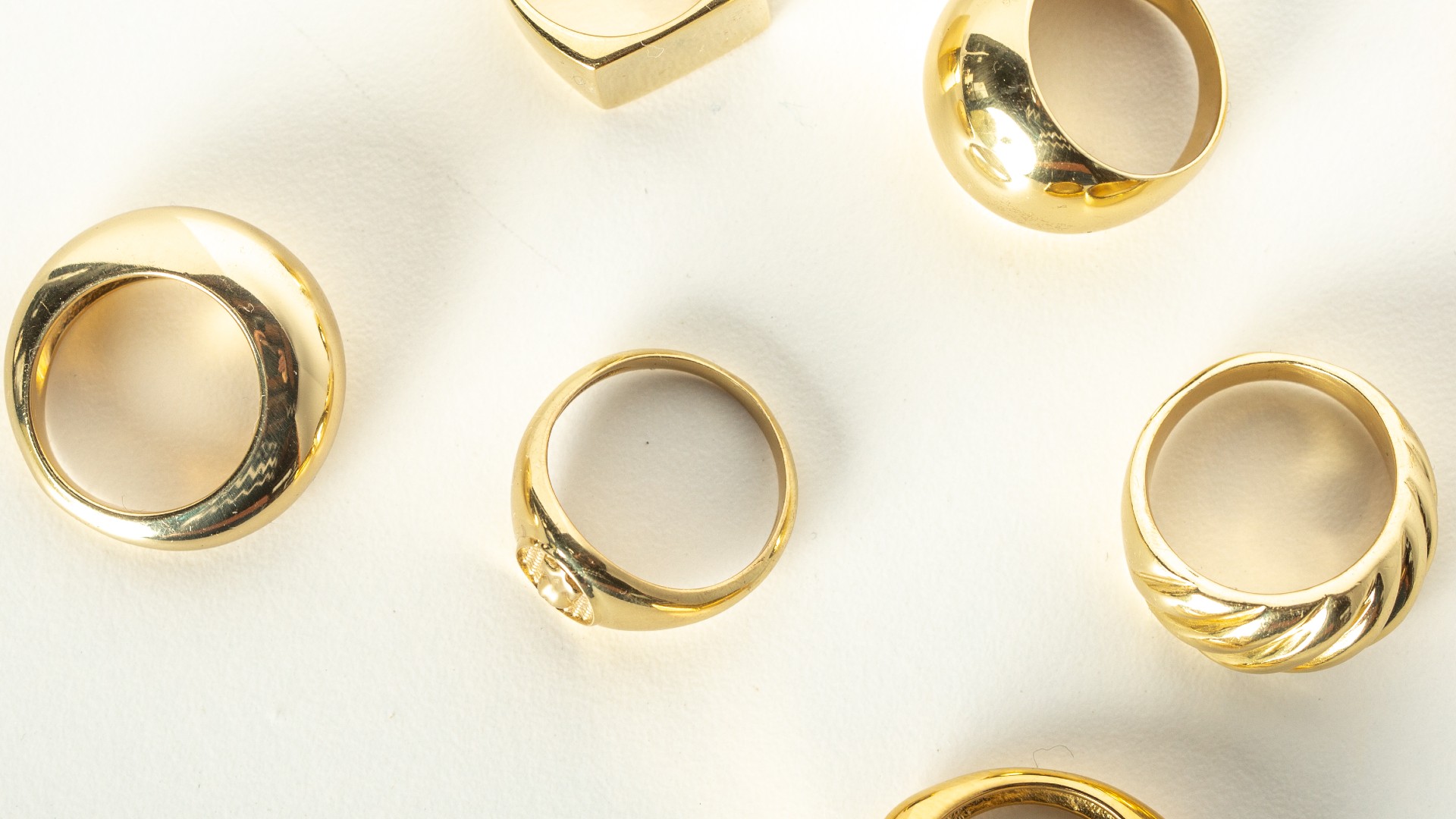 For some couples, 2022 will be less about the gemstone portion of the ring and more about the band underneath it. Jessie Thomas, a second-generation goldsmith and designer who lives in London, says "chunky" is one of the buzzwords heading into the next year.
As Thomas tells it, "My biggest trend is a single diamond ring in a heavy gold bombe or sculptural ring. People are still channeling their budget into a single diamond, but they are looking to design more to set the stone more interestingly. They want a unique design, a chunkier ring and often an unusual form to add interest."
This could be a good way to honor a more modest budget by using a statement-making setting to play up a smaller stone. It's also a way to add visual appeal without going too far outside the box. "People are willing to move away from the traditional, yet they still want to keep within a relatively classic and simple design," says Thomas.
9. Combined Cuts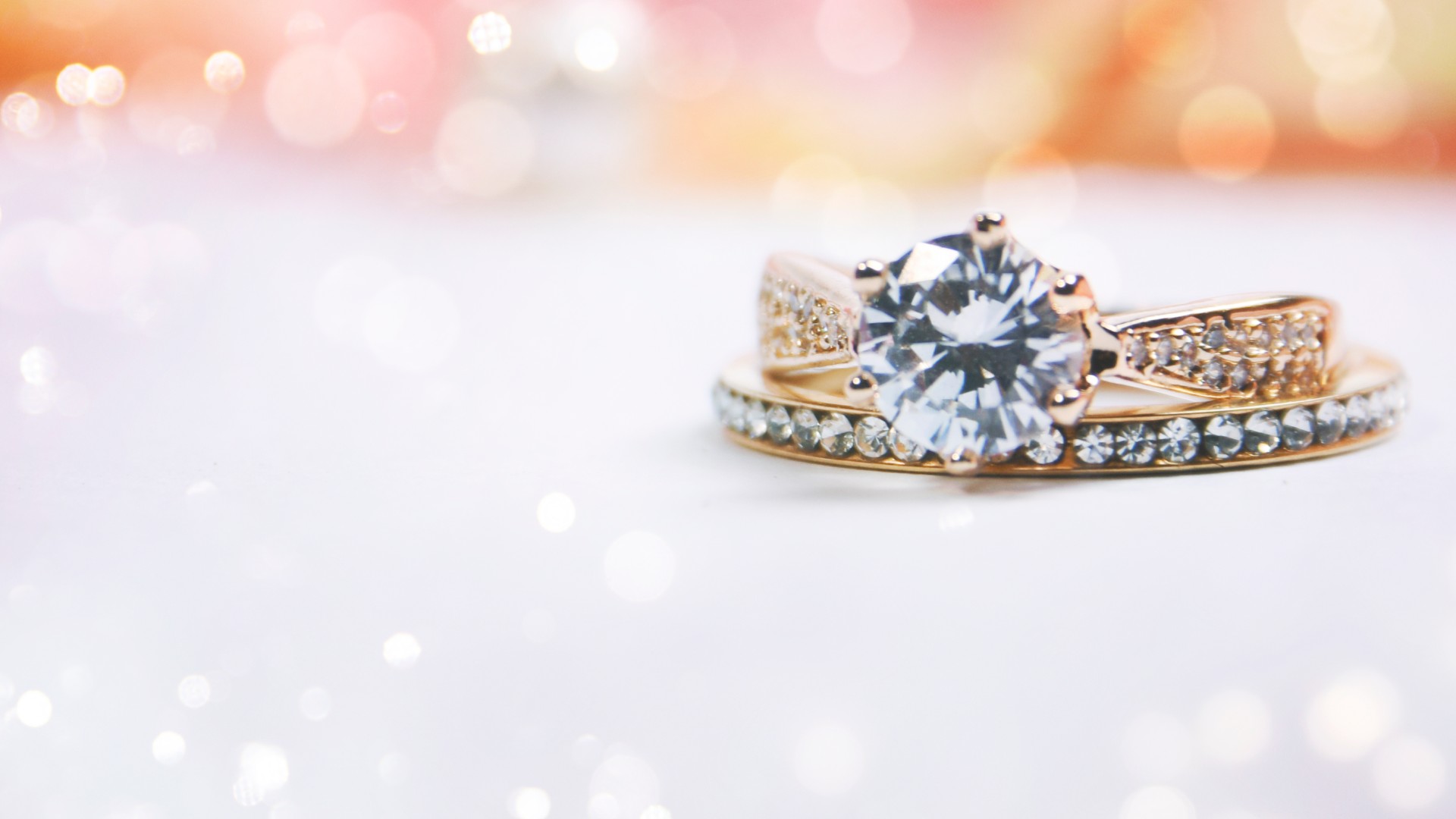 Gone are the days when rings have to be perfectly symmetrical and all the stones super matchy-matchy. Modern designs emphasize originality, and in 2022 that might mean mixing it up with stones of different colors, different cuts or both.
Just ask certified GIA gemologist Emma Clarkson Webb. "My clients are becoming much more adventurous when it comes to combining different cuts of diamonds — baguettes with rounds, for example. I love that there are no rules when it comes to designing an engagement ring: anything goes!"
The increasingly popular toi et moi ring falls into this category, too. The phrase literally translates to "you and me," and in the jewelry world, toi et moi rings are those that showcase two stones, each intended to represent one half of the happy couple. The original toi et moi was believed to belong to Josephine, a gift from her husband, Emperor Napoleon, in 1776. These two-stone rings can be striking in their simplicity or incorporate two different, boldly cut stones on an ornate, sculptural band.
For more inspiration, check out our full line of engagement rings today.

About Allurez Tech

Twitter •