---
Engagement Rings / Rings / Unique Jewelry / Wedding Bands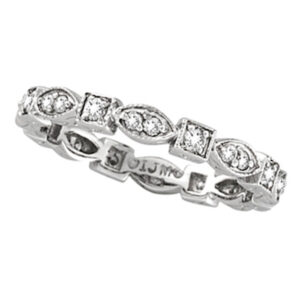 Within the earth, there are numerous elements that exist by themselves and can combine with other elements to create unique metals. The idea of embracing these metals in our daily lives might seem silly, but it is human nature to be in love with shiny and sparkling things. The fact that these metals are relatively rare in the world also makes them very special and worthy of unique uses to humans. The most common of uses is through jewelry though. When it comes to choosing new pieces of jewelry for your personal collection, the selection of a base precious metal is one of the most important aspects since it sets the tone for the entire item. Yet, the world of precious metals might be a bit restrictive to some people. The idea of having only a certain amount of something definitely is something that helps the sell of precious metals (because they are rare and special) and something that hurts it (because they are limited in overall quantity and types). Silver is one of the most common precious metals, but it is easy to bend and tarnishes quickly. Gold (both white and yellow varieties) tends to be a timeless classic. However, new kinds of precious metals are still quite nice.

Platinum is a relatively new metal to the game of jewelry making. Yet, it has quickly taken over the crown to be considered the king of all precious metals. It actually is a base metal which is the head of an entire family of metals known as the platinum group. Platinum is extremely durable and lasts for much longer times than gold or silver. Also, any sharp blows will be simply pushed aside or slightly distort platinum rather than being chipped away as with gold. The 950 platinum alloy has increased in popularity lately because of its lower cost. However, palladium is even more inexpensive but just as durable and shiny. Palladium is part of the platinum group. It is hypoallergenic like all platinum metals. 950 Palladium alloys are lighter than platinum though, which makes all jewelry made out of palladium easier to wear for long periods. For this reason, palladium rings which you wear for expansive amounts of time are very popular—such as palladium engagement rings. Even more important are of course palladium wedding rings. If you need inexpensive rings that will last forever, palladium wedding bands with unlimited shimmer are what you need!

About Allurez
Allurez is the premier designer and retailer of high quality fine jewelry with a brand name known to royals as well as to the rich and famous. We are committed to providing you with the largest and the finest selection of engagement rings, wedding bands, bridal jewelry, fine fashion jewelry, and certified loose diamonds. Go ahead, browse our store, and find your perfect jewel!