---
Birthstone Jewelry / Designer Jewelry / Rings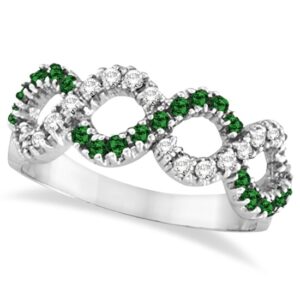 Birthstones are an interesting yet somewhat curious element of symbolism in our modern world.  Their basic definition revolves around a gemstone gift which can symbolize a person's birth month according to the modern calendar embraced by the Western World—generally known as the Gregorian Calendar.  The modern list which details the birthstones that we use today with their associated months was created in 1912 by the Jewelers of America (which is the American national association of jewelers) who wanted to standardize the birthstone list in order to keep from confusing millions of people along multiple country lines.  This definitive list created by the Jewelers of America is used in the United States, Thailand, the United Kingdom, and Australia.  Birthstone jewelry, due to this rather special list, have boomed in popularity recently since most jewelry stores feature some form of the list on display.  It is a wonderful way to purchase a special piece of personal jewelery adornment which honors the birth month of the person in question and create an appealing yet fun style for the person to wear in representation of a part of herself or even himself!
The month of May is full of life and possibility.  Spring is winding down and summer is about to kick into full gear.  With everything in full bloom and the color green taking over, it is no wonder that emerald was chosen at the official birthstone of the month.  The vibrant, deep green shade of the gemstone has made May birthstone jewelry popular on its own level.  Emerald jewelry is a great way to show off your high fashion style and create a wave of allure that can set you apart in addition to indicating your birth month.  Emerald earrings are a wonderful place to start if you are beginning your emerald jewelry collection since they can help you test out how the special green looks against your skin tone and hair color without appearing off or not attractive.  If your love of emeralds is already rather deep just like the tint of the gems themselves, emerald necklaces might be a better option as emerald pendants in particular have surged in popularity in the wide world of fashion recently as a way to stand out in a unique and alluring way.
If your jewelry collection could really use a band instead of other forms of personal adornment, May birthstone rings are certainly able to wow everyone around you since birthstone jewelry tends to favor ring format in the first place.  Emerald rings have long been associated with right hand based fashion rings, which means that you can support your birthstone love while still being the talk of the town with the deep and verdant green shimmering on your finger.

About Allurez
Allurez is the premier designer and retailer of high quality fine jewelry with a brand name known to royals as well as to the rich and famous. We are committed to providing you with the largest and the finest selection of engagement rings, wedding bands, bridal jewelry, fine fashion jewelry, and certified loose diamonds. Go ahead, browse our store, and find your perfect jewel!