---
Engagement Rings
The true meaning of any engagement ring is in the eyes of the bride and groom. And, although the same is true of yellow diamond engagement rings, the unique color of this diamond itself has special meaning.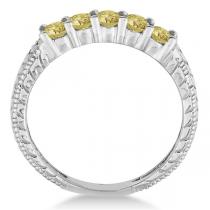 Yellow Diamonds Shine with Love
The color yellow is associated with so many positive things including sunlight, new beginnings, happiness and hope. Yellow diamonds, like all fancy and white conflict free stones, are symbolic of commitment and love. Together the yellow diamond engagement ring is filled with love, passion, commitment, prosperity and joy.
Yellow Diamond Engagement Rings:Make 'em Shine
The best way to show off your alternative bridal, canary yellow diamond engagement ring, is to set it high, preferable in a prong setting.  For maximum brilliance from every angle choose a setting that doesn't block this beautiful stone.
A yellow diamond engagement ring is a truly elegant way to start your bright future as one.

About Allurez
Allurez is the premier designer and retailer of high quality fine jewelry with a brand name known to royals as well as to the rich and famous. We are committed to providing you with the largest and the finest selection of engagement rings, wedding bands, bridal jewelry, fine fashion jewelry, and certified loose diamonds. Go ahead, browse our store, and find your perfect jewel!