---
Category 2
Our Top 9 Favorite Engagement Rings with Diamond Alternatives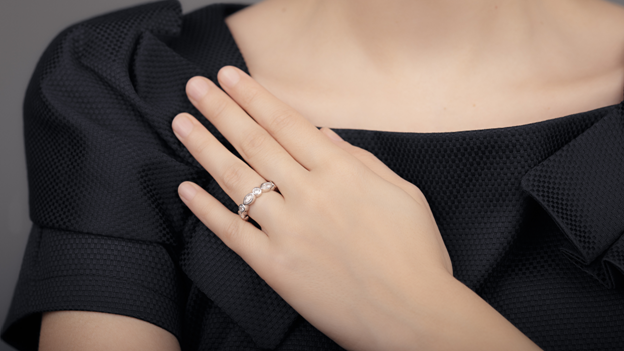 Diamonds may seem like the automatic choice for an engagement ring, but in reality, they've only been the gemstone default for wedding jewelry for less than a century. All across history, lovers have exchanged everything from simple copper bands to masterful rings studded with an entire rainbow of gems. What you choose for yourself or your beloved is completely up to you.
Here are a few of our favorite engagement rings featuring diamond alternatives.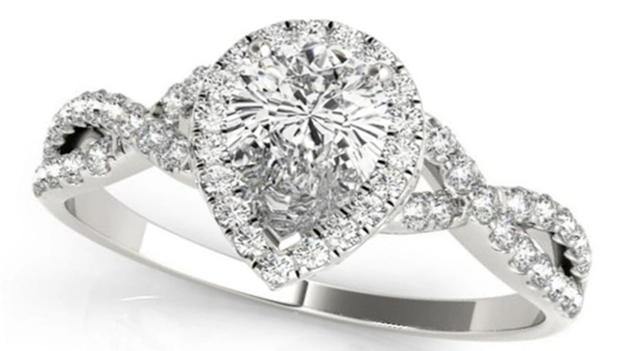 This stunning ring combines several trends, including a pear-shaped center stone and a twisted band. But perhaps the biggest off-the-moment inclusion is the use of moissanite, a beautifully brilliant stone that's clear and radiant like a diamond and with even more fire. Moissanite is also made using a sustainable, eco-friendly process that minimizes environmental impact so the wearer can flaunt tons of sparkle without a worry in the world.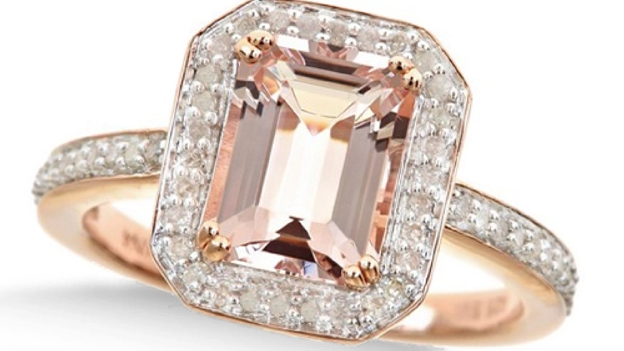 You'll enjoy the vintage vibes that come with this rose-hued piece almost as much as you'll enjoy the jaw-dropping price tag, and no one will ever guess that you're getting such a stunning stone for such a steal. That's just one of the many reasons morganite is skyrocketing in popularity. Morganite is a version of beryl that shows up in a range of transparent pinks. Here, it's tucked into a matching setting for some seriously romantic results that feel like something stolen straight out of an old Hollywood film.
When Prince Charles proposed to Diana Frances Spencer, the future Princess of Wales, he didn't exactly present her with a surprise ring hidden in a box from a local neighborhood shop. Diana was able to choose her ring from a number of preapproved picks borrowed from the crown jewels and a jeweler favored by the British Royal Family.
Diana's choice was a 12-carat oval sapphire nestled in a circle of 14 round diamonds, all set in 18-karat white gold. Later, Diana's son, Prince William, would give the same ring to his future bride, Kate Middleton, who still wears it proudly to this day.
This stunning ring brings all the excitement over a royal wedding rushing back. An iconic oval blue sapphire looks incredible next to the glimmering white gold band. It's gorgeous, it's the perfect blend of traditional (worn by royalty) and non-traditional (doesn't feature a diamond) and it's sure to start some interesting conversations.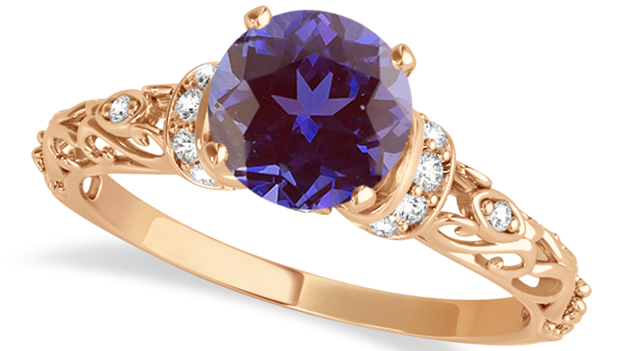 Head's up, vintage fashion aficionados: If you want an engagement ring that looks like it could've been stolen from a royal jewels exhibit at some big-name museum, you've just found it. The use of Alexandrite, a stone long believed to bring good luck with money and love, seems like an auspicious choice for a wedding piece. Add in an ornately carved band in romantic rose gold, strategic use of some accent diamonds and stand-out "collars" that call future attention to the blue-purple center stone, and you have a ring for the ages.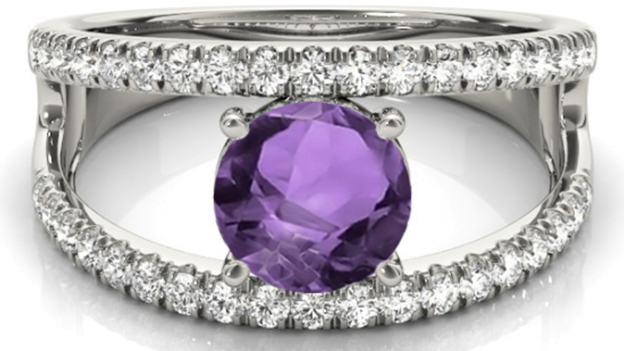 This ring is hardly devoid of diamonds. In fact, it features an eye-catching split-shank band, a good portion of which is covered in sparkling accent diamonds. But the center stone, seemingly suspended in space between the two diamond-studded bands, is a lush purple amethyst.
The Ancient Greeks were arguably the first to realize the power of amethyst as a healing crystal, but other civilizations quickly followed suit. The name "amethyst" actually comes from the Greek word amethystos, or "not intoxicated" — apparently the idea was that donning an amethyst amulet would protect the wearer from getting drunk. Now, amethyst is more commonly associated with clarity, control over life and related decisions, reducing negative energy, and helping to promote deeper sleep, mitigate migraines and boost immunity.
We just love how modern yet timeless this ring is, and how it makes a comparatively smaller stone seem huge just by switching up the setting and using a bit of jeweler-made magic.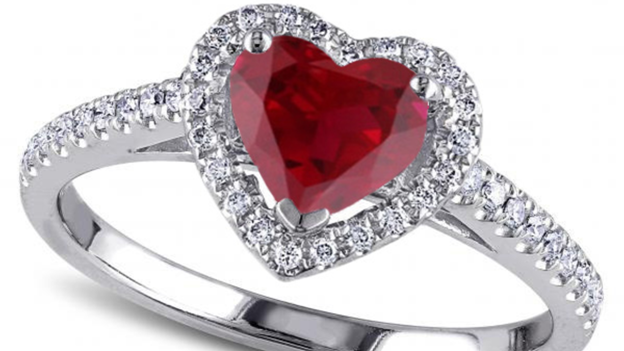 These days, you can find a heart-shaped stone made out of almost any gem, but the romantic in us can't get away from how lovely a heart-shaped ruby looks set into an engagement ring. It's like something out of a fairy tale yet is sophisticated enough for the modern bride to wear with pride. This particular design uses 54 carefully chosen diamonds to create a halo around the ruby and extend the glittering border down the shank of the ring.
Given that rubies represent everything from purity to nobility to passion, choosing a ruby engagement ring as your diamond alternative is a nod to history that serves as a beautiful introduction to your own romantic future.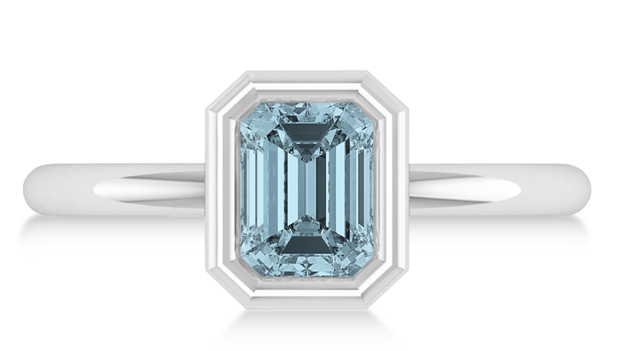 Simple, streamlined and sophisticated. But don't mistake simplicity for boring or plain — no, this ring is breathtaking because of what it contains just as much as what it omits. There are no accent diamonds, no engraving on the band and no gargantuan stone you can see from space. Instead, the magnificent-quality aquamarine stone is expertly cut to make the most of the gem and outside light.
The result is a bold, statement-making piece that complements the wearer's existing style. From boho brides who like to wear many rings and want something that plays well with others to modern brides who prefer less embellished adornments, many will fall in love with this ring at first sight — and we don't blame them one bit.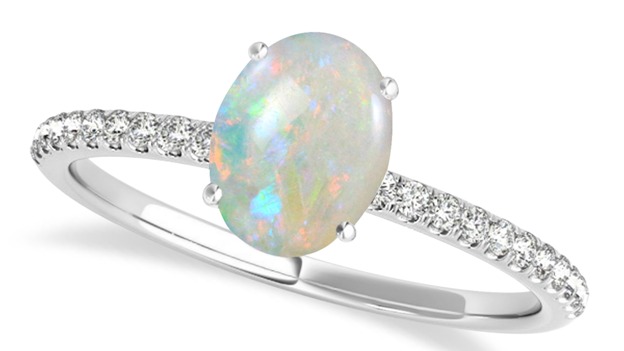 This highly customizable ring can support almost any stone, in any carat weight, on any metal, but there's a reason we chose to feature this combination. Opal is a much under-utilized and underestimated stone. While it might not have the immediate cache of a ruby or emerald, this precious stone (the official birthstone for October, by the way) is believed to have strong ties to luck and magic. Depending on the culture, opal is a symbol of hope and purity, a sacral chakra that can help cure addiction, or a tool for improving eyesight.
Most importantly, perhaps, opals are incredible to look at. Those little flints of fire that catch and reflect light from within the stone make the gem seem like it's alive. Diamonds on the band add a touch of elegance, but it's done in a way that supports the opal's innate beauty rather than detracting from it. Sheer perfection.
9. The One YOU Dream Up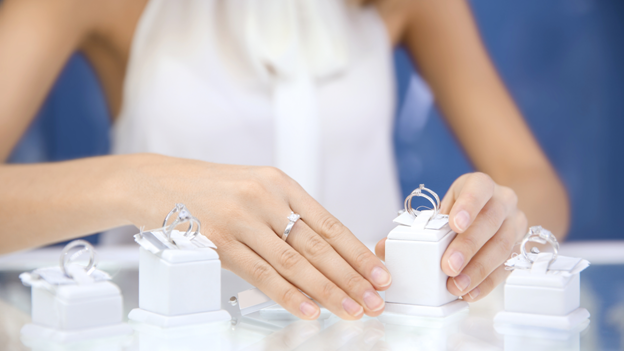 At Allurez, our collection of engagement rings includes thousands of variations on designs that would look amazing with a colored gemstone taking center stage. But sometimes the very best ring is the one you design yourself.
Design your own ring starting with the gemstone of your choice. You'll have control over everything from the type of stone to the shape, size, price and even how it's created (naturally vs. a lab setting).
Then add your gemstone to the setting of your choice. Opt for a twisted band for something meandering and romantic or go for a solitaire and let that one single gemstone shine bright. Whatever your vision, our incredible team is happy to help make it a reality.
All of the rings above are open for customization. That means you can switch out the center stone, change the metal (imagine the emerald-cut aquamarine offset by sunny yellow gold!) and add-on a personal message engraved into the band. Diamond-alternative engagement rings are special because they don't look like what everyone else has. But even as more people catch on and begin sporting amethysts and morganite instead of diamonds, how you put together your ring's design and how you wear it day to day will still set you apart from everyone else.
For more help with ring customization, contact one of our consultants at service@allurez.com or call us at 800-554-3509.

About Allurez Tech

Twitter •