---
Birthstone Jewelry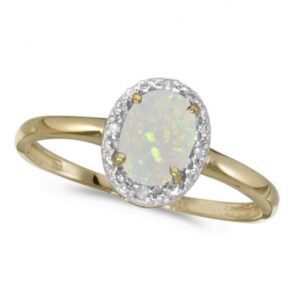 Opals are a rather interesting jewel to follow in the history books of ancient times in the past.  They seem to follow an ebb and flow pattern in popularity—being amazingly popular in jewelry fashions when a culture is at its height of power and riches then slowly disappearing as though people considered them to be too much of a luxury.  If you are looking for a forever type of luxurious jewelry you really need to investigate opals.  Their unique coloring that can shift with minute movements and lighting make it the original wear at any time for any occasion piece.  Opal rings in particular are a favorite for that very reason since you can put it on for daily wear then keep it on as you slip on your after work wear to go out on the town.  For those who feel they have too many rings but still want to highlight their hands in a special and alluring way, an opal bracelet will be just the ticket.  The comforting feel of a smooth and flat bottom of the bracelet's normal setting makes it great for those who are very picky about their bracelet choices.
The value of opal necklaces should not be left out though.  Since opals work best in perfectly shaped and fitted settings to keep the smoothness firmly in place, opal pendants are especially popular as they can show off the uniqueness of the opal while still being very practical and a special addition to your jewelry box.  While some people tend to forget about or even over look opals, this spectacular gem should not be underrated for its ability to stand out among a crowd and make allure seem wonderfully natural.

About Allurez
Allurez is the premier designer and retailer of high quality fine jewelry with a brand name known to royals as well as to the rich and famous. We are committed to providing you with the largest and the finest selection of engagement rings, wedding bands, bridal jewelry, fine fashion jewelry, and certified loose diamonds. Go ahead, browse our store, and find your perfect jewel!