---
Birthstone Jewelry
Happy birthday you lucky March babies….your birthstone is Aquamarine….the sign most often associated with the sea and its lovely aqua color. Originally believed to protect sailors, Aquamarine gemstones are also the stone that's mystical qualities include levelheadedness and calm.
A truly stunning stone of earth's creation, Aquamarine translates to "sea water" aptly named for its lucid color, reminiscent of the turquoise waters of the Caribbean ocean. The Aquamarine has a slight greenish tint that appears to be blended with a beautiful transparent blue resulting in a gemstone as cool and clean as a dip in the ocean.
Although aquamarine mines, found primarily in Russia and Brazil, are nowhere near the sea, its water green-blue color will take you there…with colors reminiscent of the sea and the freedom from worry it evokes.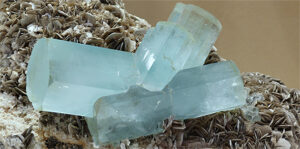 The History and Lure of Aquamarine
Myths and legends regarding Aquamarine abound, with this gemstone tied to ancient lineage. The Romans believed that carved aquamarine shaped frogs could help turn enemies into friends. In medieval times the aquamarine gemstone was believed to reawaken love, while Sumerians, Egyptians and Hebrews recognize the aquamarine as a symbol of happiness and everlasting youth.
Thought of as a stone of vitality, ancient philosopher Pliny stated, "the lovely aquamarine seems to have come from some mermaid's treasure house, in the depths of a summer sea, has charms not to be denied."
Today the popularity of the aquamarine is undeniable. Often associated with friendship, courage and faithfulness, its metaphysical properties include quick response, awareness and promotion of communicative skills. Its praises continue with aquamarine crystals being used for healing, stress reduction and as a remedy throat problems.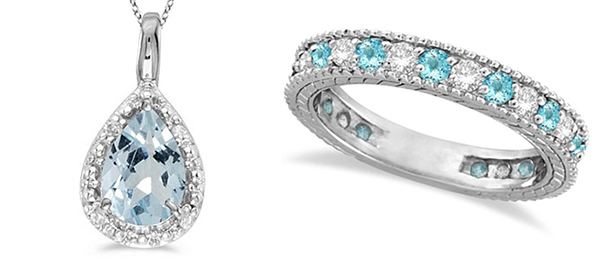 The Beauty of Aquamarine
With so many mystical healing properties, aquamarine is best worn next to the skin where it can best be absorbed. This makes it an excellent option for jewelry. Especially when you consider that aquamarine works with all skin tones and eye colors. Requiring no special treatment or care, Aquamarines are perfect for jewelry worn daily, like cocktail or right hand rings. This bluish green stone is also popular when set into earrings and pendants.
For March babies, the Aquamarine gemstone is theirs as a birthstone. For everyone else, it's a welcome addition to any jewelry box.

About Allurez
Allurez is the premier designer and retailer of high quality fine jewelry with a brand name known to royals as well as to the rich and famous. We are committed to providing you with the largest and the finest selection of engagement rings, wedding bands, bridal jewelry, fine fashion jewelry, and certified loose diamonds. Go ahead, browse our store, and find your perfect jewel!