---
Designer Jewelry / Engagement Rings / Proposal / Rings / Unique Jewelry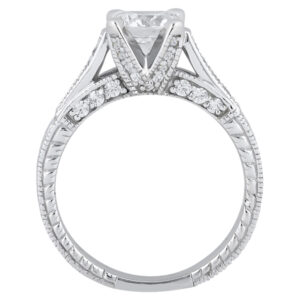 When it comes to jewelry, there is an unspoken rule about older bedazzling pieces. If something is merely a few years old or behind a few seasons in the fashion cycle, it is simply considered old. However, those individual adornments which are at least a decade or two old stand out as unique and classically beautiful. These styles are known as antique or simply vintage jewelry. For people who really want to be known as fashion-savvy consumers, antique jewelry is really a great place to start looking for special pieces in a variety of formats that shows a respect for designs of the distant past while still embracing overall elegance. Since antique jewelry normally does through a good deal of wear and tear over the ages, rings tend to be the best type of vintage jewelry that can stand the test of time and has the ability to work with fashions of the current age. The usage of rings continue to fit with vintage styles though. You can of course use them as fun fashionable or cocktail rings. They work great with a variety of wardrobe choices if you pick out the right kind of ring. Yet, vintage rings like all rings still work best with indicating one's relationship status and symbolizing a true and limitless love like the never-ending circle embraces in its own physical format. This is why there are so many vintage bands for her.
Vintage engagement rings are some of the most favored ways to propose in a special way. The history of the style as well as the thought put into the ring itself shows just how much you love the woman you are proposing to and how much you respect her. It is also important to note that the idea of an antique engagement ring is not restricted to pieces exclusively from the past. There are many designers who choose to embrace the vintage styles in very modern ways through brand new rings as opposed to a hand-me-down heirloom from your family or bought from a special dealer. One of the best ways to uphold an antique look in a more current ring is the inclusion of diamonds. A vintage diamond engagement ring will definitely look great and make sure your love is known. In fact, vintage engagement rings for women are getting a burst of popularity. These bands for a lady easily add allure and style to your declaration for forever love and marriage.

About Allurez
Allurez is the premier designer and retailer of high quality fine jewelry with a brand name known to royals as well as to the rich and famous. We are committed to providing you with the largest and the finest selection of engagement rings, wedding bands, bridal jewelry, fine fashion jewelry, and certified loose diamonds. Go ahead, browse our store, and find your perfect jewel!