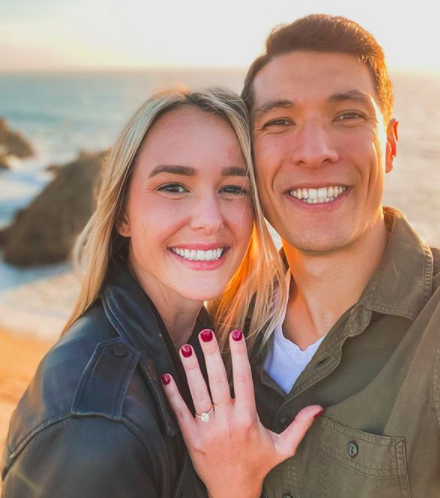 Two Former 'Bachelorette' Contestants Announce Their Engagement on the Same Day
They put a ring on it! Two former "Bachelorette" and "Bachelor in Paradise" contestants announced their engagement on the same day.
John Graham announced his engagement to girlfriend Brittni Nowell on Sunday on Instagram and shared several photos from the seaside proposal. Graham previously competed on Becca Kufrin's season of "The Bachelorette" in 2018 and earned the nickname "Venmo John" among fans after it was revealed that he had helped engineer the money-transferring app.
"It's official! I love you @bee_nowell for making me a better person with my friends and family, helping me feel & articulate my emotions, and always putting our relationship first," Graham captioned the series of photos of him and his fiancee that also show off Nowell's simple yet elegant diamond engagement ring, which appears to have a gold band and oval shaped diamond. "I'm blessed to have won at life by finding you."
"I proposed along the Sonoma coast," Graham continued. "I was so nervous when I got down on one knee. I'm pretty sure I blacked out in the moment, but then she pulled me up and wouldn't let go of me. Don't ever let me go!"
Nowell  shared the same pictures on her Instagram account, showing off her oval diamond engagement ring. She wrote, "He got me good! Absolutely no words to describe how amazing this moment felt. The man I love asked if I'd spend forever with him, we both cried, and I said YES!! I can't believe I get to spend a lifetime with my favorite person."
Nowell added, "John, I love you so much! You've changed my life in so many ways, I feel so blessed to have found you. I can't wait to see how we continue to grow together. Cheers to our next chapter #engagedaf."
The couple went public in February 2019 when Graham posted a picture of them together on Instagram.
Following his elimination from "The Bachelorette," the Asana engineering manager competed on season 5 of "Bachelor in Paradise," but was eliminated in the sixth week.
Fellow "Bachelor in Paradise" alum Derek Peth also announced his engagement on Sunday. The 33-year-old took to Instagram to reveal that he's engaged to model Saffron Vadher. The couple went public on social media with their relationship in June.In a video on his Instagram Story, Peth exclaims "Ohhhh!" and zooms in on his fiancée's princess cut diamond engagement ring. Peth also shared the news on Twitter, writing "She said yes!!" Further images shared on Instagram show a closeup of Vadher's gold band engagement ring.
Peth competed in JoJo Fletcher's season of "The Bachelorette" in 2016. He joined "Bachelor in Paradise" the following year, and got engaged to Taylor Nolan but they called off their engagement in 2018. Peth then appeared in "Bachelor in Paradise" in 2019, where he dated Demi Burnett.