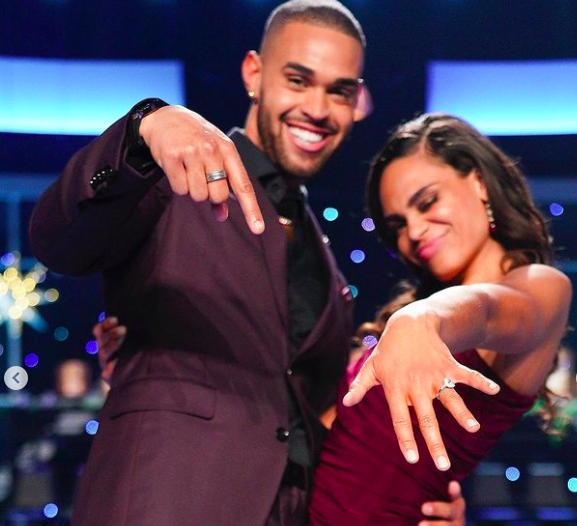 'Bachelorette' Michelle Young's Engagement Ring is a Mix of Vintage and Modern
Season 18 "Bachelorette" star Michelle Young spent the holiday season with a very special ring.
The season finale of "Bachelorette" concluded with the 28-year-old schoolteacher from Edina, Minn., getting engaged to 27-year-old account executive Nate Olukoya, who proposed with 3.2-carat pear-cut engagement ring that was set with 46 brilliant-cut diamonds and two tapered baguettes on the band, according to Page Six.
"The ring radiated [Michelle]'s beauty and lust for life," the show's jeweler told People magazine about the custom pear-shaped platinum and diamond engagement ring that Olukoya chose for Young before he proposed in Punta Mita, Mexico.
"It was like their relationship. Every time you turn the ring a little bit, you saw a different sparkle," he added about the diamond ring's design, before commenting on the ring's vintage elements, such as the tapered baguettes.
"Usually from the 1930s to 1960s, most rings had tapered baguettes. They were really a mid-century design. I went back in time because she's a classical beauty … I also wanted to do something very modern and very relevant today with a pear shape. The little tiny diamonds of halos around it, again, bring it back to a vintage thing, which they did in the early 1900s."
At the same time, the jeweler incorporated a modern element into the engagement ring with the "very relevant" pear shape, which is something that stood out to Olukoya as well. The jeweler said, "The pear shape really mesmerized him. He saw the classic-ness in it. He was really excited and kept bouncing up and down. He had this joyful smile on his face."
"It was really obvious they had a great connection. I believe they found each other," the jewelry expert also noted about the couple. "They found their person."
Starting off with 30 suitors when season 18 began, Young eventually sent home runner-up Brandon Jones, 26, before accepting Olukuya's proposal on the "Bachelorette" season finale. During the couple's seaside proposal, Young told Olukuya, "You were the first person to step out of the limo [and] you were also the first impression rose. You also get to be the last person to accept this rose."
Ahead of the "Bachelorette" finale, Young told PeopleTV on the red carpet of the American Music Awards that she felt good about how things ended on the show. She said, "I feel like I make the right decision in the end — it takes me a minute."
Young, who split from season 25 "Bachelor" Matt James, also talked about what she was looking for in a man during a March appearance on the "Bachelor Happy Hour" podcast. She said at the time, "The biggest thing I look for in someone is if they have that intrinsic motivation. I'm a very motivated person. I have a lot of goals. I want to make an impact."
Young is a former Division 1 basketball player and was the third woman of color to headline ABC's dating reality series after season 13's Rachel Lindsay and season 16's Tayshia Adams.