---
Proposal
So you've worked hard planning the perfect proposal.  You believe you have the perfect idea. In fact, you've seen it on TV, in movies, in magazines and on blogs.
But you still wonder…is it ok to propose at someone else's wedding?
Well, let's see what our Facebook friends had to say: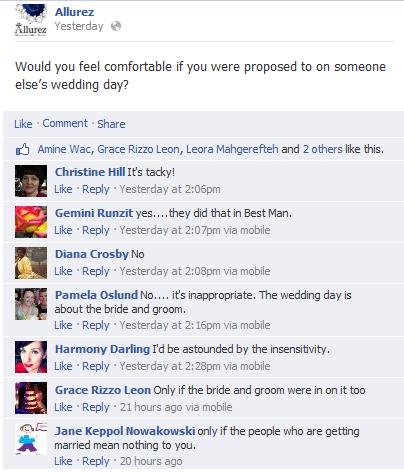 It seems that the majority of people do not think that proposing at someone else's wedding is appropriate.
When is it OK to propose at someone else's wedding?
When the bride and groom are in on it, THEN it's ok. Remember that when you propose on someone else's wedding day, you are stealing their thunder. Therefore, it's best to approach the bride and groom to see if it's ok with them before you begin planning your perfect proposal.
As discussed in our last blog post, most women would like their proposal to be on an ordinary day – one that you make special forever. Someone else's wedding isn't exactly an ordinary day. It's a very special day – for someone else.
We will continue our discussion on proposals in the coming days. Be sure to like us on Facebook for updates to the conversation at Facebook.com/Allurez.

About Allurez
Allurez is the premier designer and retailer of high quality fine jewelry with a brand name known to royals as well as to the rich and famous. We are committed to providing you with the largest and the finest selection of engagement rings, wedding bands, bridal jewelry, fine fashion jewelry, and certified loose diamonds. Go ahead, browse our store, and find your perfect jewel!