---
Proposal
A man's mind is at war with itself…especially when it comes to the proposal. Which is the best day to propose to her? Where should I propose to her? How should I do it? Should I tell her friends? What can I do to throw her off?
To help settle these questions we asked our Facebook readers: "Would you prefer to be proposed to on your birthday, holiday or a significant day? Or would you rather proposed to on an ordinary day?"
Here is what people had to say: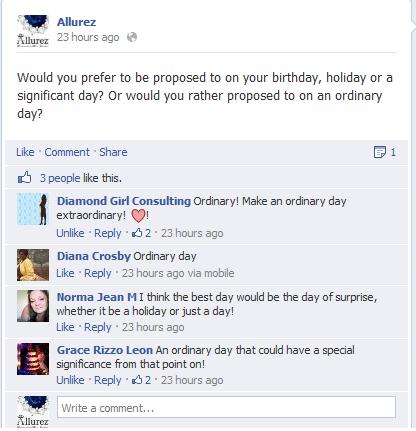 The consensus seems to be: propose on an ordinary day, and make that day EXTRA special!
Perfect Marriage Proposal Story
As Norma state in the comments, women want to be SURPRISED! We want to share a proposal story that will show you that all you need is a little creativity for the perfect proposal:
"My husband and I had been dating for 7 months when he took me out to dinner. He was kind of making a big deal out of this dinner, and since we had never celebrated monthly anniversaries, I became a little suspicious. However, when he picked me up, he said "We're not going to talk about weddings or engagements or anything that has to do with the future tonight. I want to enjoy just me and you." This statement, on top of how calm he was, put all inklings out of my mind and not only put me at ease, but mad me pout because I thought that night was "THE Night!" So he took me to a beautiful steakhouse and we had a great meal. But then he told me he wanted to order cheesecake, even though we were supposed to go back to my parent's house for dessert. I started to argue with him and get frustrated that he wanted to ay for cheesecake when we could have dessert at home for free. But he insisted, and I relented. But when the cheesecake arrived on a silver platter, there was a silver cover on top of it. The waiter removed the cover and revealed a bed of red rose petals with an engagement ring in the middle! I looked over at my husband to find him on one knee and he asked me "So, will you be my wife?" And I said yes! And to top it all off, when we got back to my parents' house for dessert, my husband surprised me and had BOTH of our families waiting there to congratulate us!!! We were married two years later on July 7th, 2012 in front of almost 300 family and friends!" – Grace Rizzo Leon
For more proposal stories, engagement ring ideas and more, be sure to check out our Facebook page at Facebook.com/Allurez.

About Allurez
Allurez is the premier designer and retailer of high quality fine jewelry with a brand name known to royals as well as to the rich and famous. We are committed to providing you with the largest and the finest selection of engagement rings, wedding bands, bridal jewelry, fine fashion jewelry, and certified loose diamonds. Go ahead, browse our store, and find your perfect jewel!