---
Proposal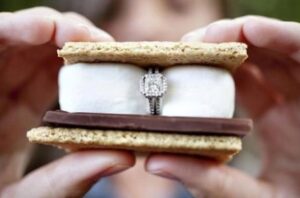 Do you have marriage plans on your mind and planning to propose your sweetheart and sweep her off her feet? Well, before you decide to stage it finally, try to give the idea a whole new spin and make it a memorable incident that she will love to reiterate all her life. The very first step involved in the whole process is finding the best ring that will simply take her breath away. Find out her favorite choice in jewelry – whether classic or contemporary, multiple hued or simply transparent gemstones, diamond solitaire or other gemstone – the choice is varied and all you need to do is opt for the most amazing one.
The following proposal ideas are exclusive as well as innovative that will simply make her go crazy for you, all over again.
Do you have a flair for the spectacular? To make it theatrical, get in touch with a fittingly themed production and propose after the cast's curtain call.
Organize a surprise proposal with a street cartoonist. Have the individual sketch a picture of you two with cute bubbles. Yours will read, "Will you marry me?"
Take out full-page advertisement in a newspaper your girlfriend regularly reads.
Pay the divers of an aquarium to put on a lovely proposal show inside its biggest fish tank. Give them your handwritten sign that will say, "Will you marry me?"
Send your sweetheart on a treasure hunt. Start with a sign at home; then let her on a tour of all your favorite spots across the town. When she reaches the last hint, the prize will be you on your knee with an amazing ring.
For a simple revelation, once she goes to bed, substitute her everyday ring in her jewelry box with the engagement ring. She'll be completely stunned in the morning when she opens the box for her regular ring.
Traditional yet so personal – write her a love note with your proposal at its end. Tuck it handbag, or in the book she is currently reading at that moment, and surprise her with the engagement ring when she comes across the note.
In your apartment, just turn off all the lights, make a trail of rose petals and candles that will lead her to a circle of votives circled around the ring.
If she is a music lover, create your personalized podcast proposal and simply sneak it in her iPod.
So, go ahead and propose her to start a fresh journey of blissful wedded life. Still need to purchase a ring? Design your own engagement ring using our unique ring builder, to ensure it is the exact ring she is looking for!  Visit us at www.allurez.com today and start saving!

About Allurez
Allurez is the premier designer and retailer of high quality fine jewelry with a brand name known to royals as well as to the rich and famous. We are committed to providing you with the largest and the finest selection of engagement rings, wedding bands, bridal jewelry, fine fashion jewelry, and certified loose diamonds. Go ahead, browse our store, and find your perfect jewel!