---
Designer Jewelry / Proposal / Rings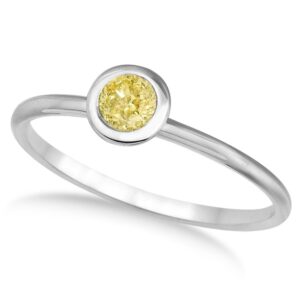 When the majority of people think of diamond gemstones, they will normally conjure mental pictures a rather large crystal clear stone which brilliantly shines, sparkles, and creates small rainbows under the right kind of florescent lighting in addition to outwardly signalling an eternal love.  It is the prism effect in the creation of the tiny rainbows created by the correct angled cut hit by the right amount of light that really involves that base thought with color or perhaps the colored reflection of nearby items on the crystalline diamond.  While these flashes of color are true in the case of a traditional diamond, naturally colored diamonds are still very plausible options with the rise in technological advancements that allow for these incredibly rare diamonds to be found more often instead of just a concept that makes people think of a "dyed" sibling of the more popular traditional, clear diamond—making natural colored diamonds a widely loved idea.  Natural colored diamonds can mean different things to different people though as it can stand for diamonds that are naturally created by the Earth to be colourful or simply colors that appear natural like base browns, blues, and of course yellows.  The yellow diamond is a very close relative to the clear ones, which means they are more widely available and generally a more affordable price if you want to step up your diamond jewelry game.  Therefore, yellow diamond jewelry has started to make a very strong presence on the fashion personal adornment stage.
Yellow diamond rings in particular have taken these very special precious stones into their loving embrace to practically explode in current popularity as fashionable right hand rings, rather unique engagement, or even alluring wedding rings.  While the idea of a colored diamond is special as a base thought, it is the color yellow itself that tends to be most prevalent in the fashion savvy mind that is looking into diamonds other than clear ones.  Most jewelers seem safe in assuming that this prominence is largely in part from the alluring beauty that the color yellow often exhibits on its own.  A yellow diamond ring can easily exude optimistic associations from the joyous color yellow.  The celebration of good times and continued overall happiness can be put into physical form with a yellow diamond band that shows the world your take on life in general that can also act as allure for your fashion centered friends, family, or coworkers.
At Allurez we have a very large collection of fancy natural yellow canary diamond rings

About Allurez
Allurez is the premier designer and retailer of high quality fine jewelry with a brand name known to royals as well as to the rich and famous. We are committed to providing you with the largest and the finest selection of engagement rings, wedding bands, bridal jewelry, fine fashion jewelry, and certified loose diamonds. Go ahead, browse our store, and find your perfect jewel!