---
Designer Jewelry / Engagement Rings / Proposal / Rings / Unique Jewelry / Wedding Bands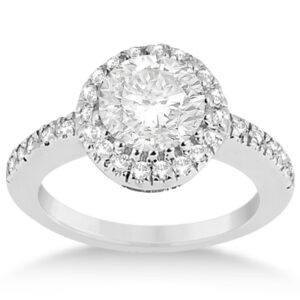 An engagement ring is one of the most unique and memorable pieces of jewelry in our lives. It marks the beginning of new phase signifying how you have grown in love with that special someone! And just like your beloved, her engagement ring should look and feel equally special, and equally magnificent.  Whatever you nowadays get with the reputable jewelers are generally common in style and whichever unique design you like, are exorbitantly priced. You will never be sure of buying an exclusively designed ring within your budget. But don't fret! You have enough reason to cheer as you can opt for the dream engagement ring by going online. Yes, you can design your own engagement ring online. Surprised, huh? Keep on reading just to understand how the online arena combines the best of both worlds of design and price!
There are popular online jewelry sites that offer you the opportunity to design that original and brilliant engagement ring. We here are Allurez are among the industry leaders in custom engagement ring design. While planning for stylistically different yet pocket friendly engagement ring, go for the most popular and trustworthy sites as they will offer you a host of discounts and reliable services. After all, you are investing quite a lot of money in that precious piece of fancy jewelry. We are an online site that will give you the complete freedom to customize your beautiful ring and create a work of art that will fetch compliments and envious stares from all corners. You have the chance of saving a lot of money while you build your own engagement ring if any of the particular components are on sale in the site. The online sites often come up with spotted sales for the important elements such as the base metals including platinum, palladium, white gold, Rose gold, and traditional yellow gold; or on semi-precious or precious gemstones like diamonds, rubies, emeralds, and such. In some cases, the offer can go as much as 50%.
With a range of exciting offers on a platter along with the facility of paying in several installments, no wonder these online jewelry sites have become extremely popular with the crowd. You need to pay 20% of the cost at first and then you can reimburse the rest in six easy monthly installments. On the other hand, when you create your own engagement ring, you have the alternative of redesigning your engagement ring simply with the pressing of a few buttons. The three dimensional audiovisual experience will ensure that you get a closer and minuter look into the details of the ring. And voila, your dream engagement ring is ready.
If you are interested in designing your own engagement ring, shop at www.Allurez.com. We have a wide selection of fine jewelry, and engagement rings for both men and women at affordable prices. Plus, we offer free shipping, easy returns and secure online shopping.

About Allurez
Allurez is the premier designer and retailer of high quality fine jewelry with a brand name known to royals as well as to the rich and famous. We are committed to providing you with the largest and the finest selection of engagement rings, wedding bands, bridal jewelry, fine fashion jewelry, and certified loose diamonds. Go ahead, browse our store, and find your perfect jewel!