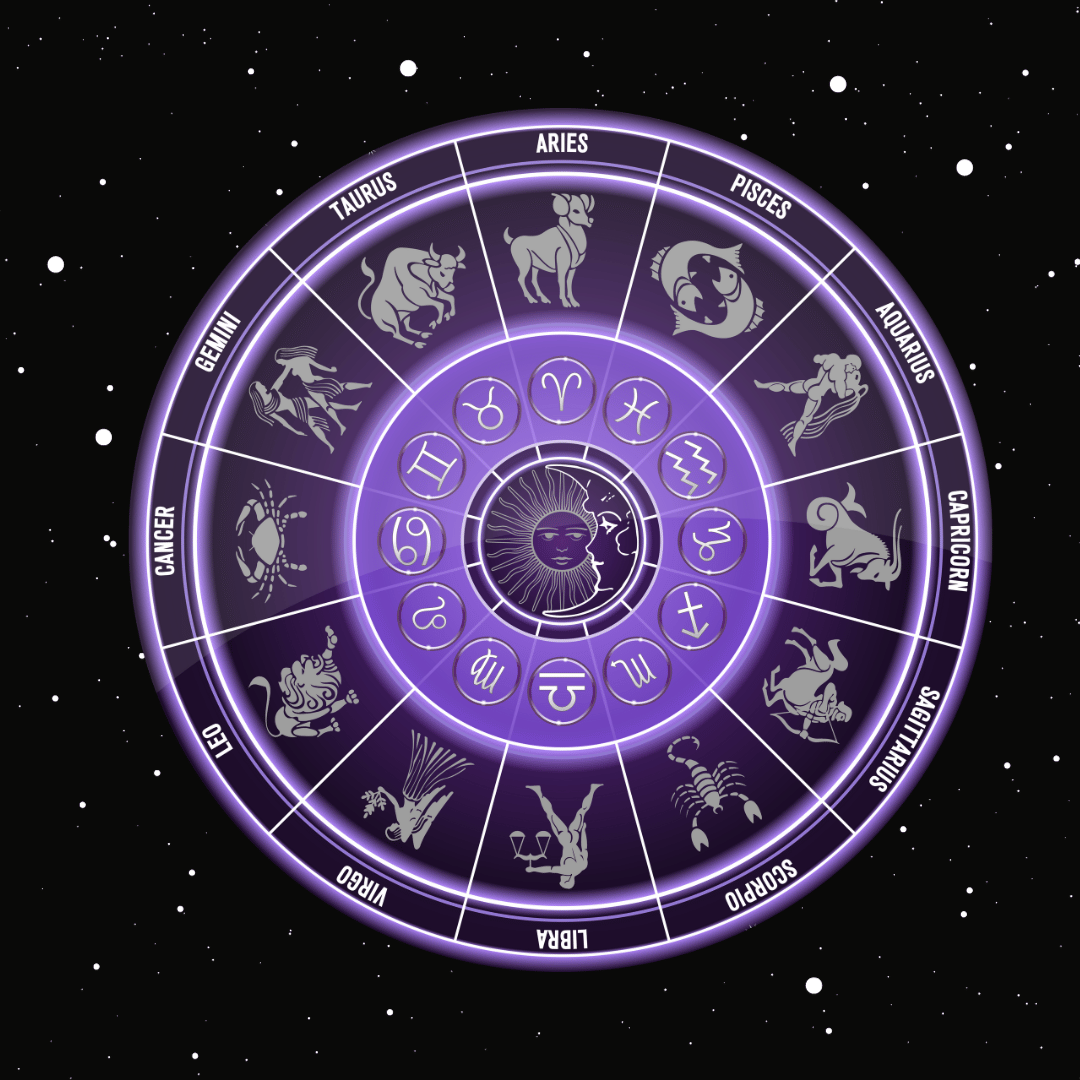 Zodiac Sign Jewelry Collection
Zodiac jewelry is a personalized and thoughtful gift perfect for any occasion. Whether you are celebrating a friend's birthday or searching for a unique holiday present, a zodiac necklace, bracelet, or ring is a popular choice. Zodiac jewelry can be worn every day and is available in a variety of styles, including precious metal pendants, diamond settings, and more.
What is a Zodiac Sign?
According to Western astrology, there are twelve zodiac signs, each representing a constellation. As the Earth orbits, the sun shines through a different constellation. Your zodiac sign is determined by the sun's position on the day you were born. The twelve zodiac signs are categorized as one of four element signs: Earth, fire, wind, and water.
How do I know my Zodiac Sign?
Each zodiac sign is categorized by particular personality distinctions, and likenesses shared between all individuals born during the same sun phase.
Aries – March 21-April 19
Aries is the first sign of the zodiac. People born March 21st through April 19th are highly competitive and confidently tackle challenges. In addition, Aries are considered headstrong and often praised for their stubbornness and tenacity. Aries is a fire sign often represented by a ram's head or a curved "v."
Taurus – April 20-May 20
Taurus is the most loyal and dependable zodiac sign. Individuals born between April 20th and May 20th are strong-willed and value their friendships, often going above and beyond to support the people they love. As an Earth sign, Tauruses enjoy relaxing activities, nature, and tranquility. Taurus symbols include a bull's head or a circle with horns.
Gemini – May 21-June 20
Geminis are social, talkative, and playful. Naturally curious, Gemini signs are often described as extroverts who love being in large groups and can make a friend out of everyone. As Geminis can quickly adapt to any social situation, they are usually mistakenly described as duplicitous or two-faced. On the contrary, they are fun-loving and uninhibited souls. Gemini is an air sign commonly depicted as celestial twins.
Cancer – June 21-July 22
Cancer signs are intuitive individuals and generally highly attuned to the feelings of those around them. Cancer is a water sign often symbolized by a crab or two "6's" turned sideways. However, like crustaceans, Cancers are known for their hard outer exteriors and tend to protect their hearts. It can be challenging to get a Cancer sign to open up.
Leo – July 23-August 22
The symbol of Leo is a lion's head, and people born during these summer dates often share qualities with the royal animal. Leos are loyal, proud, strong, and have fiery personalities. In addition, Leos are notoriously dramatic and love the spotlight. While this fire sign hates being upstaged, they adamantly stand up for what they think is right and are loyal partners and friends.
Virgo – August 23-September 22
Virgos have type-A personalities. They are very logical and systematic thinkers with can-do attitudes. Virgo's perfectionist ideals are equally positive and negative, as while they are intelligent and reliable, Virgos do not handle flaws or errors gracefully. As an Earth sign, Virgos are usually very grounded and make excellent friends and confidants. Virgo symbols are a goddess carrying a shaft of wheat or an "M" with an inward twist.
Libra – September 23-October 22
Libra is the only zodiac sign symbolized by an inanimate object. Often depicted as balancing scales, Libras strive for balance, harmony, and justice. Natural peacemakers, Libras can be people-pleasers and struggle with setting boundaries in relationships. As an air sign, Libras are obsessed with physical appearance and like to surround themselves with lavish items that reflect their impeccable taste.
Scorpio – October 23-November 21
Scorpio is equally the most dynamic and complicated zodiac sign. As a result, Scorpios are usually misunderstood. Known for having a strategic mindset, Scorpios, like other water signs, feed off emotional energy and plot their moves several steps ahead. A Scorpio loves to strike unexpectedly and keeps their cards close to the chest. However, once they trust you, Scorpios are loyal and committed to their friends and partners. As the zodiac name suggests, Scorpios are symbolized by a scorpion or an "m" with a barbed tail.
Sagittarius – November 22-December 21
A Sagittarius is inquisitive and adventuresome. They love to learn new things and make discoveries. Sagittarius is known for blunt honesty and can often be mistaken as confrontational or mean. However, Sagittarius are fun-loving and never take themselves (or others) too seriously. This sign's dynamic combination of curiosity, passion, and adaptability is symbolized by an archer (half horse, half man) or an arrow with a line through it.
Zodiac Sign Jewelry Gifts
Women Zodiac Necklace Gifts
DIAMOND SCORPIO ZODIAC CONSTELLATION STAR NECKLACE 14K WHITE GOLD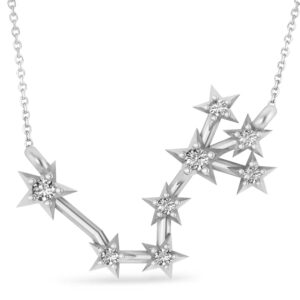 Available in 14k white, yellow, or rose gold, this beautiful necklace features a diamond constellation pattern of the sun zodiac signs. Its delicate design makes this necklace the perfect everyday jewelry piece.
SCORPIO ZODIAC DIAMOND PENDANT NECKLACE 14K WHITE GOLD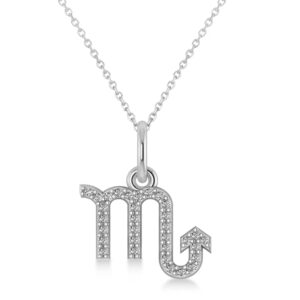 This diamond necklace features the classic zodiac symbols. Each symbol is covered in stunning diamonds, offering the perfect sparkle. The Zodiac Diamond Pendant Necklace is an excellent gift for jewelry wearers who like to layer necklaces.
Men Zodiac Necklace Gift
SCORPIO COIN ZODIAC PENDANT NECKLACE 14K WHITE GOLD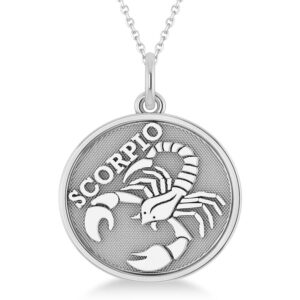 This zodiac necklace is a unisex jewelry piece. The pendant features a classic coin-style design imprinted with one of twelve sun signs. Choose a coin zodiac pendant in any precious metal, including 14k white, yellow, or rose gold.
Zodiac Ring Gift – DIAMOND SCORPIO ZODIAC CONSTELLATION STAR RING 14K WHITE GOLD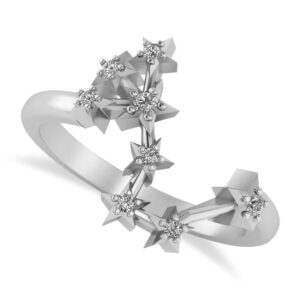 This zodiac ring is the perfect complement to the zodiac constellation necklace. A gorgeous diamond setting depicts the constellation of each sun sign, creating an elegant and eye-catching ring.
Zodiac Bracelet Gift For Women
DIAMOND SCORPIO ZODIAC CONSTELLATION STAR BRACELET 14K WHITE GOLD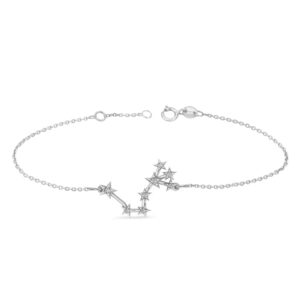 The diamond zodiac constellation bracelet is a delicate and beautiful choice for astrology lovers. Each set represents a different sun constellation and is a unique and personalized alternative to the traditional diamond tennis bracelet.
Zodiac Bracelet Gift for Men
SCORPIO COIN ZODIAC BRACELET 14K WHITE GOLD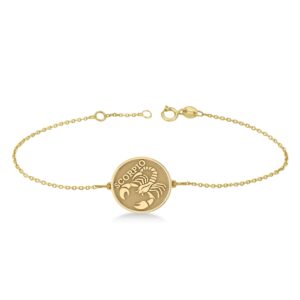 This unisex bracelet is the perfect pair to the Zodiac Coin Pendant Necklace. The classic design is exceptionally wearable and looks great on its own or paired with a watch.
Zodiac Earring Gift – SCORPIO ZODIAC STUD EARRINGS 14K WHITE GOLD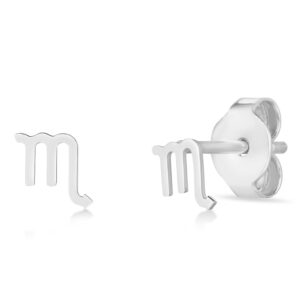 Stud earrings are versatile and can be worn with any outfit. This set features the classic zodiac symbols and is available in 14k white, yellow, or rose gold. Make the perfect zodiac jewelry gift set by pairing these zodiac earrings with any zodiac necklace or bracelet!
Zodiac Jewelry Frequently Asked Questions
Is it good to wear your zodiac sign?
Zodiac signs are thought to explain your true self. As a result, wearing zodiac jewelry can increase self-confidence. Many people wear their zodiac to share how they express themselves to others and build connections with compatible signs.
Is Zodiac jewelry a good gift?
Zodiac jewelry is an excellent gift. It is a personalized and thoughtful present. Popular zodiac jewelry gifts are necklace pendants, bracelets, rings, and earrings.