---
Category 2 / Designer Jewelry / Gift Ideas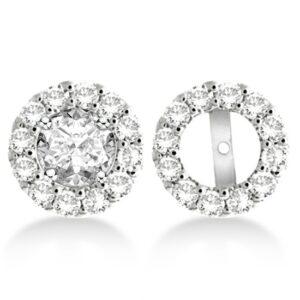 The work of properly stylizing your ears with unique and alluring earring jackets is a very proud tradition which found in many high luxury locales and esteemed runways. While some of the fashion centered earrings that we wear these days would most likely not be able to truly stand out against modern elaborate or long hair styles, those who look out for a way to avoid these traps are lucky enough to discover the many advancements which allow the wearing of diamond earring jackets. These stylized jackets have become practically a requirement in this modern world at least during some important events in your life. Through the work of more sophisticated mining methods that have made countless varieties and unique types of diamonds readily available for the most classy of fashionistas, fine jewelry designers have taken advantage of these developments by creating a huge assortment of diamond earring jackets so that all kinds of people can get the alluring style of having incredible earrings that have the ability to stand out no matter what the event but can still be transitioned back into the standardized daily wear studs with simplicity.
Diamond earring jackets are the best choice when you want to spice up even the most mundane and simple outfits in your closet as long as the jackets fit your personal fashion philosophy and works with the available stud based earrings that you already possess so that you can easily accent and enliven them. Designer 14k white gold diamond earring jackets, whether they are modeled along the lines of vintage diamond fashions or more along the lines of trendy and modern couture, are readily able to mold themselves according to your personal concepts of high style no matter what area of fashion you desire to explore. In addition to these wide variety of choice styles, you can even take your deep love for diamonds to a whole new realm by creating an otherworldly shimmering aura around your already lovely stud earrings. Colorful diamonds have been a long time favored aspect for diamond earring jackets if you feel that you require a bit more than the traditional and classic white diamond glow in order to really reflect your style to those around you. This colorful desire means that yellow canary diamond earring jackets would be a great addition to your jewelry box. Having more shimmer and more shine through diamonds embracing an already stunning piece of ear jewelry is always a fabulous addition to your overall look for any occasion.

About Allurez
Allurez is the premier designer and retailer of high quality fine jewelry with a brand name known to royals as well as to the rich and famous. We are committed to providing you with the largest and the finest selection of engagement rings, wedding bands, bridal jewelry, fine fashion jewelry, and certified loose diamonds. Go ahead, browse our store, and find your perfect jewel!