---
Bracelets / Category 2 / Designer Jewelry / Gift Ideas / Necklaces / Unique Jewelry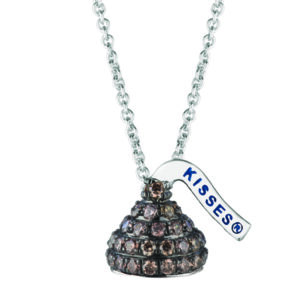 In the realm of kissing, the first is generally considered one of the most important ones you will ever have. It is something that you will remember for your entire life despite how many kisses you have had since the original one. The kiss is really one of the great human interactions that everyone can appreciate on some level. Do you recall your first kiss? Of course you do! Do you recall your first Hershey's Kiss though? You most likely have forgotten that first chocolaty sweet candy Kiss, but you can probably easily remember the standard taste and smooth feel of the amazing treat. You might even remember the most recent Kiss that you ate if you really put your memory to the test. Yet, the really interesting question is do you remember the time you ever chose to wear a Kiss as personal adornment? Many people might think that this concept is a silly idea, but several jewelry creators have gotten together to combine their talents for the creation of a line of Hershey's Kiss jewelry that is sweet and sultry at the same time. Through the use of high class gemstones and shimmering precious metals, they found a way to construct super fun, attractive, and alluring pieces that resemble the idyllic conical shape of Kisses. The shape of both the sparkling and glowing silver wrapped format as well as the deep chocolate brown coloring of an unwrapped Kiss ready to be devoured and enjoyed.

When it comes to Hershey's Kiss jewelry, you have many varieties from which to choose.Hershey's Kiss pendants are the ultimate favorite and popular form of this jewelry line at the current moment with a delicate chain normally holding a dangling pendant in the shape of a Kiss that is composed of molded silver or gold in its base that is then ideally fitted with circle shaped white or brown diamonds to create Kiss diamond pendant. The shimmering qualities of these Hershey's Kiss diamond necklaces made them greatly adored by everyone. Lovers of gold do not have to despair as a Kiss gold pendant is still available to you. This same combination of materials still hold true for both Hershey's Kiss earrings in addition to Hershey's Kiss bracelets that tend to use a chain link and charm structure so that you can use it as a classic charm bracelet if you want. Both formats match wonderfully with the necklaces as well. The ultimate sweetness that allows these Hershey treats to be so great is the same foundation for this jewelry line!

About Allurez
Allurez is the premier designer and retailer of high quality fine jewelry with a brand name known to royals as well as to the rich and famous. We are committed to providing you with the largest and the finest selection of engagement rings, wedding bands, bridal jewelry, fine fashion jewelry, and certified loose diamonds. Go ahead, browse our store, and find your perfect jewel!