---
Birthstone Jewelry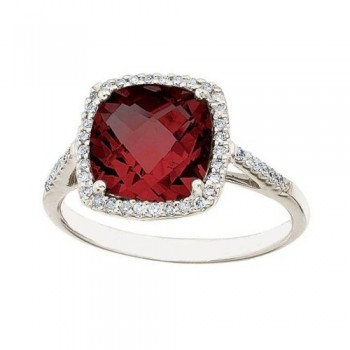 How lucky can you get? If you or someone you know celebrates a January birthday, they can thank their lucky stars that they were born during this first month of the year. They share garnet as their birthstone, a gemstone that's warm and bright, in contrast to the cold and nasty weather January brings to so many across the country.
Predominantly red in color, garnets are also available in orange, green, yellow, black, violet and pink. The red garnet with its mysterious brownish green hues has become a favorite for use in jewelry. Set in any metal color or style, garnet jewelry can hang in stunning earrings or be clasped to a wrist with a love knot bracelet of garnets alone or with other gemstones, even diamonds.
Garnet jewelry was used in prehistoric times, and the Egyptians believed the stone provided protection in the afterlife. It was one of Queen Victoria's most beloved gems, and today celebrities like Selena Gomez and Jennifer Carpenter have been spotted wearing garnets. Many a woman treasures her engagement ring with its garnet center stone, awaiting its match: a garnet and diamond eternity band.
Garner a Garnet for Health & Wealth
Garnet is garnered for its ability to ease tension and assist prosperity. It is used as an antidote for food poisoning in Egypt and women around the world find it useful for body pains and headaches.
Along with encouraging wealth accumulation and health benefits, when used with pearls or diamonds it is believed to bring good luck.
And perhaps the greatest benefit of all is its reputation, as garnets are understood to be the gems of passion, fidelity and the increase in romantic feelings. Maybe that's why the King of Saxony is believed to have had a 465 carat garnet!
Today, Garnet remains a gift of love and along with being the birthstone of January it is traditionally given for the 19th anniversary of marriage. As a sign of friendship or deep love a piece of garnet jewelry is always right.

About Allurez
Allurez is the premier designer and retailer of high quality fine jewelry with a brand name known to royals as well as to the rich and famous. We are committed to providing you with the largest and the finest selection of engagement rings, wedding bands, bridal jewelry, fine fashion jewelry, and certified loose diamonds. Go ahead, browse our store, and find your perfect jewel!