---
Birthstone Jewelry / Bracelets / Category 2 / Gift Ideas / Rings / Stackable Rings / Unique Jewelry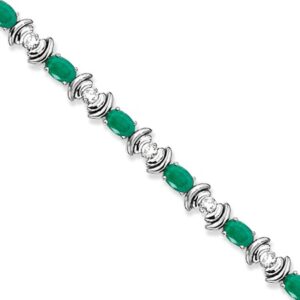 Birthstones are a very fascinating but still quite curious piece of symbolism within our modern world. The primary definition of birthstones revolves around a precious gemstone present that is able to symbolize a person's month of birth according to the modernly accepted calendar which is embraced by the Western World—generally known as the Gregorian Calendar. The current list that contains details of the birthstones which we use as of today with their associated months was actually formed in 1912 by the Jewelers of America (which is the national association of jewelers for the United States) who wished to standardize the birthstone list in order to stop confusing millions and millions of people along the numerous national lines. This list that was created by the Jewelers of America is currently being used by the United States, Thailand, the United Kingdom, and Australia. Birthstone jewelry, due to this rather special collective list, has recently boomed in overall popularity as most jewelry stores feature some kind of display that shows off the birthstone list.
Meanwhile, the month of May is full of possibility and plenty of life. Spring is slowly starting to wind down while summer is just about to kick into full speed. With everything bursting into full bloom and the vivid color of green starting to take over, it is no wonder that green emeralds were picked out as the official birthstone of the month of May. The vibrantly beautiful deep green shade of the gemstone has made the May birthstone very popular on its own level. Emerald jewelry is an ideal method to show off your high fashion tastes while creating a new wave of allure. Emerald earrings are a very promising place to begin if you are just starting your emerald jewelry collection since they can help you experiment with how the special green looks against your person skin tone and hair color without looking too bold. If your love of emeralds is already rather deep just like the tint of the gems themselves, emerald pendant necklaces might be a better option as they have surged in popularity in the wide world of fashion recently as a way to stand out in an alluring and beautiful way. Emerald bracelets can perfectly complement these necklaces. If your jewelry collection could actually use a ring rather than other forms of personal adornment, May birthstone rings are certainly able to astound everyone around you since birthstone jewelry tends to favor ring format in the first place. Emerald rings have forever been associated with fashionable bands, which means that you can support your birthstone love while still being the talk of the town. An emerald stackable ring can be even better! If you still love diamonds and want to support emeralds at the same time, an emerald ring with diamonds can be your solution. To have your own emerald and diamond ring can allow you to be classy and fashionable simultaneously.

About Allurez
Allurez is the premier designer and retailer of high quality fine jewelry with a brand name known to royals as well as to the rich and famous. We are committed to providing you with the largest and the finest selection of engagement rings, wedding bands, bridal jewelry, fine fashion jewelry, and certified loose diamonds. Go ahead, browse our store, and find your perfect jewel!