---
Birthstone Jewelry / Category 2 / Designer Jewelry / Gift Ideas / Rings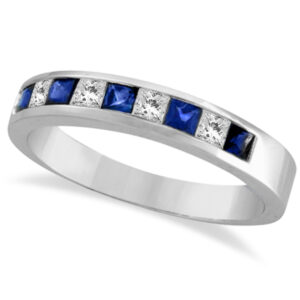 High style fashion based designer jewelry is very well known for its ultimate passion for playing with a very wide variety of both colors and shades so that the elegant jewelry pieces can really stand out of the crowd in addition to having the ability to represent a unique form of personal bedazzled adornment. This type of personalization means that these jewelry pieces can easily work with your own uniquely composed favorite outfits, your individualistic personality, or even your changeable daily mood that you can reflect during multiple kinds of situations throughout the many years of your life. The almost endless shades and tints from the entire color spectrum of the rainbow for designer jewelry may seem to be endless to most fine jewelry patrons, but many designers attempt to keep a slight aspect of restrictions on their creations to naturally colored varieties of precious stones when they are tired of staying within the realms of simple and bland white diamond stones that have become a pretty standard common cliché over the past centuries. It is these vividly and brightly colored gemstones which can fit amazingly into any type of alluring designer jewelry whether those selections happen to be necklaces, bracelets, charms, or even specialized pendants for necklace chains. Still, every person has the general knowledge that a unique and fashionable gemstone band has the potential to be the globe's favorite type of personal adornment which utilizes vivid coloring.
When choosing your own gemstone ring, the classic yet boring clear diamond can trick your thoughts as they are normally thought to be the most fundamental parts of you bejeweled collection. The best fine designer jewelers know that the alluring and deep sapphire is one of the most amazing gemstones to look into when you have the deep feeling that a bland diamond will simply not do. For those who are over the moon about the shade of vivid royal blue, the gemstone itself can create a whole set of sapphire rings which will be the perfect selection for you or for anyone! The outstandingly high certification standards which are a vital part of most sapphire band choices allow you to know that the consumer is actually getting the very most for his or her money. Then, you can still embrace the sapphire to radiate the veritable mountains of prestige and overall allure for your own high style designer jewelry set. However, it still can surprise many individuals that a sapphire ring can actually embrace white diamonds with amazing class. In fact, a blue sapphire ring with diamonds is a very appealing option. An alternating sapphire and diamond ring is perfect for numerous occasions—even for anniversaries. Everyone will love a special sapphire anniversary ring!

About Allurez
Allurez is the premier designer and retailer of high quality fine jewelry with a brand name known to royals as well as to the rich and famous. We are committed to providing you with the largest and the finest selection of engagement rings, wedding bands, bridal jewelry, fine fashion jewelry, and certified loose diamonds. Go ahead, browse our store, and find your perfect jewel!