---
Birthstone Jewelry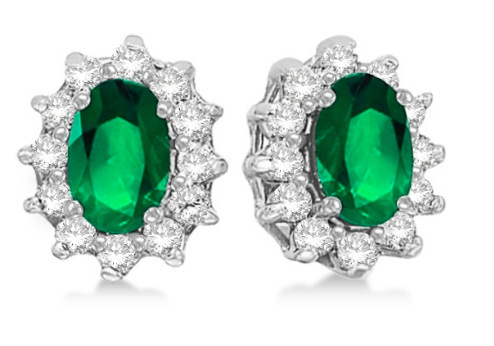 A favorite among celebrities, the emerald is May's birthstone, and the bright green precious stone has a history of meaning  rebirth and love. Emeralds have for long been seen as a symbol of mercy, compassion, and universal love.
History of Emeralds
The name "emerald" comes from the ancient Greek word for green, "smaragdus." Emerald was said to be the gemstone of the goddess Venus (the goddess of love and beauty) in ancient Greece and Rome, and was considered to aid in fertility.
The first known emerald mines were in Egypt, not far from the Red Sea. It is believed that these mines were worked as early as 3500 BC. For the Egyptians, emeralds were held in high regard by the Incas and believed to be a source of eternal life. The Incas had already been using emeralds in their jewelry and religious ceremonies for 500 years.
Emeralds were also considered to be a gift from Thoth, the ancient god of wisdom. Egypt's female seductive monarch, Cleopatra, was famous for wearing emerald jewelry. Ancient Egyptians believed emeralds could be used to treat eye diseases and that the green color represented fertility and rebirth. Egyptians often buried their dead with emeralds to symbolize eternal youth and when visiting dignitaries left Egypt, Cleopatra presented them with a likeness of herself carved into large emeralds.
Emerald has always been associated, around the world. with lush landscapes and the rich greens. Ireland is called the Emerald Isle and Seattle (located in Washington) is called the Emerald City. Thailand's most sacred religious icon is called the Emerald Buddha, even though it is carved from green jadeite.
Emerald was once also believed to cure diseases like cholera and malaria. Wearing an emerald was believed to reveal the truth or falseness of a lover's oath as well as make one an eloquent speaker.
Legend also states that emerald was one of the four precious stones given by God to King Solomon.
The earliest reference to emeralds in Western literature was by the great philosopher Aristotle. He wrote that owning an emerald increases the owner's presence and speech during business, gives victory in trials, helps settle litigation, and comforts and soothes eyesight. He also stated "An emerald hung from the neck or worn in a ring will prevent the falling sickness."
The Roman magician Damigeron stated that an emerald "influences every kind of business, and if you remain chaste while you wear it, it adds substance to both the body and the speech."
In China, Thursday was the day for wearing green and emeralds for good luck. Emeralds also adorned Russian crown jewels. The Irani State Treasure contains an amazing collection of Emeralds, including emerald tiara of ex-Empress Farah. Shah Jahan, one of the moguls of India that built the Taj Mahal, had sacred texts inscribed into emeralds and used the gemstones as talismans.  The sacred text of Hinduism, Veda, lists emerald as being the "gem of good luck" and the "gem that improves one's well-being".
Emerald Facts and Statistics
Emerald was the 2013 Pantone Color of the Year. Pantone described the stone as "Lively. Radiant. Lush… A color of elegance and beauty  that enhances our sense of well-being, balance and harmony." It's also the gemstone for spring, and twentieth and thirty-fifth wedding anniversaries.
According to GIA, emerald is the bluish green to green variety of beryl, a mineral species that includes aquamarine. On the Mohs Hardness scale its a 7.5 to 8. Most gemologists, gemological laboratories, and colored stone dealers call a stone green beryl when its color is "too light" for it to be classified as emerald. But there's also a difference of opinion about what's considered "too light."
The oldest emeralds are from South Africa and are 2.97 billion years old. In 2011, the sales price for Elizabeth Taylor's emerald pendant was $6,578,500. The pendant was a record $280,000 per carat.
The country of Colombia is known among gem experts for producing fine emerald, and production is believed to date back well over a thousand years, according to GIA, the world's foremost authority on diamonds. Archaeologists estimate that natives were mining and trading Colombian emeralds as early as 1000 BC. Multinational companies are investing heavily in Colombian emerald mining. Emerald can form in a variety of geological settings but is mainly found in three types of deposits: magmatic-metasomatic, sedimentary-metasomatic and metamorphic-metasomatic.
Since the 1970s, Brazil has been a consistent source of emerald. Brazilian emeralds were not traditionally known for their quality, but things are changing. Stones from the Itabira/Nova Era belt in Brazil reportedly sell for up to $30,000 per carat, according to GIA.
Charlemagne had a collection of emeralds, and Henry II, when he was made King of Ireland in 1171, was given a large emerald ring. Queen Elizabeth II also had an amazing collection of emerald jewelry, including an emerald diadem.
Movie star and icon Grace Kelly was given a 12 carat emerald-cut diamond engagement ring from Prince Rainier and everyone knows about Elizabeth Taylor's love of emerald jewelry. One of her husbands, Richard Burton, gave her the emerald and diamond brooch as an engagement present, and she wore it with an emerald necklace he gave her as a wedding present. Burton then gave her earrings, a bracelet, and a ring. Some of the emeralds in Taylor's set were also from the Grand Duchess Vladimir in Russia.
Former US President John F. Kennedy gave Jacqueline Bouvier a 2.88 carat diamond emerald ring and Sharon Stone was given a three diamond, 3 1/2 carat emerald-cut diamond engagement ring by Phil Bronstien.
Buying Emerald Jewelry
GIA gives a clear guide as to how to buy emeralds.
Chromium, vanadium, and iron are the trace elements that cause emerald's color. The amount each of these elements are present or absent in the stone determines the exact color of an emerald crystal.
When shopping for emeralds, professionals generally agree that emeralds are most of all about color. Subtle variations make significant differences in value. The most desirable emeralds are highly transparent and colored bluish green to pure green, "with vivid color saturation and tone that's not too dark," according to GIA. The color should be "evenly distributed, with no eye-visible color zoning."
Sometimes the appearance of an emerald, meaning its color, is associated with the location of where it was mined. GIA says that emeralds mined in Colombia are said to have a warmer and more intense pure green color, while Zambian emeralds are said to have a cooler, more bluish green color.
Eye-clean emeralds, where there are no inclusions visible to the unaided eye, are very valuable because they're so rare. Emeralds typically contain inclusions and because of that most traders and some consumers understand and accept the presence of inclusions. Something to remember, though, is that when the inclusions have a negative effect on transparency and clarity, they also dramatically reduce the value of the emerald.
In terms of clarity, GIA says "expect to see inclusions that dealers like to call an internal 'jardin,' or garden. When looking at carat, because an emerald's density is lower, a one-carat emerald will appear larger in size than a one-carat diamond." According to GIA, the most popular and common cut for the stone is the emerald shape (which is rectangular) because of the original shape of the crystals. Stones that are cut well maximize the beauty of its green color (making it brighter and livelier) while minimizing the impact of fissures. Emeralds are also difficult to cut but Colombian rough emeralds is especially hard because the distribution of "coloring agents" during formation, GIA says.
The Sandawana emerald mine in Zimbabwe is known for its tiny but vivid colored stones. Its emeralds are as small as 1 mm square, but intensely green. The mine's cut stones average about 0.05 to 0.25 carat, and rarely weigh more than 1.50 carats.
The value of an emerald can range from a few dollars to tens or even hundreds of thousands of dollars per carat, depending on quality of the stone.
On May 16, the auction house Christie's in Geneva offered a Tiffany & Co. diamond-and-emerald necklace made between 1880 and 1890. The necklace has old-cut diamonds, upside-down fleur-de-lis motifs, unusual circular-cut emeralds from Colombia, and its central largest emerald has not been treated at all. Christie's cited a specialist saying that the green gemstones may have come from the famous collection of Queen Isabella II of Spain. In 1878, she auctioned some of her emeralds in Paris and at the time Tiffany & Co. imported royal and imperial gems to America where wealthy families, such as the Vanderbilts, were eager to get a hold of these pieces.
To clean your emerald, use room temperature running water and a soft toothbrush with mild soap. Brush repeatedly on the underside of the emerald to remove dirt and grease that may have accumulated over time. The emerald will begin to brighten and it should then be rinsed with warm water, and patted dry.