---
Birthstone Jewelry / Rings / Rose Gold / Unique Jewelry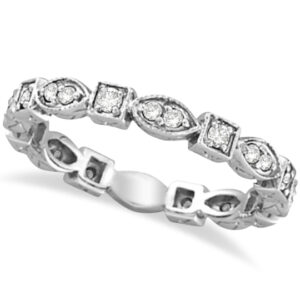 Diamond is Indestructible: Diamonds are the hardest mineral. While they can only be scratched by other diamonds, if you do not properly treat diamonds, they can be chipped. Diamonds have even been known to split in half.
Diamonds are the most expensive form of Jewelry: This is not necessary. There have been rubies that have sold for more than diamonds of the same carat weight. A loose diamonds can actually be sold for as little as $250. What makes diamonds more or less expensive are the type of cut they have, the amount of carats it has, the clarity rating and color grade.
The Size of a Diamond is Determined By Carat Weight: This is not perfectly true. Carat weight is just that – weight. While there is a connection between carat weight and size in diamonds, how large a diamond appears also depends on the cut of a diamond. A diamond with a shallow cut will look larger than a diamond with a deeper cut if they are of the same carat weight. Just keep in mind that diamonds that are too shallow or deep affect the value of the diamond as well.
Yellow Diamonds Are More Valuable Than Colorless White Diamonds: That depends. The term "fancy yellow diamonds" refers to colored diamonds that are in fact usually sold at a higher price than white diamonds of the same carat and clarity. However, diamonds can have a yellow appearance for other reasons. For example, a yellow diamond can actually be a white diamond with a tint. Such a diamond would have a poor color grade and would be worth less money, since white diamonds are valued for how colorless they appear.
Gold Comes in Three Colors: Gold only comes in one color – Yellow. This is how gold is mined in its pure form. Of course, it's impractical to wear gold in its pure form. Pure yellow gold is too soft for use in jewelry and must be mixed with other metals. Specific combinations of iron, copper, silver and aluminum are used to create unique gold alloys that can appear white or pink in color. This is how we get White Gold and Rose Gold (also known as Pink Gold) jewelry in addition to Yellow Gold jewelry.
Sapphires are Blue: Sapphires come in more than one color. There are yellow, orange and green sapphires. Pink sapphire rings are not uncommon as a jewelry item.
These are common myths that are associated with jewelry. People often have many misconceptions about jewelry. This is not the best approach to have when you shop online for jewelry. That is why Allurez jewelers provides a comprehensive education section to the public. This way when you buy online from Allurez and get a diamond ring, or a sapphire pendant necklace or white gold bracelet, you know what you are getting. Plus, Allurez offers free 2nd day shipping, easy returns, and secure online shopping.

About Allurez
Allurez is the premier designer and retailer of high quality fine jewelry with a brand name known to royals as well as to the rich and famous. We are committed to providing you with the largest and the finest selection of engagement rings, wedding bands, bridal jewelry, fine fashion jewelry, and certified loose diamonds. Go ahead, browse our store, and find your perfect jewel!