---
Birthstone Jewelry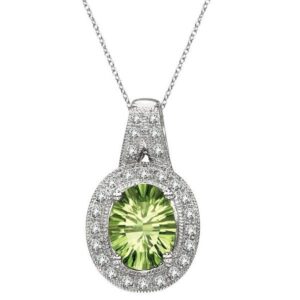 What is a more suitable name for the August birthstone than "the gem of the Sun"?! The peridot belongs to one of the most sunshine-filled weather months of the year for some of us. Dating back to more than 3,500 years ago, the bright green peridot was known as "the gem of the Sun" by ancient Egyptians.
 Meaning: The peridot protects its wearer from "terrors of the night", especially when it is in a gold setting. Peridot jewelry is believed to drive away forms of evil that may harm its owner. It is also known to have special healing properties that help ward off sickness.
 Color Range of the Peridot Stone: The most valued color of peridot is a true green without any traces of brown or yellow color. Peridot can be found in shades of light-yellowish green, green, olive-yellow, and can even be a brownish green. The peridot gemstone is not usually treated or enhanced in any way so that its natural color can be preserved.
Origin: Similar to most gemstones, the peridot is likely to have been discovered thousands of years ago. Peridot is created in igneous rock from the Earth's mantle and crystallites of peridot are found in rocks that are created by volcanoes. Peridot has been found in the United States, Myanmar, Egypt, China, Sri Lanka, and Pakistan.
Peridot Jewelry: The Peridot birthstone has been a long time favorite to royals and clergy. This gemstone has been used to decorate royal crowns, knight's swords, and was even a beloved jewel of the ancient Egyptian pharaoh, Cleopatra. Today, peridots accent a variety of jewelry such as, necklaces, earrings, rings, bracelets, and pendants. Peridot jewelry comes in all types of precious metals that include white, yellow, or rose gold, platinum, and palladium. Peridots are commonly placed with diamonds to create unique jewelry patterns that give off an extra sparkle.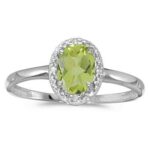 This stunning 14k white gold ring features a natural oval shaped peridot gemstone of eye clean clarity. It is delicately set in a prong setting and surrounded by small diamond accents in a halo fashion. Each round diamond is of SI clarity and is placed in a gorgeous prong setting around the center stone.
Allurez has a large selection of peridot necklaces, bracelets, rings, earrings, and pendants to choose from. We use the finest quality of eye clean peridot gemstones for all of our handcrafted jewelry. If you are looking for a gift for someone who is born in August, peridot gemstone jewelry is the perfect present for all occasions. To shop our entire peridot jewelry collection, head on over to Allurez.com today!

About Allurez
Allurez is the premier designer and retailer of high quality fine jewelry with a brand name known to royals as well as to the rich and famous. We are committed to providing you with the largest and the finest selection of engagement rings, wedding bands, bridal jewelry, fine fashion jewelry, and certified loose diamonds. Go ahead, browse our store, and find your perfect jewel!