---
Birthstone Jewelry / Rings / Wedding Bands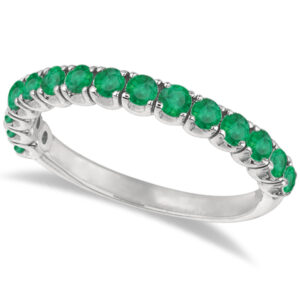 A diamond or an emerald wedding ring could mean a lot. While for some, flashing one of their kinds means representing their own class or status, while for others it is something related to deep down within. A wedding band with emerald gemstones reminds you of those special moments when you celebrated a new beginning of a companionship that is to last forever. It reminds you of the pledge of togetherness in health and happiness that you had taken with your partner. Make these moments even more special with an emerald gemstone encrusted wedding band that would be the witness to your love and togetherness for life. Of course, it is not cheap, but are fond memories of you and your loved ones worth being cheap? Perhaps not! Precisely these are some reasons why, an emerald wedding band with emerald gemstones is so special.
'Not everything that glitters is Gold' and 'not all green stones are Emerald'. It is not unknown to us that the market is flooded with green stones, but getting a genuine Emerald gem stone is something that requires expert eyes and experience. Check the cut and the color of the stone. It is an average quality gem stone that does not have the spark that diamond has. It has deep green color, which sometimes goes unnoticed when it is designed in a ring.
While buying a wedding band or emerald and diamond ring, decide on the size of the Emerald as larger the size, more the price. Moreover, to accommodate a bigger stone, a broader band would be required, which could pitch high price-wise.
Furthermore, if you wish to cut it to a shape, chances are that the price would depend on the cut too. For example, a heart-shaped Emerald would cost much high as compared to a normal stone cut as the shape is given manually and the stone is set in a customized band suited to its shape and size. If you wish to add a little more of romance to your wedding day, etch your partner's name at the edge of the band to remind you of the very special person in your life wherever you go.
Ensure that the setting of the stone is perfect. Prong settings, for instance, can be cheaper but the stone is likely to loosen in the future as this particular setting is fragile and are likely to stick in pockets or open up. As a result, these can also harm delicate skin. The best way, hence, would be to set the entire gemstone in Gold or border it with Gold. This makes the band sturdy. If at all a prong setting is required, ensure that they are well rounded and do not have any sharp edges.
Keep these simple things in mind and make your Wedding band with emerald gemstones a special one to be cherished forever.

About Allurez
Allurez is the premier designer and retailer of high quality fine jewelry with a brand name known to royals as well as to the rich and famous. We are committed to providing you with the largest and the finest selection of engagement rings, wedding bands, bridal jewelry, fine fashion jewelry, and certified loose diamonds. Go ahead, browse our store, and find your perfect jewel!