---
Birthstone Jewelry / Category 2 / Celebrity News / Designer Jewelry / Gift Ideas / Rings / Unique Jewelry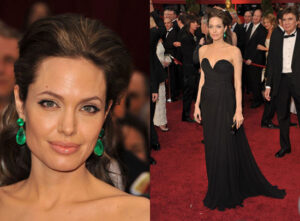 The world at large has had a very prominent shadow cast over it for almost the past decade in the form of a very beautiful and very eccentric woman known as Angelina Jolie. Even from the beginning, it was clear that this lady was born to be great in some capacity as her father is the renowned actor John Voight. Having such a famous father probably made things difficult for Angelina growing up, but you certainly cannot tell she has such a past these days as she has gone on to be both an incredible actress, a notable humanitarian, and a unique fashion lover. In terms of her acting career, she originally began in 1982 by starring alongside her father in Lookin' to Get Out. Yet, it wasn't until she played the video game heroine Lara Croft in the 2001 Lara Croft: Tomb Raider film that she rocketed to being one of the highest paid actresses in Hollywood. With this new found celebrity fame and money, she did not do as many other actresses in terms of becoming so self involved that she falls off the screen. Angelina chose to support many humanitarian causes, even becoming a United Nations High Commissioner for Refugees (UNHCR) Goodwill Ambassador at the UNHCR headquarters in Geneva back in 2001. Despite her visits around the world to international hot spots like Darfur, Chad, Iraq, and Afghanistan, she knew that her fame and fans were what allowed her to do such good works. She decided to keep with both acting and being in the public eye to allow her causes to be known. As with all things in Hollywood though, she definitely had to look good.
Keeping in tune with her high fashion roots, Angelina likes to try out new styles originating all over the world when she is seen at premieres, red carpet events, and even benefits for humanitarian causes. Favoring solid colors, she likes to accent her natural good looks without over powering them. The best way to do this Angelina found out is through jewelry. Her jewelry choices always are at the height of fashion. At the premiere of Ocean's Thirteen, she wore a bright yellow dress that accented her square cut yellow diamond earrings. The actress is also very fond of emerald gemstones as well, showing off several different fashion emerald rings and even solid emerald earrings of a drop style. Drop earrings seem to be the actresses favorite as she is most commonly seen with them rather than simple studs or the more extravagant chandelier types. It is the gemstones themselves that vary—such as diamond earrings, silver earrings, or even pearl earrings in the lovely drop fashion.

About Allurez
Allurez is the premier designer and retailer of high quality fine jewelry with a brand name known to royals as well as to the rich and famous. We are committed to providing you with the largest and the finest selection of engagement rings, wedding bands, bridal jewelry, fine fashion jewelry, and certified loose diamonds. Go ahead, browse our store, and find your perfect jewel!