---
Birthstone Jewelry / Necklaces
The Pearls of Wisdom you might not know
Pearls are the Only Gift of the Living Sea
When it comes to jewelry, pearls are the only gemstone known to date that are made by living animals.
There is no Perfect Pearl

The look may be perfect, just what you wanted….the Tahitian Black the perfect tones of blue, but it won't ever be perfect, because no pearl is. Each has its minor imperfections, and in this case of fine pearls, the perfections are what give pearls their true appeal.
Pearls are Priceless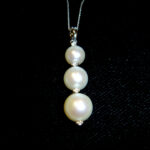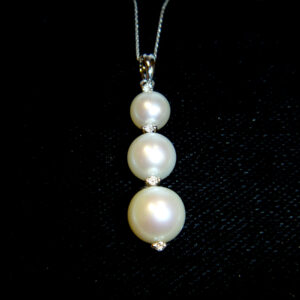 The cost of pearls is determined not just by financial worth but by emotional bonds. Although in 1916 two pearl necklaces were used in trade by Jacques Cartier to buy his 5th Avenue store, the feeling pearls give you is absolutely priceless.
Pearls are Environmentally Friendly
Harvesting pearls from mollusks does not harm the animals, in fact, they can, and usually are used to make additional pearls.
Celebrities are Rockin' Grandmas Pearls
The oldest known pearl spotting was found in the sarcophagus of a princess from 520 BC.  During its long history, pearls were the bell of the ball during the flapper days, a favorite accessory to first ladies, and the trend on the red carpet.
Pearls Don't Like Vinegar
Legend has it that a Cleopatra dissolved a pearl in wine and drank it on a bet with Marc Anthony. There is no proof that pearls can totally 'melt', but they can dissolved in vinegar because of its acidity. (Please don't try this at home)
A Closing Quote:
"The pearl is the queen of gems and the gem of queens" –Anonymous

About Allurez
Allurez is the premier designer and retailer of high quality fine jewelry with a brand name known to royals as well as to the rich and famous. We are committed to providing you with the largest and the finest selection of engagement rings, wedding bands, bridal jewelry, fine fashion jewelry, and certified loose diamonds. Go ahead, browse our store, and find your perfect jewel!