---
Bracelets / Category 2 / Designer Jewelry / Gift Ideas / Necklaces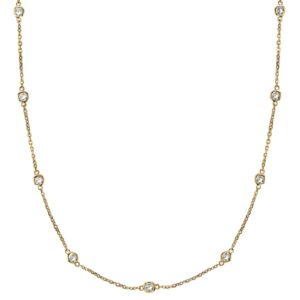 People are always seeking out new ways to stun potential onlookers with their personal bedazzling jewelry choices. Still, when it comes to the act of ultimately stunning your family, friends, coworkers, or merely a stranger who can get a decent glimpse of your overall style as you walk past them, a piece of Diamonds by the Yard jewelry can very simply achieve this goal while still keeping from being too overtly flashy to the point where the piece can be considered as over the top or even quite tacky. Many people will even be halted right in the middle of their steps. Yet, some individuals still wonder what exactly a Diamonds by the Yard jewelry piece is. Basically, Diamonds by the Yard is the ultimate formation of a long string of diamond stones that is then utilized to make both bracelets and necklaces which embrace tons of allure, luxury, and elegance. A specialized station setting is first created to hold these tiny and perfectly cut diamonds directly in their places which are later pulled onto an expansive chain of any kind of precious metal that you choose or hold close to your heart, pretty much making the long line itself a solid shimmering length of diamonds. The amazing setting (commonly known as a bezel set by the majority of jewelers) is used just for the task of holding the diamonds gemstones precisely in place along the metallic chain itself while at the same time not revealing the setting's shaped underside so that it can look to be a never-ending chain of glittering gemstones. As the entire jewelry item is primarily based on having a long metallic chain that appears as though it is basically encrusted with diamonds all over to make an glistening rope that has an aura of sparkles, the foundational jewelry formats that permit these specialty pieces are obviously a necklace or bracelet since they both require a rope like base.
Even though any type or primary style of necklace with a diamond foundation or a series of uniquely cut diamonds in a fashionable design can look alluring for almost every kind of situation which you will go through in your life, a Diamonds by the Yard necklace shows off in a way you never even thought to imagined. Having its long rope of small but still ideally cut diamonds that are able to reflect all kinds of light at many different angles so that you are able to draw every ounce of attention in a room is only made possible with this alluring bezel set necklace. A Diamonds by the Yard bracelet can still be just as stunning and awe inspiring as its complementing necklace piece though, whether you want it alone or as part of a set. You should not count out Diamonds by the Inch though as these kinds of pieces focus on sheer sturdiness of the setting with a slightly larger cut diamonds on the whole for use in daily wear.

About Allurez
Allurez is the premier designer and retailer of high quality fine jewelry with a brand name known to royals as well as to the rich and famous. We are committed to providing you with the largest and the finest selection of engagement rings, wedding bands, bridal jewelry, fine fashion jewelry, and certified loose diamonds. Go ahead, browse our store, and find your perfect jewel!