---
Celebrity Engagement Rings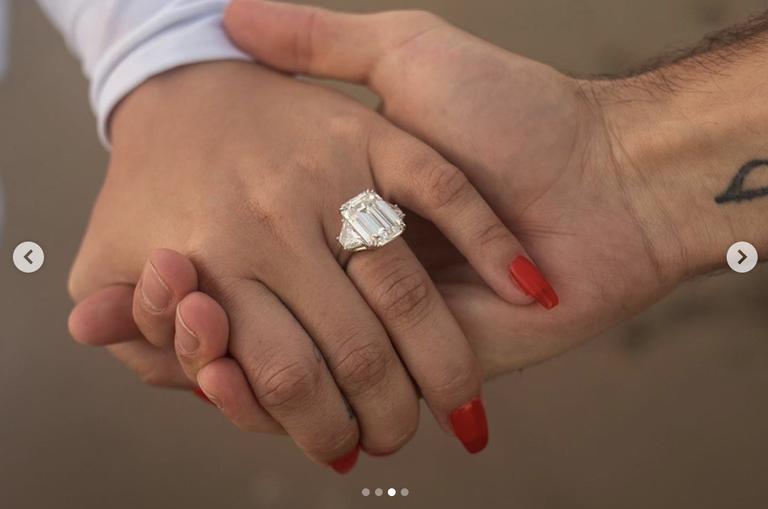 Demi Lovato's engagement ring was front and center in the pictures she shared on Instagram when she announced her engagement to her boyfriend of five months, actor Max Ehrich, last month.
The Grammy-nominated singer posted a handful of photos on social media showing the romantic beachside moment when Ehrich proposed and in every image where her left hand was visible, fans got to see her new emerald-cut diamond engagement ring, which looks to be set in platinum with the center stone flanked by two trapezoid accent diamonds.
Lovato shared a message to Ehrich in her post, saying, "I knew I loved you the moment I met you. It was something I can't describe to anyone who hasn't experienced it firsthand but luckily you did too.. I've never felt so unconditionally loved by someone in my life (other than my parents) flaws and all. You never pressure me to be anything other than myself…"
While the post was sentimental and thoughtful, Lovato's emerald-cut engagement ring stole the show. According to four experts cited by E! News, the ring Ehrich proposed with features a center diamond estimated to be between seven and 10 carats, and could have cost as much as millions.
"The center diamond looks around 10 carats," Jenny Luker, president of Platinum Guild International USA, told E! News. "Since the diamonds appear to be set in platinum, they sparkle even brighter! I would estimate a ring like this costs approximately $500,000."
Andrew Brown, CEO of WP Diamonds, said the center stone is "at least" 10 carats, set with "two-plus carat trapezoids on each side, in a Harry Winston style mounting, featuring a double claw on the prongs." Brown added, "A ring of this size would retail close to $1 million. If it's indeed a Harry Winston, the ring would retail closer to $2.5-3 million."
Multiple sources told TMZ that Lovato's ring costs between $2.5 and $5 million.
The sources also told TMZ that Ehrich was involved in the ring's design and put time into making sure it was unique. "He really wanted the elongated stone for Demi," according to TMZ. Ehrich also reportedly "went back and forth" with the jeweler with "different side stones and angles until the ring was just right."
Duchess of Cambridge Meghan Markle also has a three-stone ring, from Prince Harry, while Jennifer Lopez, Amal Clooney, Jennifer Lawrence, Sarah Jessica Parker, Grace Kelly and Beyoncé all have emerald-cut engagement rings. Lovato's ring seems the most similar to Jennifer Lopez's ring from Alex Rodriguez, which was an emerald-cut ring set in platinum flanked by diamond baguettes.
Many celebrities choose this specific cut for their engagement rings because of its brilliance.
"It's definitely a beautiful stone, definitely one of our best-selling stones," said Raphi Mahgerefteh, diamond expert and CEO of Allurez. "I think why it's so popular among celebrities is the elongated shape. It just has a lot of higher brilliance and a lot of beauty."
Mahgerefteh added that over the past five years oval-cut engagement rings have been very popular, until now. In fact oval cut and emerald cut diamonds have similar characteristics. He explained, "The elongated shape does make it appear bigger than something like a princess cut which is just a square shape, and I think that's one of the reasons that people were going for oval. Compared to a round the oval looks bigger because of the elongated shape and it's the same thing with emerald cut."