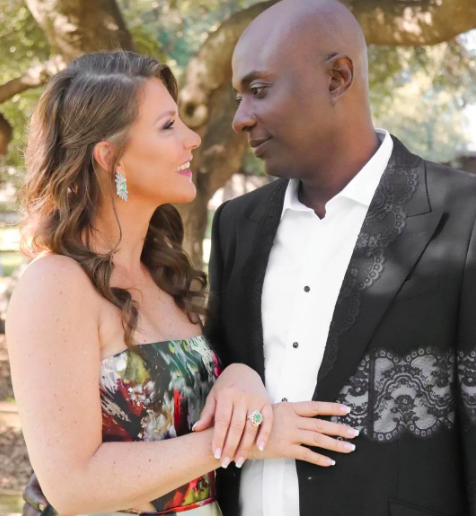 This Royal Princess's New Engagement Ring Represents Unconditional Love
Los Angeles-based shaman Durek Verrett proposed to Princess Märtha Louise of Norway, the fourth in line to the Norwegian throne, with a breathtaking symbolism-filled engagement ring that is also a nod to his new fiance's mother.
Durek — a "spiritual guide and gifted healer" whose celebrity clients include Gwyneth Paltrow, Selma Blair, Nina Dobrev, Rosario Dawson and James Van Der Beek — spent six months collaborating with a jewelry designer to create the emerald and diamond engagement ring, a spokesperson for the couple told People magazine recently. The publication added that the emerald "was chosen as a representation of the unconditional love, strength and resilience of the heart."
Picking an emerald for the engagement ring also pays homage to Princess Märtha Louise's mother Queen Sonja, who is a fan of emeralds, People reported.
The gemstone engagement ring features an emerald at the center that is an ethically sourced 3.5 carat stone from Brazil. The emerald is surrounded by a halo of 19 diamonds, with four trillion-cut diamonds surrounding the face of the ring to represent the four elements: earth, air, water and fire.
The ring also has 12 diamonds around a shield shape face of the ring, which is symbolic to protect their relationship against negativity, and three additional diamonds on either side of the ring to represent Princess Martha's three daughters: Maud Angelica, Leah Isadora, and Emma Tallulah. The infinity detailing on the side of the ring is "representative of the Nordic symbolism representing the intertwining of two beings," and the engraved love knot represents the couple's union, People said.
Princess Märtha Louise, 50, confirmed her romance with Durek, 47, in May 2019, three years after she divorced Ari Behn after 14 years of marriage.
"When you meet your twin flame, you know. I have been lucky enough to have met mine," she captioned a series of photos at the time. "@shamandurek has changed my life, like he does with so many. He has made me realize that unconditional love actually exists here on this planet. He embraces all of me without question or fear. He makes me laugh more than anyone, has the most profound wisdom to share and all the bits in between from the diversity of his being."
The royal continued, "I feel so happy and blessed that he is my boyfriend. Thank you my love, for including me so generously into your family. I love you from this eternity to the next."
The couple announced their engagement on their Instagram accounts on Tuesday.
"She said YES!" Durek captioned a photo of the couple as Princess Märtha Louise shares a glimpse of her engagement ring. He added, "When you know you know. There is nothing better than having clarity as a man that the woman that stands in front of you is the one."
He also wrote: "I'm overjoyed with tears that I get to spend the rest of my life with the most pure hearted, angelic, wise, powerhouse woman who represents all levels of a goddess in my eyes. Together as a soulful spiritual couple, we will use our power to support the people to create a world based in love and acceptance. Changing the world through our love."
Princess Märtha Louise wrote on her own Instagram account, "I am so happy to announce that I am engaged to Shaman Durek, the one who makes my heart skip, the one who sees me and acknowledges me from my highest potential, who makes me laugh and who I can be vulnerable with. Love transcends and makes us grow. And I am so happy to continue to grow with this beautiful man."
Durek previously told People, "We're star-crossed lovers across the sea, but our love is defined by friendship and devotion. It is through our friendship that we have built this ability to handle the distance between our hearts."