---
Engagement Rings
Engagement Ring Trends of 2021: A Roundup of the Most Popular Styles, Cuts and More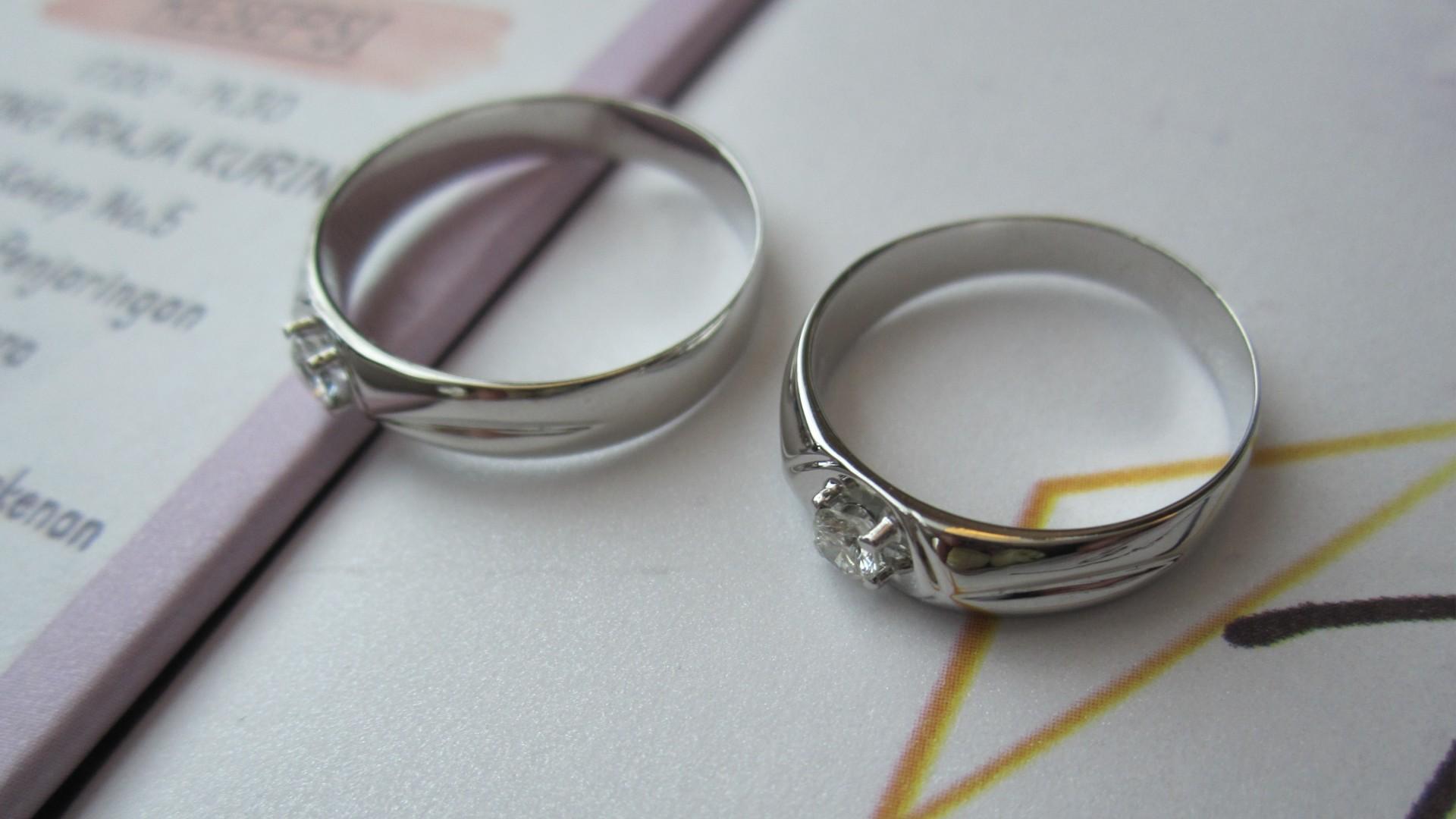 Another year is nearly done and dusted, and the last 365-ish days have brought tons of love, laughter and I dos. But before anyone walked down the aisle, they got engaged, and that means an endless array of gorgeous engagement rings for us to fawn over.
Here's a look back at the most memorable engagement ring trends of 2021 and the people who wore them.
Lindsay Lohan: Big solitaire on a slim band
When the former child star announced her engagement to fiancé Bader Shammas in November of this year, she did so while flashing her gorgeous square-cut diamond ring on Instagram. The diamond sits on a simple, thin gold band for a look that's both classic and undeniably eye-catching.
This style is a great choice for couples who appreciate tradition but also want a ring that's a bit flashier than the norm. The combination of a larger stone and thinner band creates a sense of balance while also flattering Lohan's petite hand.
Tennis pro Maria Sharapova modeled a similarly styled ring but in an emerald cut versus Lohan's square-shaped gem. Though the athlete actually got engaged in 2020, she debuted the ring to the public in 2021, eliciting quite the reaction from fans and industry insiders alike. Jewelry expert Kristen Trustey told US Magazine that the ring actually captured another trend, too: bezel settings.
"Bezel-set engagement rings are simultaneously modern with a clean, minimalistic look as well as a bit of vintage in feel," explained Trustey. "Bezel-set diamond rings are also a fantastic choice for those that are very active, or athletes like Maria, as they are incredibly secure, and the wearer doesn't have to worry about prongs getting stuck on loose clothing or prongs coming loose if worn during physical activities."
Kate Bock: Updated Takes on Vintage Jewelry
NBA star Kevin Love proposed to his sweetheart, Sports Illustrated swimsuit model Kate Bock, as part of her birthday weekend festivities back in February. The sparkler Love picked out is actually a combination of two vintage pieces: a 1930s-era Cartier diamond reset into a vintage Cartier band.
Apparently, the custom creation with heavy retro inspiration was the perfect pick for Bock, who described her reaction to PEOPLE. "I was in total shock when I saw it. I just jumped up from my seat." It's easy to see why Love would go through the effort to customize his fiancée's dual-purpose gift. In an Instagram post sharing the big news, Love captioned a photo of the love birds smooching with, "'Souls tend to go back to who feels like home.' My Fiancé. The Joy of My Life." [sic]
Kate Hudson: Colored Gemstones
Like several engagement ring trends from 2021, colored gemstones are a popular option expected to pop up again in 2022. One look at actress Kate Hudson's stunner and the appeal is obvious. Hudson debuted her golden-hued cushion-cut diamond from husband-to-be Danny Fujikawa as part of her breathtaking Met Gala ensemble. When she walked the red carpet September 13, much of the focus was on the ring rather than her equally beautiful Michael Kors gown.
The choice of a uniquely colored stone is a perfect match for Hudson's boho-influenced personal style, while the hefty stone — estimated to be somewhere in the neighborhood of six to eight carats —is on par for a celeb of her caliber.
Diamond expert Kathryn Money told Brides magazine that she and her fellow jewelry pros love Hudson's newest accessory. "We love that her ring showcases an understated timeless silhouette, with warm tones on a delicate band. She's such a fearless spirit, and this uniquely fancy diamond shape gives the perfect amount of personal touch to a timeless style."
Etsy's Trend Expert Isom Johnson thinks the surge of interest in colored gemstones has a lot to do with what people are watching. "Pop culture has always been a huge source of inspiration for shoppers, especially when it comes to wedding and engagement rings. Thanks to the release of many popular royal-inspired shows, colorful gems — which were popular in the 1800s — are trending again."
Ariana Grande: Pearl Engagement Rings/Mismatched Stones
Ariana Grande is another celebrity doubling up on engagement ring trends, this time ticking the boxes for both pearl rings and engagement rings featuring mismatched stones.
Grande's now-husband (the couple tied the knot in a "tiny and intimate" ceremony on May 15, 2021) Dalton Gomez proposed to his girlfriend of nearly a year in December 2020. When the masses laid eyes on the one-of-a-kind ring that pairs a single pearl with an oval diamond set at an angle, it ushered in a new trend of outside-the-box designs that eschewed tradition in favor of styles that feel modern while also honoring the wearer's individuality.
That's the case with Grande's ring, which was a custom piece overseen by Gomez. Jeweler Jack Solow spoke to PEOPLE about the piece, saying, "Dalton was involved in every step of the selection process…He had very strong feelings about how he wanted this to look, a contemporary kind of way. It was his idea to do the diamond on an angle and he said to me we had to incorporate a pearl into the finished piece because it is very sentimentally special, the element of a pearl is very, very sentimentally special to Ariana."
Grande has previously spoken about a ring her grandmother had made using a pearl from her late husband's tie pin. That ring, given to Grande, featured a pearl originally on her grandfather's treasured accessory.
Bella Thorne: Fancy-Cut Diamonds
Former Disney star Bella Thorne is known for her vivacious personality and rockstar aesthetic, so it seems fitting that her future husband Benjamin Mascolo proposed with a pear-shaped diamond rather than an uber-traditional round solitaire.
The ring, shown on Mascolo's Instagram account, also features a halo of smaller diamonds surrounding the pear-shaped center stone and an eternity band crusted in even more diamonds.
Jewelry expert Cathy Waterman predicted this kind of detailed twist on classic styling back in 2020, explaining that all the unexpected events of that year were driving couples to look for jewelry that feels tried-and-true without feeling stale. As Waterman told Brides, "A more traditional ring with a pretty silhouette and exquisite detail speaks to today's bride and this trend will continue into 2021."
Adam Rippon: Embellished/Stacked Bands
Figure skater Adam Rippon and his fiancé Jussi-Pekka Kajaala gave each other coordinating gold bands. While the two rings obviously go together, each design includes aspects unique to the individual wearing them. For Adam, that means some extra sparkle.
The bands also look like two bands in one, echoing the popular stacked band trend that showed up frequently in 2021. Designer Katherine Kim thinks the trend is related to the need for simpler wedding plans in the wake of COVID-19. "Since a lot of weddings are being postponed, we have been seeing a rise in rings that can serve as both an engagement ring and wedding band."
Designer Emily Rudman takes that idea even further, suggesting that clean and simple band-only designs are as practical as they are pretty. "It's also easier to clean/sanitize and endure the constant washing and hand sanitizing we're doing these days."
Gwen Stefani: The Return of Accent Stones
The new Mrs. Blake Shelton ain't no Hollaback girl, and she isn't lacking in the ring department, either. The singer, known for her quirky style and ability to seamlessly blend streetwear and haute couture, got a stunning ring from her fiancé that features a large square center stone flanked by a smaller diamond on each side.
These accent stones mark a departure from the large solitaire rings and eternity style bands that have been more popular in recent years. Megan Markle, aka the Duchess of Sussex, nudged multi-gem rings back into the spotlight with her three-stone sparkler from hubby Harry back in 2017, but Stefani's exaggerated take was even more inspiring for fans who want a ring that effortlessly straddles the line between classic and edgy.
Expert Olivia Landau views smaller accent stones as an updated take on Markle's ring. "I have been seeing more and more couples opting for petite side stones, which I absolutely love because they are a modern and more delicate take on the classic three stone ring."
Stefani's ring may not be the definition of understated, but the side stones do represent a major ring trend in 2021, and subtler versions are just as lovely — if not more so.
Jourdan Dunn, Anna Faris, Tayshia Adams, Amber Riley, Courtney Stodden — Halo Rings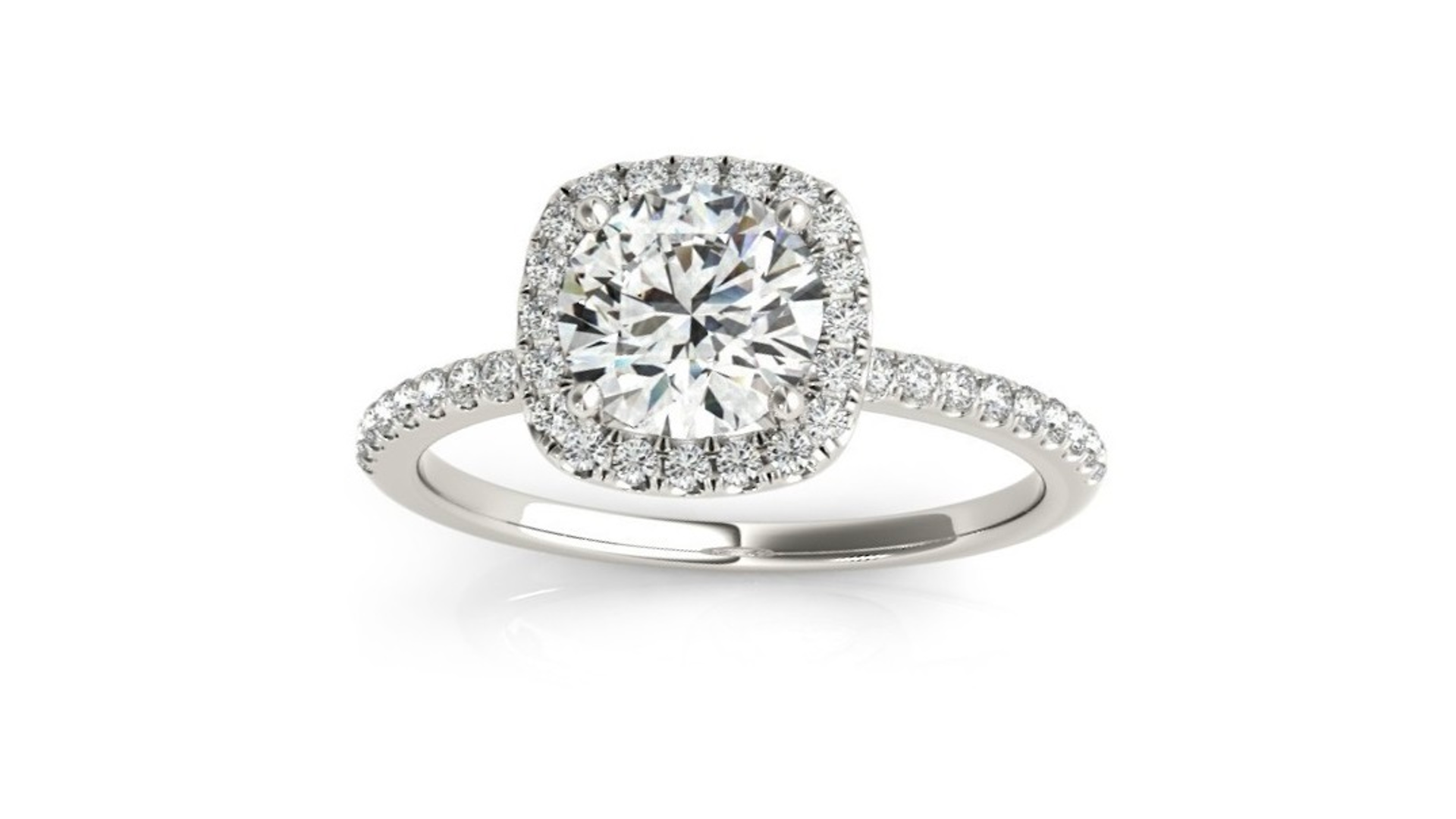 What do a supermodel, a beloved comedic actress, a former Bachelorette, a Glee singer and a reality star have in common? All these lovely ladies scored halo-style engagement rings in 2020 or 2021. That wave of celebrity endorsement, intentional or not, ushered in a new trend.
This is the second time halo rings have been hot in the last decade, but this time the ring of tiny diamonds is surrounded by all kinds of cuts and even non-diamond center stones with a brilliant, unique effect. Jewelry expert Nidhi S. Dangayach chalks the trend up to a desire for glamor, also suggesting that halo rings can increase the overall interest of a ring without blowing up a more modest budget.
"While solitaire rings have been a strong preference in engagement and anniversary rings," explained Dangayach in an interview with The Zoe Report, "we find that customers are gravitating towards these designs to add grandeur to their ring at a great value for your purchase."
Whatever your vision for the perfect engagement ring, Allurez can help. Browse our preset rings or use our Design Your Own feature to create a ring from scratch using either a stone or a setting as your starting point.

About Allurez Tech

Twitter •