---
Category 2 / Engagement Rings
10 Christmas Proposal Ideas For a Jolly Engagement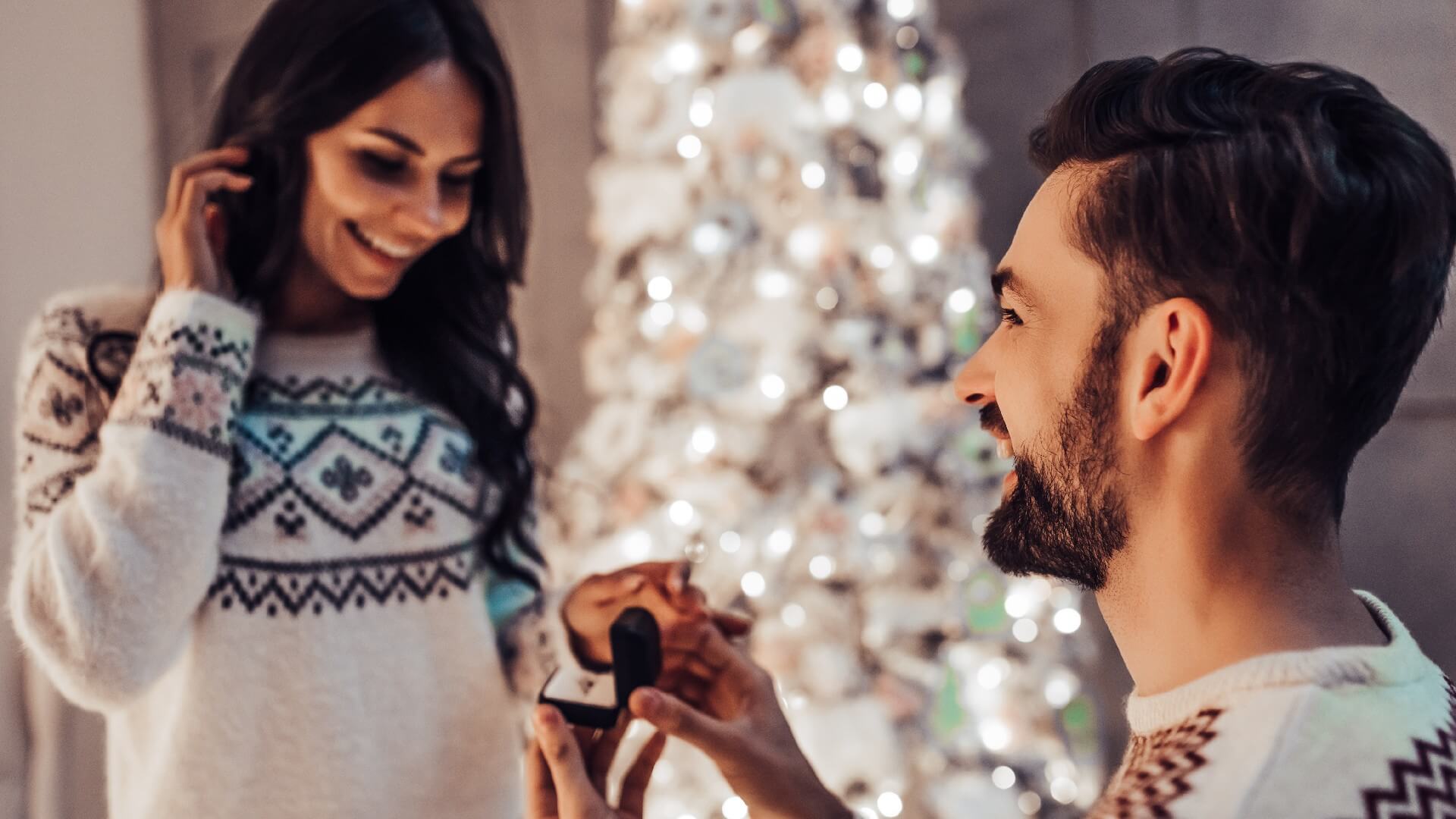 December 25th is one of the most romantic days to propose. The Christmas magic glows in the air. The holidays represent what makes someone want to get married: family, love and joy. It's a symbol for contentment, peace and good times — all great foundations for relationships.
If you're going to propose on the biggest day of the year, you might as well strengthen the symbolism by making it Christmas themed. Here are some fun ideas to add a little Christmas magic into your own magical moment.
1. Under the Mistletoe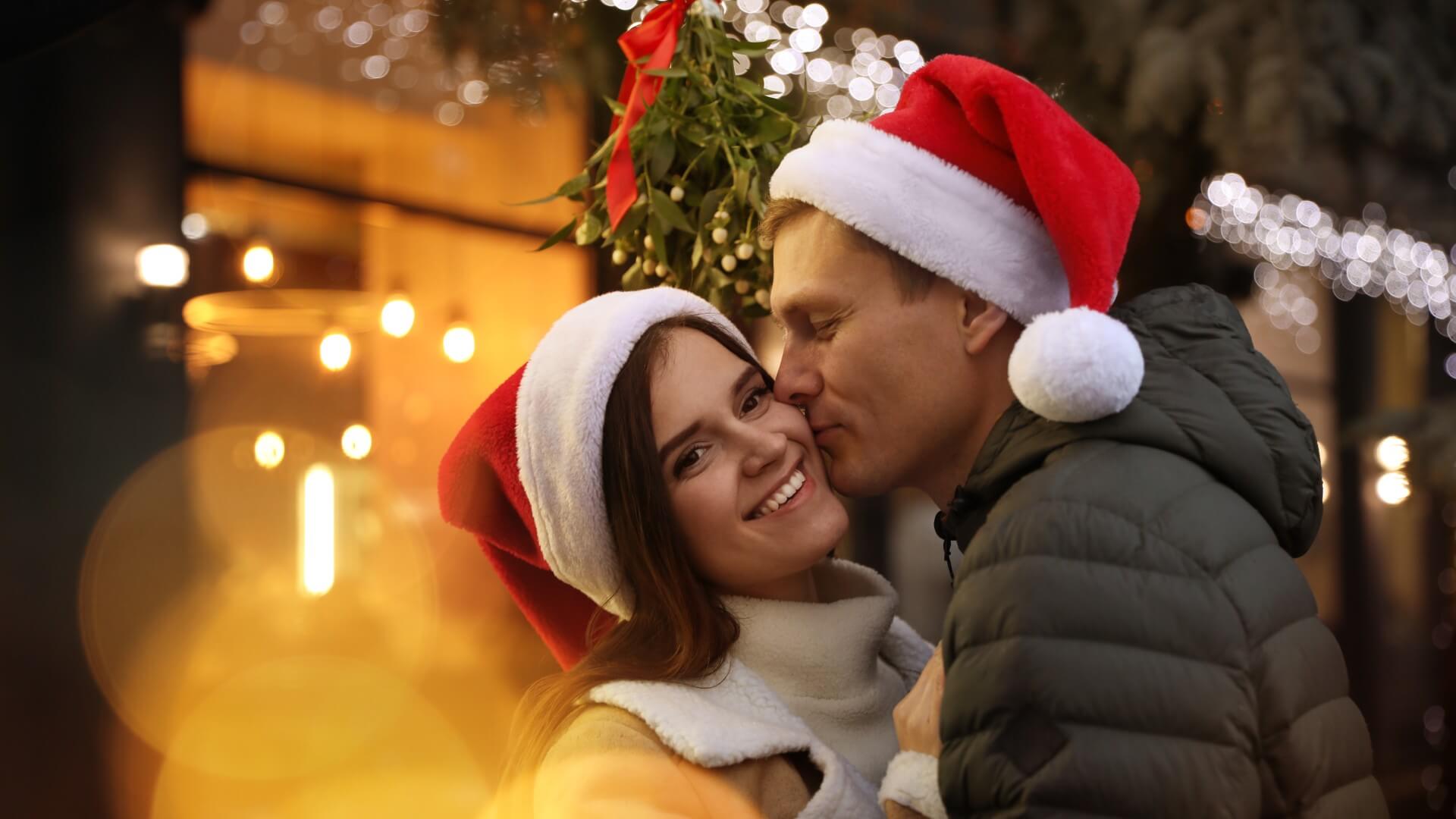 Nothing captures the romanticism of Christmas quite like standing under some mistletoe with your would-be forever person. Just imagine the warmth coming from the mantle, the smell of spices and the glow of lights colorizing your significant other's face. Right when they lean in for that Christmas kiss, you cut them off and fall to one knee. You open the ring box, let the color of decorations kaleidoscope in the diamond center stone and voice your heartfelt prepared line.
The mistletoe proposal is perfect for an understated but thought-out question pop. Many couples find that a more intimate proposal is better and less pressuring because there isn't a group of friends and family there to witness it. However, you probably still want it to be a memorable moment, and the under-the-mistletoe proposal accomplishes that.
2. With a Gift Wrapped Ring
Proposing on Christmas morning in your PJs with cups of hot cocoa is definitely a change of pace from the traditional suit-and-tie option with glasses of champagne. But that's what makes this proposal memorable, romantic and wholly you. A small gift wrapped box under the tree will probably go unnoticed until it's opened, but if your partner is suspecting a proposal soon, their suspicion about the small cubic box will make the reveal that much more impactful.
The key to this proposal is to make sure you're the one bringing the gift to your partner so you can offer it on one knee. This might take a little finesse if your significant other likes to tear right into the presents first thing Christmas morning.
You can also use the gift wrapped ring idea in a more traditional setting to bring a little holiday aesthetic to the proposal. Though if you really want to sell it, pop on a Santa hat before your proposal.
3. During a Snowball Fight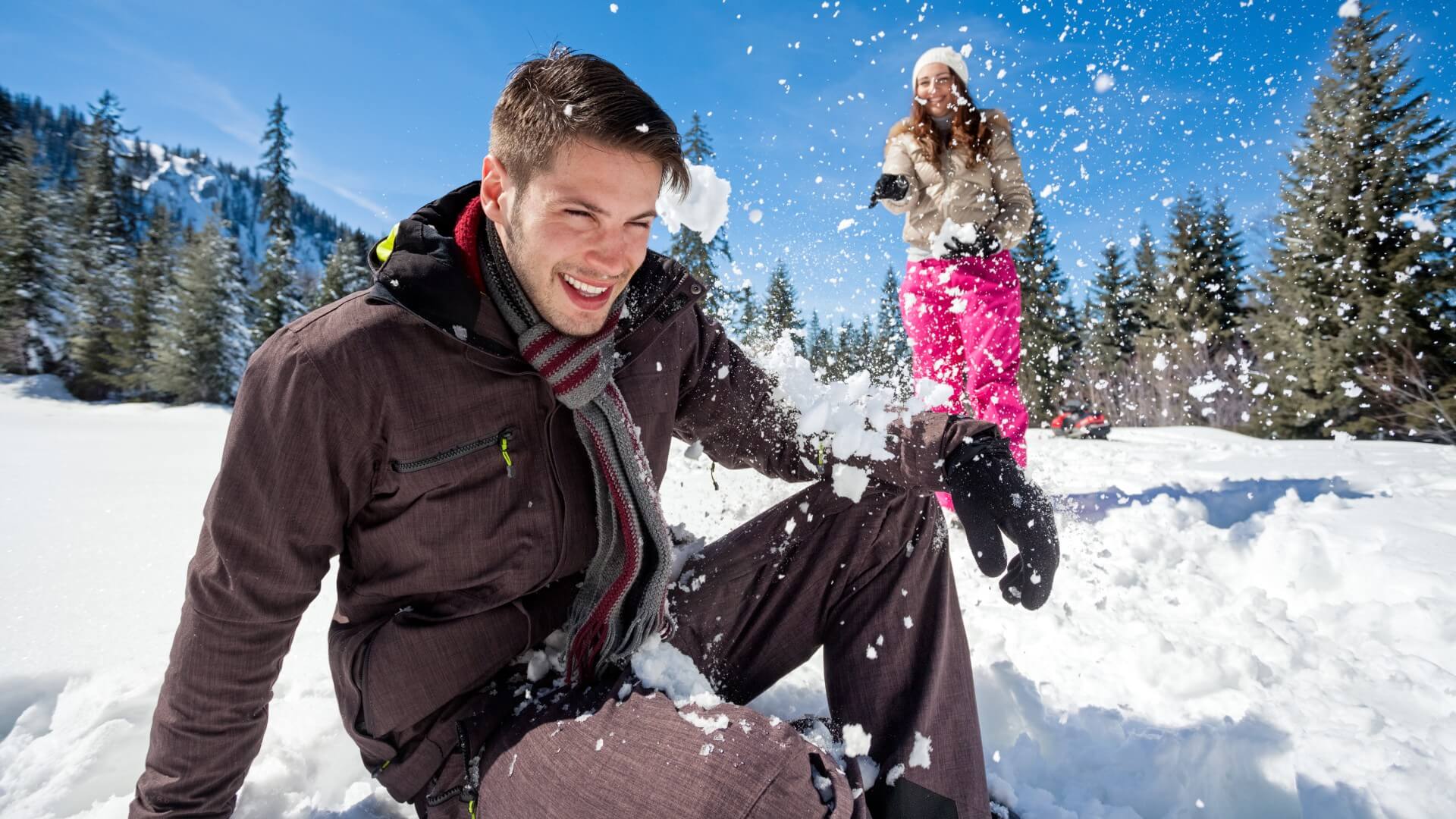 If your relationship tends to be very playful, a snowball fight proposal might be just zany enough for you. There's a ton of ways you can use this proposal idea. One is to offer a truce during the battle and drop on one knee right in the snow. Then say some endearing line like, "You wouldn't throw a snowball at your husband/wife/life partner, would you?" — to which they might say, "Yes, yes I would," and smash one right in your face before you propose — and that's okay! If you're on the same team, try dramatically saying, "I have something I need to ask you should I fall in battle today."
The most important thing to remember with this proposal: Don't lose the ring in the snow. Keep it in a zipped or otherwise sealed pocket, and maybe put the box in a Ziplock bag to keep out moisture until it's time.
Loading the ring box into a snowball and chucking it at your partner is not a proposal method we recommend, no matter how playful you're feeling.
4. With a Message Written in Christmas Lights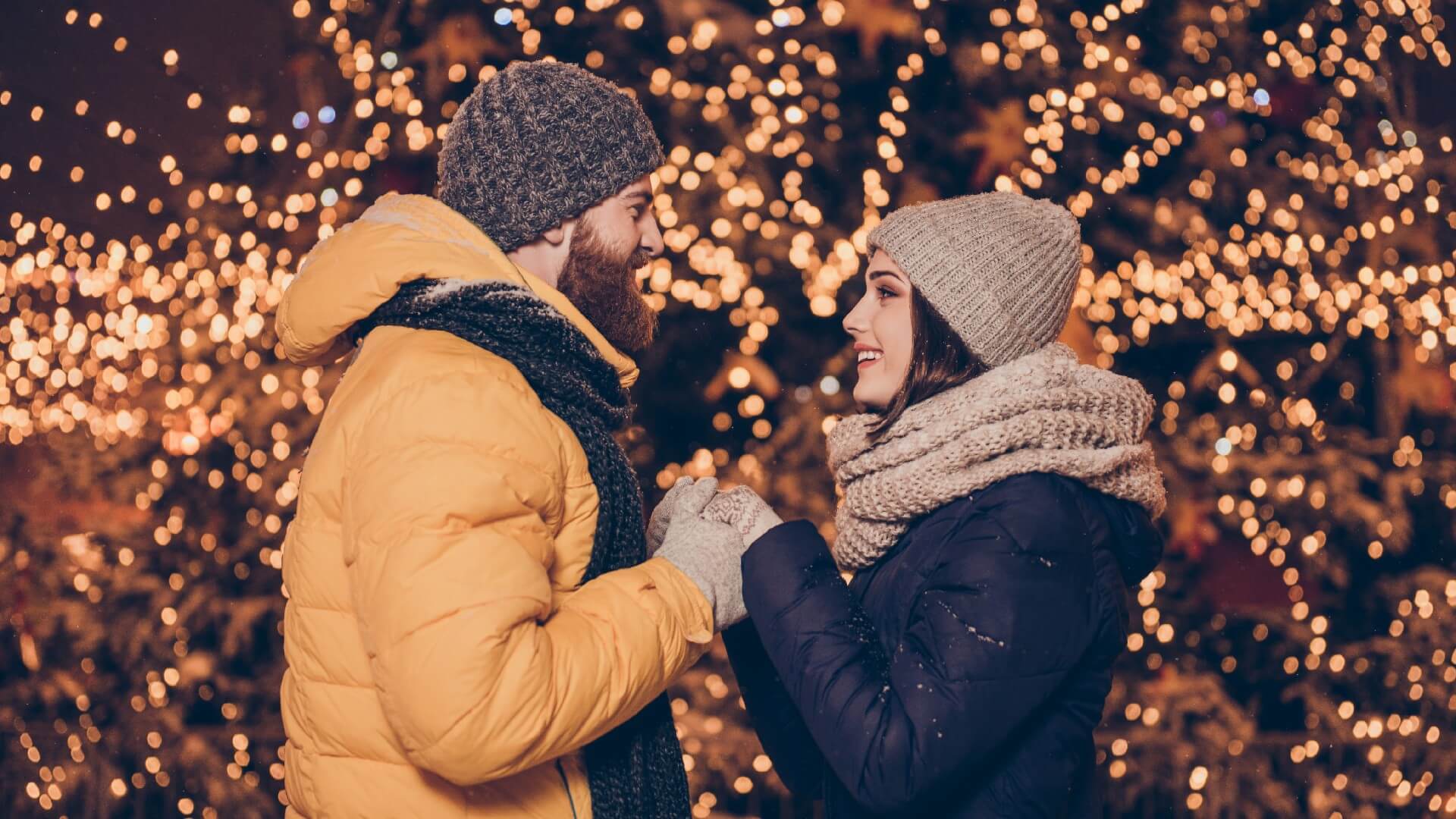 Big gestures go a long way in making someone feel appreciated and loved, and Christmas light proposals can get really big. This proposal requires a good bit of planning and some resources. The first thing you'll need to do is enlist your prospective fiance's friends to take them somewhere and keep them distracted while you set up. You may also want to grab some friends and family to help you decorate.
First, draw up a design for what you want on paper. Otherwise, you may end up with either a mess or a lackluster set up. Think about what the message will say, how you're going to make the letters and what other design elements you want in the scene. For example, you might have, "I want you to MERRY me for Christmas," written in cursive with white Christmas lights above the door and giant candy canes leading up to where you're standing on the front steps.
5. At a Christmas Eve Party
Want to spend Christmas morning with a fiance? Consider proposing the night before.
Christmas Eve is often the peak of good holiday spirits, making it the perfect time for a memorable proposal. Go with a classic proposal or use another option from this list to pop the question in a unique way.
Having your family and close friends together makes for an easy engagement announcement, though it may be better to do the actual proposal separate from the group if you think it might be too much pressure. The kind of proposal you do should be based on your partner's personality.
If you know they love to be the center of attention and life of the party, a big proposal in the middle of the room is perfect. But for someone who is shy or introverted, that might be a personal hell and ruin the experience for them. Be sure to have a conversation with your significant other about what they like in a proposal.
6. Taking Them to a Fancy Christmas Dinner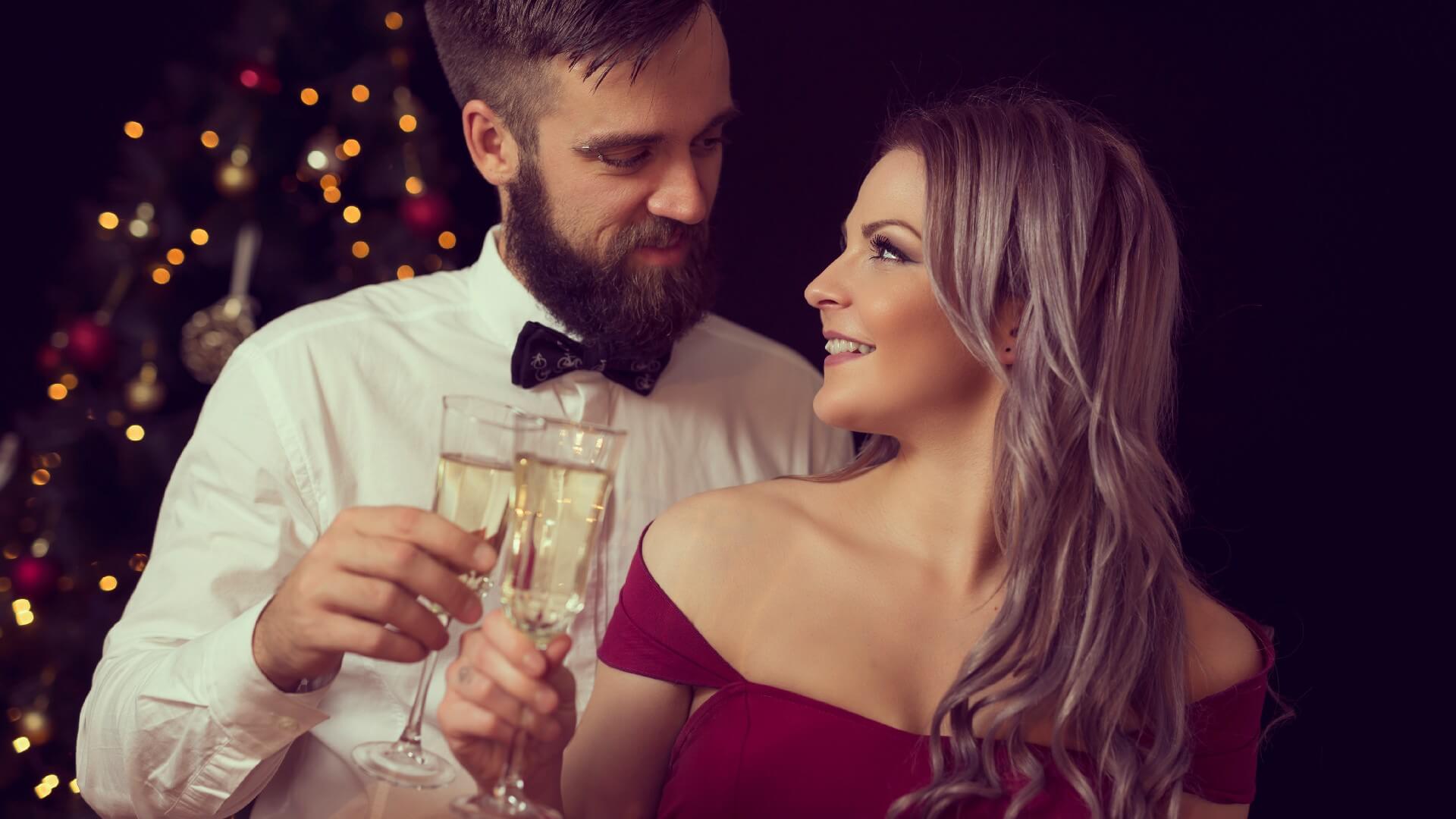 A fancy dinner proposal is an oldie but a goodie. Most restaurants will have some Christmas decor up to set the holiday mood, and from there you have your choice of classic proposal options: ring in the champagne, string quartet, etc.
But just throwing money into an expensive restaurant and luxurious musical accompaniment isn't going to fully sell it. Personalization is key. It should be your significant other's favorite restaurant or one they've talked about wanting to go to. The band could be playing their favorite song. The ring should fit their style. A fancy proposal may be classic, but it still needs to be new for you and your lover.
You also don't necessarily need to propose in the restaurant. Taking a walk through the city to a special place or a beautiful overlook can help set the scene. Just remember to pack extra coats and that you may need to remove a glove before sliding the ring on.
7. Ring Inside a Gingerbread House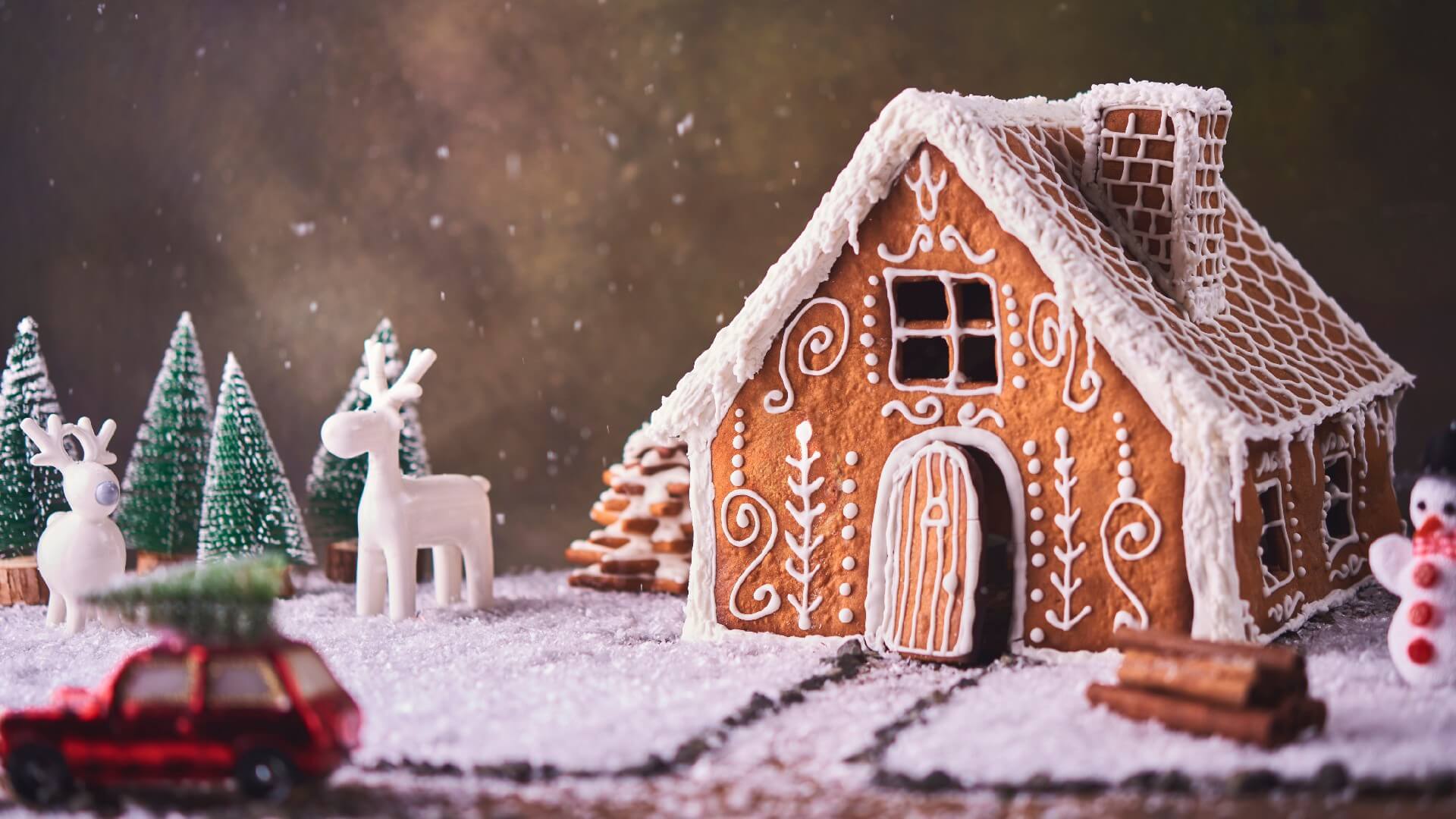 Imagine the surprised look you'll get when you get down on one knee and present a gingerbread house. Consider the excitement as they realize and start ripping the house apart looking for a shiny diamond ring.
The trick to this proposal idea is getting a secondary ring box that you don't mind getting a little icing or graham cracker on and then switching to the nicer box after. You could also wrap the ring box with wax paper to protect it.
If the idea of storing an expensive item inside an edible safe doesn't seem super appealing, consider just making a gingerbread display for the open ring box to sit on instead. You can use gummies and icing to create a mandala design with the ring sitting in the center — a safe distance from any food or mess.
8. At a Christmas Light Display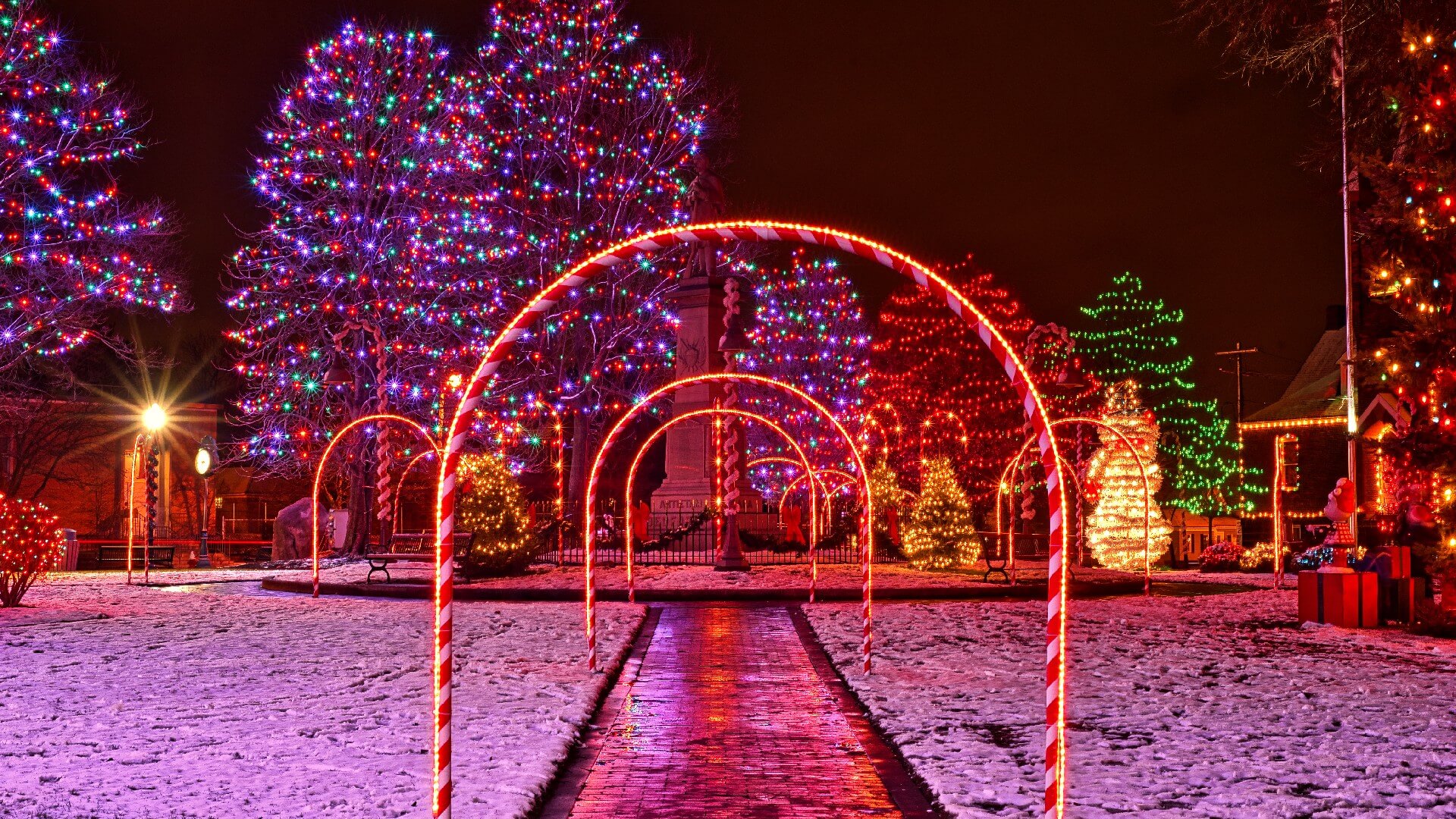 Why make a big display when someone's already made one for you? Town Christmas light displays are the ideal proposal spot. Most people can find a few different options in the area, so you might have to do a little research to find the perfect one. And if you really want to ensure everything goes off with magical smoothness, go to one of the earlier showings and scout out prospective proposal spots.
9. On a Sleigh Ride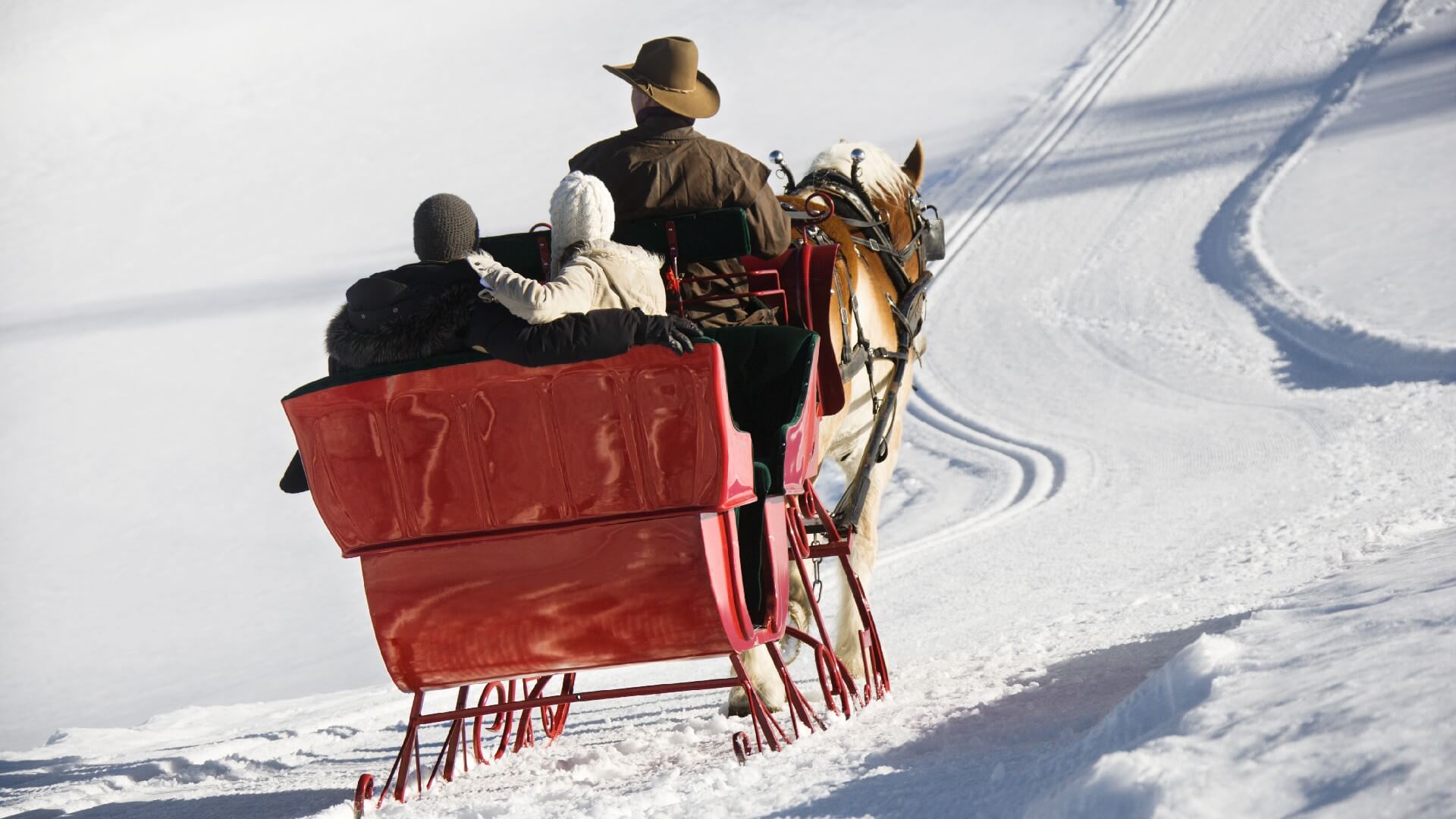 This is the perfect understated proposal. Snuggled in the back of a sleigh, it's just you and your partner. The Christmas lights and scenery are flashing by, and you crack open some champagne. Now comes the tricky part of this proposal: getting down on one knee inside a moving sleigh. This might not be a possibility depending on the size of the sleigh, but if you really want the knee moment, you can always wait until the ride is over and propose as they step off.
Don't forget the star of the show for your Christmas proposal. You might even design your own ring to make the entire moment a customized bit of magic.

About Allurez Tech

Twitter •