---
Engagement Rings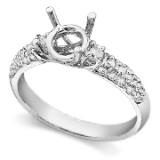 When it comes to the task of picking out the perfect engagement ring for your intended future husband or wife, jewelry stores with their cookie cutter rings and selections can become a tedious but necessary enemy.  Seeing ring after ring and band after band, your eyes might even grow tired of their sparkling beauty.  The viewing of yet another princess cut engagement ring (no matter the gemstone centered into the chosen setting) or even the stunning and eye popping gorgeous shimmer of a pave engagement ring which might take the heart of the stereotypical girl or guy in popular culture makes you think that you might not ever find the perfect ring for your love.  If you merely design your own engagement ring, you can avoid all these problems of searching for "the" ring as you can simply make it instead!
If you build your own engagement ring, you do not have to worry about aspects of a ring that may or may not take the breath away of your soul mate and future spouse.  Looking at different engagement ring setting ideas can be a good start if you feel lost though.  Imagining the multiple gemstones that could be fitted into the various settings can be a pretty fun past time in and of itself.  However, many people find that picking out a certified loose diamond is a better place to start since you can pick out which gemstones you want—no matter the color, shape, or size—then find a ring which fits the centerpiece you picked out.  The choice is ultimately up to you and your beloved!

About Allurez
Allurez is the premier designer and retailer of high quality fine jewelry with a brand name known to royals as well as to the rich and famous. We are committed to providing you with the largest and the finest selection of engagement rings, wedding bands, bridal jewelry, fine fashion jewelry, and certified loose diamonds. Go ahead, browse our store, and find your perfect jewel!