---
Engagement Rings / Gift Ideas / Wedding Bands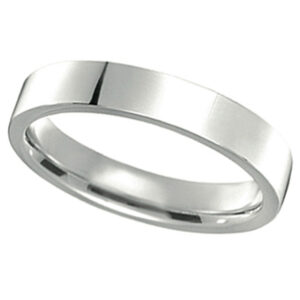 When it comes to the quite complex and rather difficult quest of choosing a wedding band for both your one true loved and yourself, most people tend to think that the selection of the fundamental precious metal for the band should be a relatively painless procedure—primarily because of the restricted common knowledge that tends to list only a small selection of metals to be used for any type of jewelry.  Yet, multiple more choices for jewelry precious metals can be looked over as there are more earthly metallic elements than you realize.  Silver is obviously the most ancient and traditionally classic metal which has been utilized for personal adornment creation for centuries.  Luckily, it also happens to be the least expensive.  On the other hand, it is actually the least durable of the precious metal selections.  The factor of longevity is very important to think about when you are longing for a wedding band to keep its shimmer and original form under the rough but standard daily use as most people need their hands for just about every action during most of the day.  Yet, there are of course other traditional selections such as gold (whether it is yellow or white).  Gold in particular has the tendency to be the easy fall back selection as it is widely acknowledged to be far more precious than silver.  Still, despite these alternative choices, any reliable jeweler can widely promote the truth of the platinum group of metals that is truly where couples want to look for a wedding ring which can last through the ages.
Even though this particular group of earthly metal elements is named after the family head of platinum, the shiniest, most durable, and of course strongest in the set has to be palladium.  These combined traits make palladium wedding rings a highly desired commodity even though knowledge of this amazing metal is still having to expand in terms of mainstream knowledge.  The truly stunning silvery-white allure and prestige native to palladium wedding bands is really amazing.  Seeing how a palladium wedding ring will be able to last through even the toughest daily wear and tear, you can still wear this type of ring all the time without removing it.  Also, the durability to even the roughest kind of use means that men's palladium wedding rings are an ideal option for the hard working and labor intensive husband of the couple. Do not fear looking into this super fashionable and functional metal for your alluring wedding ring!

About Allurez
Allurez is the premier designer and retailer of high quality fine jewelry with a brand name known to royals as well as to the rich and famous. We are committed to providing you with the largest and the finest selection of engagement rings, wedding bands, bridal jewelry, fine fashion jewelry, and certified loose diamonds. Go ahead, browse our store, and find your perfect jewel!