---
Engagement Rings
How Much to Spend on an Engagement Ring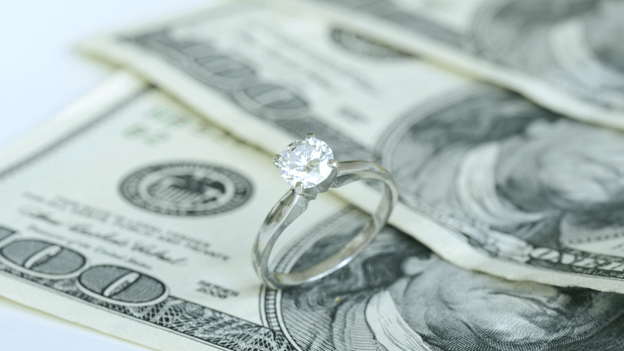 So you've met the love of your life and you're ready to propose. With the knowledge that you want to spend the rest of your life with one person comes an awful lot of questions, including one jewelry-related standout: How much am I supposed to spend on the engagement ring?
Before you get down on one knee, here is everything you need to know about how much engagement rings cost, how much you're expected to spend and why it's important to create a budget and stick to it.
What Do Engagement Rings Really Cost — and Why?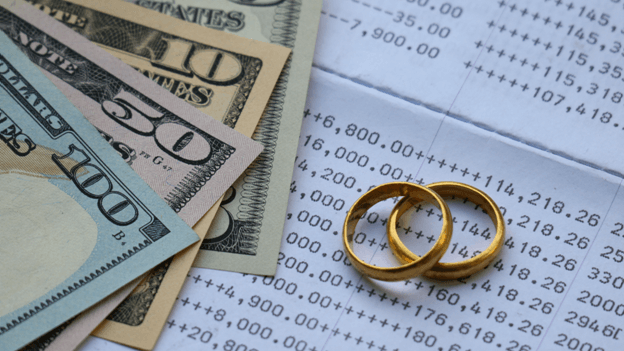 According to The Knot's 2020 Jewelry and Engagement Study, couples in the United States pay an average of $5,500 for engagement rings. As that's the average cost, it stands to reason that some couples pay much more while others opt for super-affordable rings that barely break the triple-digit mark. The price of engagement rings varies geographically, too: couples in the Mid-Atlantic region, for example, pay an average of $2,100 more than couples out west.
The same study found that approximately 11% of couples spend less than $1,000 on their engagement rings. Others dole out well into the six figures. Such a large range exists because there are so many factors that go into ring pricing. The more expensive you want each element to be, the costlier the final result, and the reverse is also true.
Whether you're designing your own engagement ring or picking out a ring that's ready to wear, you'll want to consider the:
Type of metal
Ring setting
Center stones
Accent stones
Type of band
Embellishments like extra stones, metalwork and/or engraving
Something as simple as switching from a platinum band to a white gold version or going down one step on the diamond clarity scale can translate into a price tag that shifts hundreds or even thousands of dollars. Or maybe your bride-to-be isn't a "diamond girl" at all, preferring a simple band or a ring studded with pearls. Those choices affect your bottom line too.
The "Three-Month" Myth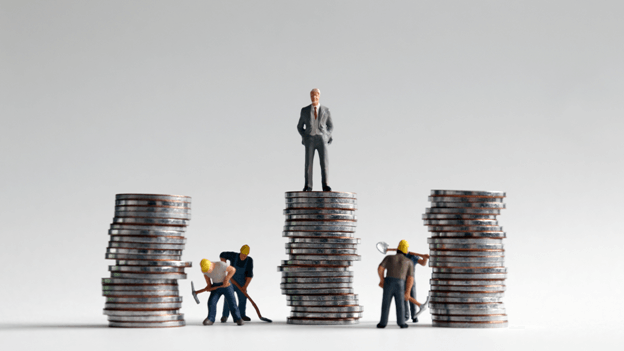 Almost everyone has heard the saying that you should spend about three months' salary on an engagement ring. If not, you've likely heard a close variation on the theme — perhaps a suggestion that two months' salary is the way to go or that anything less than a months' salary is insulting to your future spouse. None of that is true.
The three-month myth started as a marketing ploy spearheaded by a popular jewelry company back in the 1940s. In an effort to boost diamond sales, the company created an entire campaign around the idea that the amount of money a man spent on a ring directly reflected how much love and commitment he had for the woman he'd soon be proposing to. The original ads recommended spending a months' salary. Soon, that morphed into two months, and then, decades later, three months became the supposed rule.
The reality is that this "standard" is nothing but a self-perpetuating myth. There is no rule that you have to spend a certain amount to prove your love, especially if spending a quarter of your annual salary on a ring would be a financial hardship.
Deciding on a Budget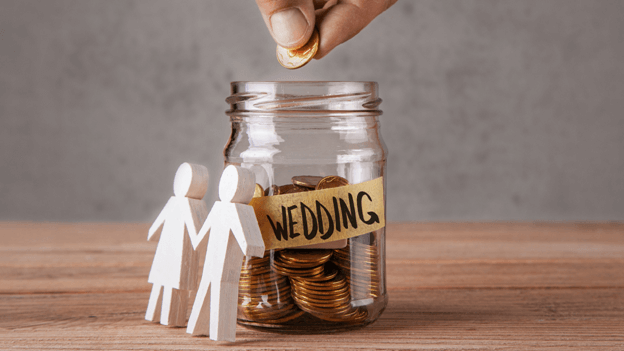 Before you start ring shopping, have a figure in mind as to how much you want to spend. While there can be some flexibility (after all, you may find you're willing to pay more for a ring that's extra special), you should have a solid stopping point to avoid accidentally getting swept up in the search and going overboard. Ring shopping can be an emotional process — all the adrenaline that comes with picking out a ring for your soon-to-be spouse can lead to some pricey spontaneity if you're not careful.
Your budget is just that — yours. It should be relative to your financial situation and reflect your priorities. If you're still working on getting to the next level in your career or have your eye on buying a house, you may decide to spend less on a ring than you would otherwise. If you run a successful business and already have a solid investment portfolio, it may feel like the right time to splurge on a dream ring that will make your future fiancée's jaw drop. Or perhaps finances are tight, but you'd rather make payments on the right ring than settle for a more affordable version just because you can pay it off now. That's fine too.
The important thing is to avoid comparing your shopping experience and budget to anyone else's. When Alex Rodriguez proposed to Jennifer Lopez in March 2019, he did so with a stunning 16-carat emerald diamond ring worth a reported $1.8 million. He also earned more than $440 million over the course of his baseball career, plus millions more thanks to endorsements and his follow-up career as a sports commentator. In other words, his budget is not your budget.
When you pick your target number, decide on a price range that's:
Comfortable
Realistic
In line with what you and your significant other would want
Buying an engagement ring should be a joyous occasion that kicks off an entire series of celebrations. It's hard to bubble over with joy if you're worried about making your ring payments or trying to soothe a fiancée who wishes you'd save the money for an exotic honeymoon or new car.
Who's Paying for the Ring?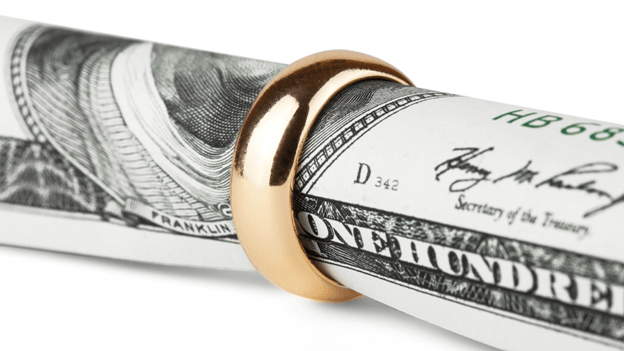 Another question to consider is who will actually be paying for the ring. While The Knot's study found that the vast majority of people proposed with an engagement ring they bought themselves, 2% said they had financial help from their parents and 6% either shared the cost of the ring with their significant other or proposed using a ring paid for entirely by their better half.
If you're not picking up 100% of the tab for your engagement ring, you may not get to make 100% of the decision regarding how much you'll spend on that ring either. Whenever someone makes an investment, be it in a car, a vacation, a home or an engagement ring, that investment comes with expectations. Don't be surprised if you accept help paying for a ring and find that you now have another opinion to consider.
Don't Forget About Wedding Bands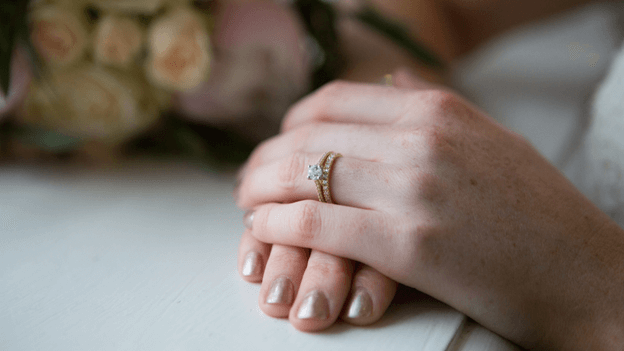 As you're excitedly planning how much to budget for the engagement ring to end all engagement rings, don't forget that you have other jewelry you'll need to purchase as well. Traditionally, couples choose two wedding bands to exchange during the ceremony. For the bride, this band will join the engagement ring and then be worn as part of a set. You may need to adjust your engagement ring budget to ensure you have enough wiggle room to buy your bands, too.
To make the most of your budget, you may decide to have the engagement ring pull double duty. In that case, you can remove the ring prior to your wedding ceremony and use it as the band when you say your vows. Another option is to buy a matched wedding set instead of purchasing an engagement ring and wedding band separately. You'll spend more up front but may get a better deal overall.
More than 2 million Americans get married each year. That's a lot of rings being bought, wrapped up and brought out at just the right moment as the surprise of a lifetime. Whether you buy a gemstone engagement ring heavy with a princess-cut emerald in her favorite shade of green or a collaborative masterpiece that sees an expert jeweler reset your grandma's vintage diamond, your story is guaranteed to be special.
To find your perfect engagement ring, shop our collection or explore what it means to design your own ring.

About Allurez Tech

Twitter •