---
Gift Ideas / Rings / Unique Jewelry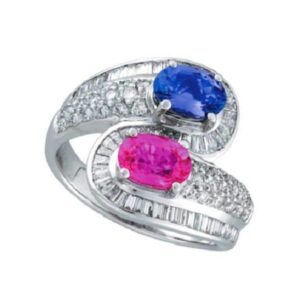 No matter where you choose to browse or check out these days, almost limitless numbers of advertising and marketing campaigns are specifically attempting to persuade you put forth your ultimate appearance and true fashion taste with the aide of some form of a new scientific breakthrough or perhaps a chemical based medical procedure.  With this almost never-ending attack on both the minds and the self esteem of the public, it is very simple to see why most individuals have a solid tendency to overlook several of the most basic and simplest ways to accent and bring new light into their natural appearances without having to go under a knife or flex an insurance plan—like with the aid of a perfectly tried and true jewelry makeover.  The alluring and quite sex appealing depth of a vivid pink shade is always a great color to bring a brand new life into your overall fresh look and can help in adding a very youthful attribute to the chosen wearer.  In addition to this attribute, the luscious coloring of pink sapphire gemstones in any type of setting can very quickly meet these ultimate goals of looking better and obviously more fashionable as it performs the act of showing just how alluring and fresh a bright pink can be.  It is truly the combination itself of the special coloring and the native native qualities of sapphires which make this unique gemstone so very amazing.  As the durability of the sapphire stone can allow for a very expansive variety of cut shapes, sizes, and settings, the multitude of bejeweled types are almost totally open to holding one of these outstanding gemstones.
A pink sapphire ring is a great place to start your search for a new high style item that associates itself with the timeless and always classic elegance of the sapphire with the vibrant and lively shade of perfect pink.  The kinds of bands which are specifically made to create a pink sapphire band which will  be able to easily outshine a multitude of other precious gemstones can vary to make some special bejeweled pieces of art.  Pink sapphire bands are truly starting to increase in popularity throughout the fine fashion jewelry realm as high style designers try to reach far into time for a bright new look that indulges with the most stylish shade of pink.  However, you should not think about a pink sapphire ring as simply a high fashion look for young city dwellers who want to stand out as a pink sapphire eternity ring can be a shimmering and bedazzling item which holds tight to your love of high fashion (maybe even representative of a love between you and your spouse) in addition to being a sparkling physical sign of allure.  Do not feel that these oddly lovely stones need to be all by themselves either.  A pink sapphire and diamond ring is the ideal way to present that you have a very modern fashion sense in addition to a respect for the classics like a white diamond or perhaps even more than one!

About Allurez
Allurez is the premier designer and retailer of high quality fine jewelry with a brand name known to royals as well as to the rich and famous. We are committed to providing you with the largest and the finest selection of engagement rings, wedding bands, bridal jewelry, fine fashion jewelry, and certified loose diamonds. Go ahead, browse our store, and find your perfect jewel!