---
Celebrity News
Even though most celebrity marriages end in divorce, that doesn't mean that the engagement rings are any less extravagant or expensive. From traditional princess cuts, to antique styles, to gemstones, these celebrity engagement rings are glamorous and usually over the top. These dazzling Hollywood engagement rings will be sure to inspire the perfect ring you buy for her when you shop at Allurez.
1. In 2008, Jay-Z put a ring on his Queen B and created a buzz around the expensive ring. Beyoncé wears a breathtaking 18-carat emerald-cut diamond platinum ring with a split shank, which apparently cost $5 million dollars.
Our stunning emerald-cut diamond engagement ring, split shank in Platinum (1.52 carats) will be just as breathtaking and buzz worthy.
2. Kim Kardashian may have been mocked about her infamously short wedding to Kris Humphries, but that didn't scare her away from yet another marriage. Kanye West reportedly purposed to the reality star with a $1.6 million and upward 15-carat cushion-cut diamond. Hopefully this marriages lasts longer because this would be too beautiful a ring to stop wearing…
You might not have your own realty show like Kim, but you can still look like a star with our Cushion Cut Diamond Halo Engagement Ring w/ Accents 14k W. Gold 1.50ct.
3. Nicki Minaj recently became engaged to rapper Meek Mill with a gorgeous heart-shaped ring engagement ring. This ring features a fancy yellow center diamond with two halos of diamonds surrounding it. It's estimated to be worth $500,000.
Shop Allurez's 1.50ct Heart Cut Center and 2.28ct Side 18k Two-tone Gold Natural Yellow Diamond Ring for an inspired look for your proposal.
4. Heart-shaped engagement rings seem to be trending in Hollywood. On Valentine's Day of this year, Lady Gaga's beau, Taylor Kinsey got down on one knee with a beautiful heart-shaped diamond engagement ring, worth an estimated $400,000-$500,000. He even had it engraved; how romantic!
Shop our Heart Shaped Diamond Halo Engagement Ring in 14k White Gold (1.00ct) for your own romantic love story!
5. In 2012, Oliver Martinez proposed to Halle Barry with this unique square cut Emerald gemstone and Yellow Gold Engagement Ring.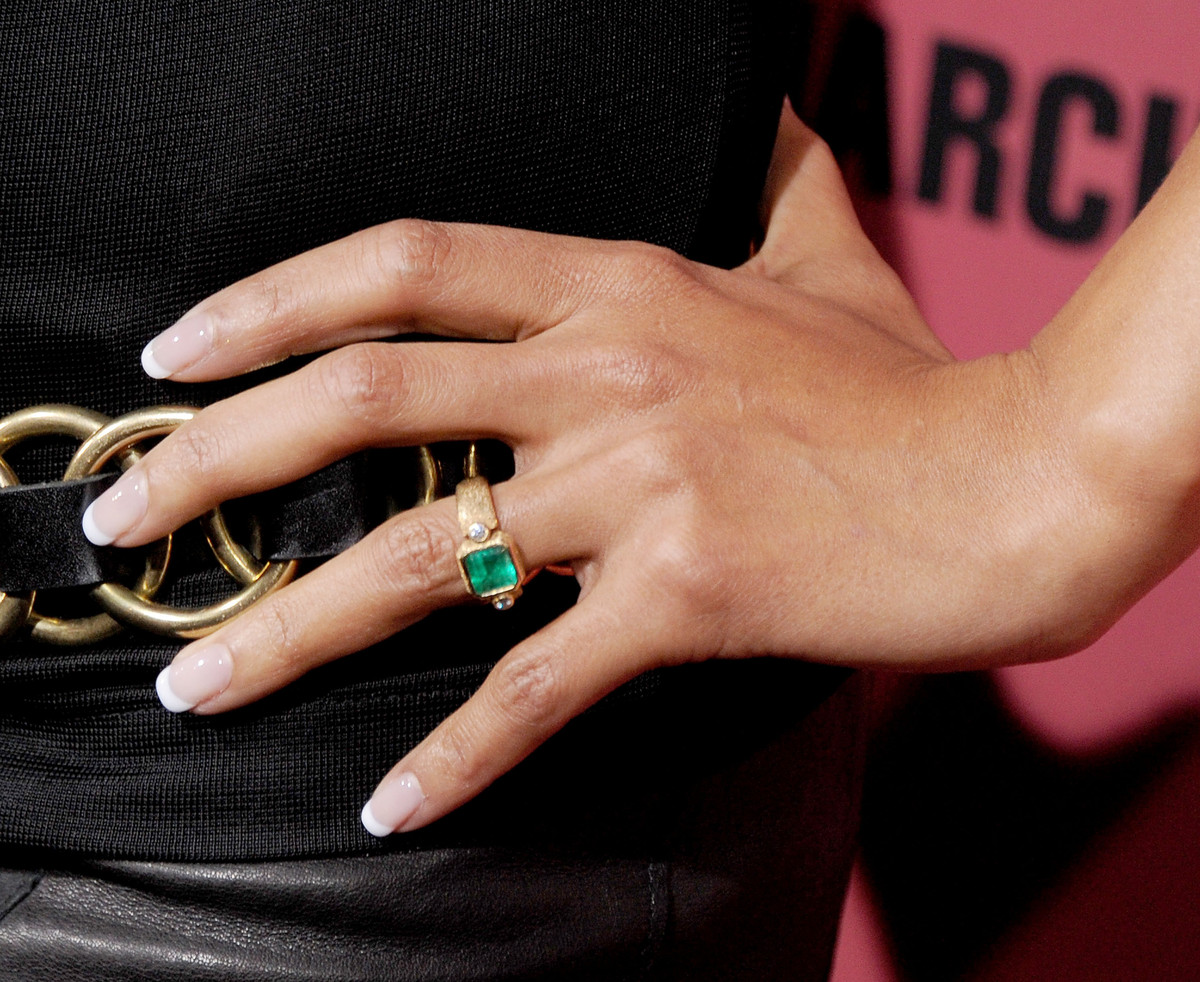 Our similar Emerald & Diamond Engagement Ring in 14k Yellow Gold (1.35ctw) will easily complement her hand.
6. In 2010, Jessica Simpson's second try at marriage with Eric Johnson started with a three stone Ruby gemstone and diamond side-stone engagement ring.
This Ruby & Diamond Three Stone Engagement Ring in 14k White Gold (1.10ct) is perfect for women whose birthstone is Ruby or for anyone who loves this gemstone.
7. Prince William proposed to Kate Middleton with a 12-carat royal blue sapphire and 12 diamond accent engagement ring that his mother, Princess Diana, wore when she awas engaged in 1981. This ring is just as royal as it's color.
You don't have to be the ruler of your own country for a gorgeous ring like Kate's. View our stunning Oval Blue Sapphire & Diamond Accented Ring in 14k White Gold to look and feel like royalty.
8. Southern Belle, Carrie Underwood, wears a 12-carat yellow diamond halo engagement ring from hockey husband, Mike Fischer.
At Allurez, our round cut yellow diamond with a halo of diamonds in 14k White Gold (0.85ct) will make the perfect engagement ring to propose to her with.
9. Katherine Heigel wears a truly shining 3-carat pear cut diamond engagement ring from husband Josh Kelley. This ring actually uses the platinum band from Heigel's mother's engagement ring.
Allurez's Pear Diamond Halo Engagement Ring in 14k White Gold has the same style and look of Heigel's.
10. Jenna Dewan Tatum is already one of Hollywood's luckiest women being married to hunk Channing Tatum. On top of that, he gave her a beautifully unique oval cut and twisted band engagement ring.
Shop for our Twisted Infinity round Diamond engagement ring in 14k White Gold (1.00 carat) for a one of a kind and vintage inspired look.

About Allurez
Allurez is the premier designer and retailer of high quality fine jewelry with a brand name known to royals as well as to the rich and famous. We are committed to providing you with the largest and the finest selection of engagement rings, wedding bands, bridal jewelry, fine fashion jewelry, and certified loose diamonds. Go ahead, browse our store, and find your perfect jewel!