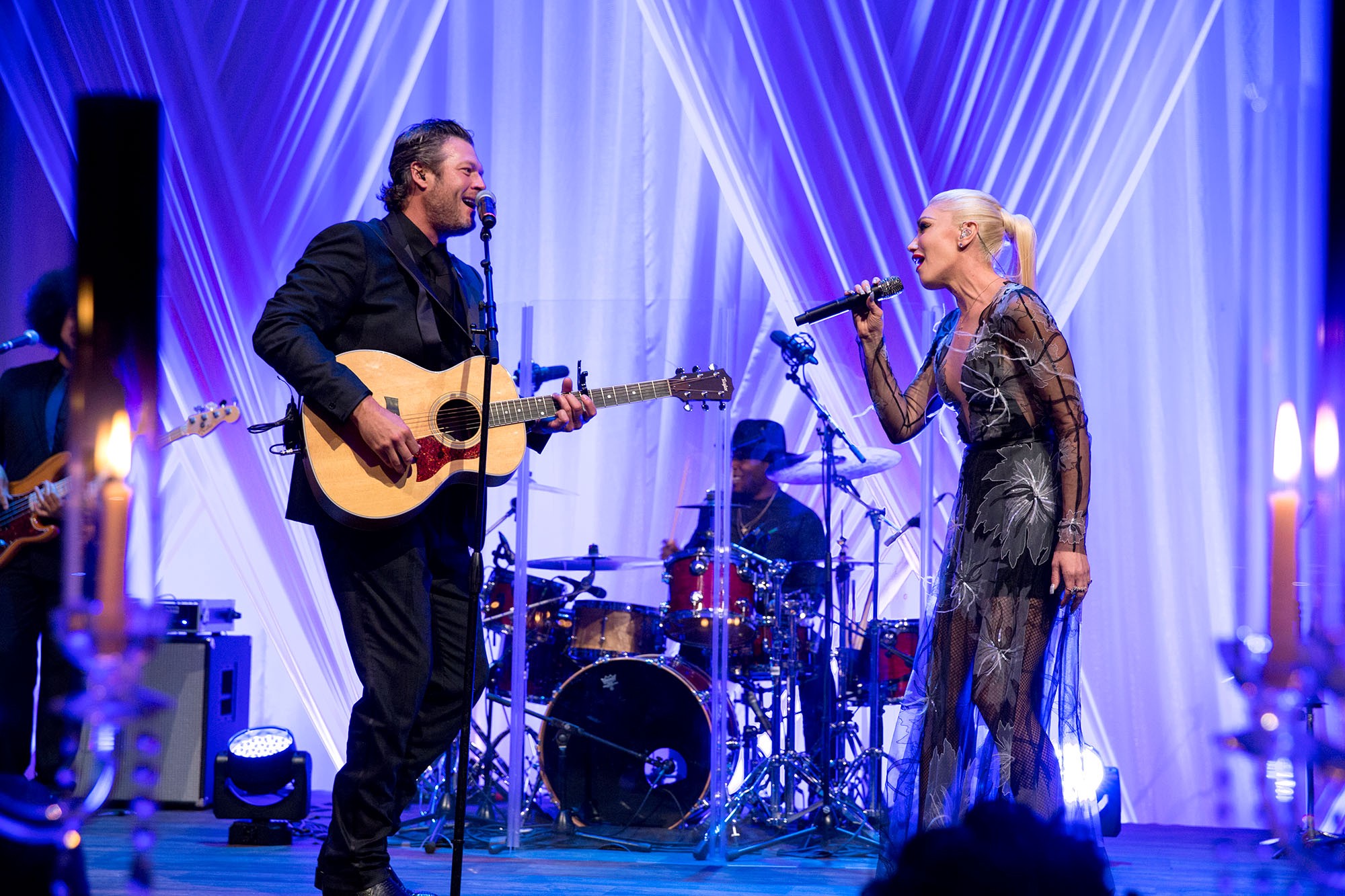 Jewelry Pieces Inspired by Gwen Stefani's Rumored Diamond Wedding Band
Singer and former coach of "The Voice" Gwen Stefani sparked rumors that she married fiance and country singer Blake Shelton when she was photographed recently wearing what appears to be a diamond wedding band.
Whether or not its her official wedding band underneath her diamond engagement ring from Shelton, 44, has yet to be confirmed, since the couple have not yet publicly stated that they've tied the knot. Also previous details about their wedding suggest that the event will take place later this summer at Blake's chapel on his Oklahoma ranch.
Stefani, 51, the former lead singer of No Doubt, recently had an intimate bridal shower with friends and family and shared a photo of the event on Instagram, which led fans to believe that the wedding is approaching, and new photos show her wearing a mixed-cut diamond band along with her diamond engagement ring.
The "Hollaback Girl" singer was spotted on Saturday wearing what appeared to be a sparkling diamond wedding band underneath her engagement ring — just a day after teasing about her wedding in an online picture. Stefani was seen wearing the band during a trip out with her Shelton and her 7-year-old son, Apollo, in Santa Monica, Calif. Page Six noted that Stefani and Shelton have just come back to California from Oklahoma, where Shelton's ranch is.
On Friday, Stefani posted a picture showing her drinking wine and holding a present. The photo had the words "SHE'S GETTING MARRIIIEEEED" on it and on her Instagram Story that day she wrote, "I got kidnapped by my family to celebrate … I'm getting married!"
Shelton proposed to Stefani in October with a massive, 6- to 9-carat, square diamond ring set on what appeared to be a platinum band, according to the Page Six. The pair were first romantically linked in 2015 after they met as judges on the NBC singing competition "The Voice," which Shelton is still a judge on.
Stefani was previously married to singer Gavin Rossdale, whom she has three sons with, while Shelton divorced country singer Miranda Lambert in 2015 after four years of marriage.
In December, 
Us Weekly
reported detailed about the couple's intimate wedding plans and how they want to have the event at Shelton's ranch.
"Blake built a chapel on the grounds of his Oklahoma ranch. He did it himself with help," a source told the publication. "It's really a tribute to their love. They are going to get married in the chapel, most likely early next year." The source added that Stefani gave her "input" regarding the construction of the chapel.
Stefani spoke to the Today show in January about her fiance and how she knew Shelton was the one for her when they first met five years ago.
"He's just such a good guy," she said. "He's one of the most generous human beings and down to earth. It all sounds so generic, but it's just so true. He's so gifted and so unique and talented and he really is just my best friend. And I feel just so excited that I have someone in my life that now I have a chance at like, happiness, you know what I mean? For a long time to come. It's just a blessing, the whole thing and it is a miracle."
Look at similar diamond wedding band styles below.