---
Celebrity News / Designer Jewelry / Necklaces / Unique Jewelry / Wedding Bands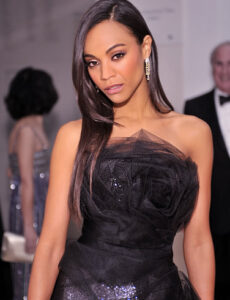 The strikingly beautiful and incredibly talented young actress Zoe Saldana has been working very hard to earn her place on a list of dignified and well known actresses in Hollywood.  She has been slowly and steadily working her way up the movie and film chain of prestige for a while, starting out with low budget more independent like films such as Center Stage to more recent blockbuster huge budget films like Pirate of the Caribbean, Avatar, and Star Trek.  Even though it has only taken her a few years to prove herself as a great actress who does not have a rather large ego or several stuck up and self centered qualities like many big name starlets these days, Zoe has started to stand out on her own.  Her stunning looks probably have something to do with it, but her sweet and low key personality helps to keep the attention of both famous followers and the mainstream media.  She frequently keeps more to herself than many of the current actresses who prefer attention, but when Zoe does decide to come out in public she does it in a big way.  Her outfits are always wonderfully composed to highlight her innately gorgeous appearance.  Her fine jewelry picks on the other hand are made to truly stand out and show off her inner fabulous fashion taste.
Her earring selections are always used to showcase her smooth and lovely facial outline and jawline.  Zoe has a thing for dangles in particular no matter how long or short her hair might be at the time.  While her fine jewelry necklace selections are very beautiful, they are rare.  Zoe is definitely a bracelet girl at heart, favoring many different designs and styles.  Yet, rings of all shapes and sizes are her ultimate jewelery favorites.  Fashion rings find their way onto her overall look at almost every occasion.  On a visit to New York City in 2008, she even wore a stunning diamond ring that caught a lot of attention for its cluster based style on her middle finger—loaded with white diamonds on white gold.  The premiere of Star Trek saw her wearing a special cocktail ring from the Neil Lane Meteorite Collection that was domed shape and featured a combination of diamonds—black, white, and even yellow in the same diamond ring!  At a 2010 Calvin Klein party in Berlin, she was even sporting a rather dainty but beautiful diamond band with a swirl based design around a small centerpiece diamond stone.

About Allurez
Allurez is the premier designer and retailer of high quality fine jewelry with a brand name known to royals as well as to the rich and famous. We are committed to providing you with the largest and the finest selection of engagement rings, wedding bands, bridal jewelry, fine fashion jewelry, and certified loose diamonds. Go ahead, browse our store, and find your perfect jewel!